We hear a lot of chatter about the consumer not being able pay his bills. That's led to legislation on bailing out troubled homeowners. It has led to tax rebates for families earning less than $150,000. It has even led to drastic rate cut activity by the Fed, as well as a "potential" change in the definition of a conforming loan ($417,000 to $625,000).
That's a lot of stimulus! And yet, many believe that little if anything will work.
(Perhaps that is why the stock market still struggled to break even on the week. And... the S&P 500 is down 15% from October 9 highs.)
If a recession is in the works, many believe that world demand for oil/resources could tank (pun intended). Already, we've seen a barrel of crude slip nearly 10% from the $99 per barrel level to $90 per barrel.
It strikes me as odd, however, that the companies engaged in the location, distribution and sales of natural resources are down 14% in January alone. Is Big Energy really going to fall into a profit recession?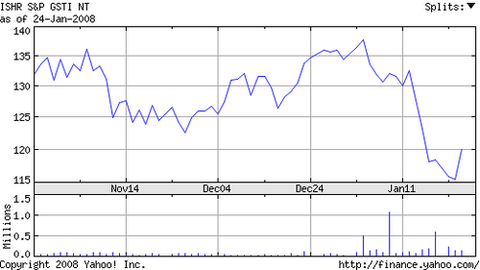 Energy/resources have fallen further in January than most sectors. With the possible exception of technology, energy/resources may have taken the biggest hit.
Granted, I am not inclined to describe the previous bull market leaders (e.g., energy, tech) as tomorrow's leaders, but does anyone really expect the likes of Conoco Phillips (NYSE:COP), Schlumberger (NYSE:SLB) and Transocean (NYSE:RIG) to go the way of the dinosaur? Or, conversely, might now be a time to consider getting iShares GS Natural Resources Fund (NYSEARCA:IGE) on the cheap?
I believe IGE may be ripe for the resourceful investor. We're still filling up our tanks in this country. Supply is still tight. And the rest of the world, while fearing our slowdown, is not in less need of resources than they were yesterday.
Keep in mind, we've experienced a sharp correction based on recession fears already. Now that we've experienced it, however, it's time to look at how current monetary and fiscal policy are likely to send oil prices up and keep oil company profits free-flowing.