Today, we take a look at the past moves of a group of companies three weeks prior to their upcoming earnings. All these companies are reporting after June expiration. Our goal is to find any patterns or consistent movements. The companies we cover in the report are Adobe (NASDAQ:ADBE), CarMax (NYSE:KMX), Carnival (NYSE:CCL), Discover (NYSE:DFS), FedEx (NYSE:FDX), Oracle (NASDAQ:ORCL), and Redhat (NYSE:RHT).
Here are the average gains or losses the companies made in this period:
Click to enlarge all images.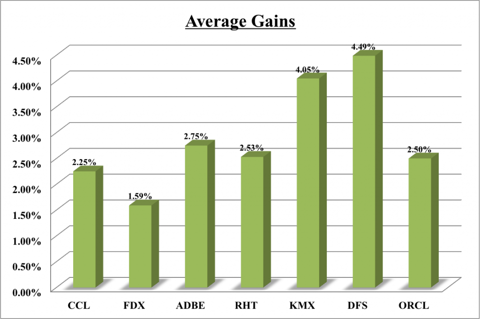 Click to enlarge
Here is what we found for max drawdowns vs. max gains: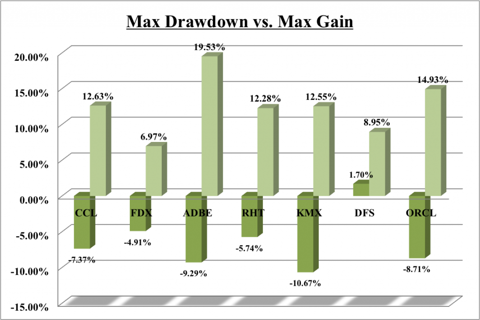 Click to enlarge
Here are our highlights for each company:
Adobe
Adobe has been volatile in this period and not volatile in others, which does not allow us to create any position off of volatility or a lack thereof. At the same time, Adobe's last report was not great and the stock has been declining since. Besides the 19% max gain, the stock has never increased more than 5% during this period. We would recommend a bear call spread on the stock for Jun16 expiration at the 34/35 strikes.
CarMax
The company has had very solid earnings for the last couple years, but its last quarterly report was not good at all. That miss and poor guidance does not allow us to see a lot of upward potential, but at the same time, there is no pattern of bearishness during this period. Therefore, we cannot recommend any positions in this name. We would be leaning more bearish on CarMax as EPS is supposed to come down year over year by a penny.
Carnival
This stock has been very solid of late. It is in a fairly tight range right now, and we are expecting it to start to break out before earnings. No position is available here, though, due to no patterns and lack of confidence in the market.
Discover
This one is definitely our favorite. No declines over the past eight quarters in this period. We like looking at being long the stock or selling some puts in the 29-30 area. The company, though, is expecting a weaker quarter, which does give us some reservations about the stock.
FedEx

This stock has not moved much in the three-week period prior to earnings, with only a max gain of over 6% and a max drawdown of 5%. Therefore, we like looking at the iron condor, where we sell one bull put spread and one bear call spread to identify a range. We like the 92.50/95 bear call spread paired with the 80/77.50 bull put spread.
Oracle
Oracle has been a disaster of late, and it's not looking favorable in the market. Flat growth in EPS and revenue is expected, so we do not anticipate a large amount of excitement for the stock. The stock, however, has not shown a pattern of being bearish or bullish. We would tend to be cautious, and a cautious bear call spread seems appropriate.
RedHat
With a max drawdown of 5.5% and only two pullbacks out of the past eight quarters, we would look at selling a bull put spread in this name. Additionally, the company is showing decent 15% growth in EPS and 17.5% growth in sales for expectations. The 200-day MA is looming large at 48, and we can get pretty good value selling the 46 and 47 puts.
Disclosure: I am short ADBE.