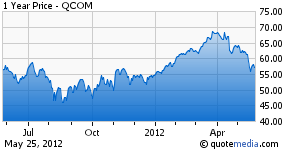 If we conducted a poll for the biggest story in 2012, which would you select to highlight the year thus far? Would it be Facebook (NASDAQ:FB) and all the hype it received pre-IPO, followed by an epic flop? How about Europe, and its continued economic blunders weighing on U.S. equities? Well, if you don't say Apple (NASDAQ:AAPL) and its back-to-back stellar quarters, accompanied by its parabolic run, it certainly should make your top three. It is undeniable that Apple is the talk of the tech world. With a new iPhone coming out every year, a new iPad that recently just debuted, and having a tight fisted grip on consumers, success is expected for a while to come. Aside from owning Apple outright, who better to ride on the coattails of that success than Qualcomm (NASDAQ:QCOM)?
Qualcomm is one of the chip suppliers for Apple and its wireless devices. Things such as the iPad and iPhone are all stuffed with Qualcomm on the inside. In 2010, 299 million smart phones were shipped globally. In 2012, over 650 million are expected, which is more than double than that of two years ago, (according to Five Star Equities). Apple has sold 35 million-plus iPhones in each of the last two quarters. Along with steady iPad sales, Qualcomm is doing great on the Apple side of things, but with recent selling in the broader markets, shares have slid over 20% from their 52-week high of $68.87.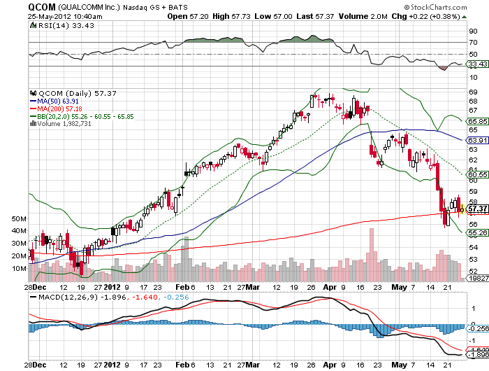 Click to enlarge
Above:Six-month chart of QCOM, (Click to enlarge. Courtesy of Stockcharts.com).
Qualcomm is the main chip supplier behind the Apple iPhone, as well as the new iPad. However, I'm not going to sit here and pound away at Apple and its success. Yesterday I wrote an article about Microsoft (NASDAQ:MSFT) and why I thought it had good value on the back of its soon-to-be-released Windows 8, coming in October. Windows 8 is designed to work with more than just the PC, it is compatible on tablets as well. So far, it has received amazing hype. With the combination of Apple and Microsoft, Qualcomm is positioned best to benefit.
Consider that in 2014, 208 million tablets are expected to be sold. Of this, at least half are expected to be iPads, (according to Nielsen, Pew Research Center, Money Magazine). The other half is likely a combination of new tablets coming to the market later this year, or possibly in 2013. Qualcomm already benefits from a booming company in Apple, which as stated above, is expected to sell over 100 million iPads in 2014, or more than 25 million per quarter. But should Windows 8 be as amazing as it has been hyped up to be, they too could grab a large chunk of the remaining 100 million tablets to be sold. It has become pretty clear that tablets are overtaking the PC industry, and while the PC is still vital, the tablet is becoming revolutionary, both in the personal and enterprise worlds.
Of course, Qualcomm simply can't supply every smart phone and tablet to hit the market. So other players enter the field, and Broadcom (BRCM) is one of them. Broadcom, another chip supplier, can pick up some of the slack for Qualcomm as it too, is a chip supplier to Apple. While I think Broadcom is undervalued as well, Qualcomm is the bigger player, and thus has more potential to reap the benefits of rising mobile sales. In addition to more market share, Qualcomm also collects royalties from fellow chip maker Broadcom. In 2011, Qualcomm collected royalties on 40% of smart phones sold, (not all from Broadcom), and that figure is expected to increase to 65% over the next four years. So while Broadcom and other tech companies enjoy any new found success, so will Qualcomm.
While collecting royalties and possessing a plethora of patents, Qualcomm is positioned to enjoy the coming successes in the new world of the mobile market. Assuming Apple can tap into China with iPhones, a whole new buyer will be waiting on the other side. Qualcomm also pays out a small quarterly dividend of $.25 or roughly a yield of 1.75%. Though this offers investors a small incentive for a small stream of income, the real money maker in Qualcomm is its amazing growth potential. With tablet and smart phone markets set to boom in the coming years, someone is going to have to supply them.
While Qualcomm seems to be a sure bet on the future of technology, all equities involve risk. A panic in the European markets could crush U.S. equities later in the year. Even though Qualcomm currently trades very low, at $57.31 (as of the time of this writing), the 52-week low is $46. I hardly expect Qualcomm to trade down to these levels, especially on the heels of Apple's two best quarters, and more demand than ever for Qualcomm's chips. I think $57.50 or below would be a great place to establish a starter position in this name.
Disclosure: I have no positions in any stocks mentioned, but may initiate a long position in MSFT, QCOM over the next 72 hours.