Like the tulips in my garden here in Tacoma, the "flowers" of spring natural gas rallies have wilted in each of the last two summers, leading to significant losses for bullish investors and traders. I expect the current natural gas spring rally to wilt as well and recommend shorting United States Natural Gas fund (NYSEARCA:UNG).
Spot Prices Saw Summer Collapses in 2010-11; 2012 Following Same Script: Between 1993 and 2008, on average, the summer was a great time for natural gas spot prices, with July and August registering among the highest average future 3-month price changes. However, in both the 2010 and 2011, natural gas rallied strongly in the second quarter and then collapsed in the summer and early fall, with average future 3-month declines of 15-20% in June, July and August.
So far, in 2012, spot prices have been sticking to the 2010-11 script, falling the first quarter (e.g. January was the worst time to buy) and rising powerfully in the second quarter. This is worrisome for spot going into the summer (see chart).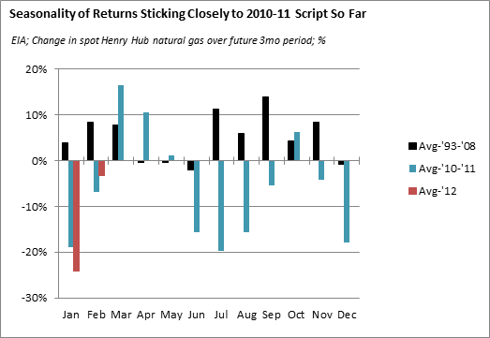 UNG Deja Vu? As I pointed out in my last article, contango tends to worsen in the summer months, hurting strategies, like that followed by UNG, which invest in front-month natural gas futures. Indeed, during 2010 and 2011, UNG has performed miserably in the summer, dropping over 40% in the Jun-Nov 2010 period and over 30% in Jun-Nov 2011.
A similar technical pattern seems to be unfolding in 2012. In 2010 and 2011, UNG experienced an up-trend in the spring, culminating in a strong increase above the 50-day moving average that was accompanied by relatively high volume and a peak in the RSI at or near overbought territory. Following this, UNG rolled over, dropping below its 14-day and 50-day moving averages as RSI and MACD readings declined as well. This pattern has repeated itself, to a large extent, in 2012, with UNG also currently bouncing off of the median of an Andrews pitchfork pattern formed off of the March 2011 lows, the June 2011 highs and the April 2012 lows (see chart). This does not bode well for UNG over the next six months.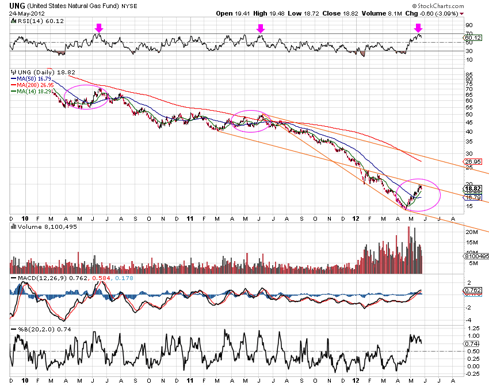 But What About Below-Average Weekly Injections? The risk to this view is that the supply/demand dynamics at work during 2010-11 change in 2012, causing spot price action to return to the summer strength seen during the 1993-2008 period. As commenters to my previous article pointed out, while working-gas-in-storage continues to sit at record levels compared to history, weekly injections into storage have been running below average in April and May. Indeed, according to the Energy during the Jan-Mar 2012 period, draws from storage (e.g. the opposite of injections) were consistently lower than either the most recent three years or the much longer term average. This changed in April, with average weekly injections running about 26 MMcf, versus an average of 47MMcf over the past three years. In May, this trend has continued, with injections running at 56MMcf versus a 94MMcf three-year average (see chart).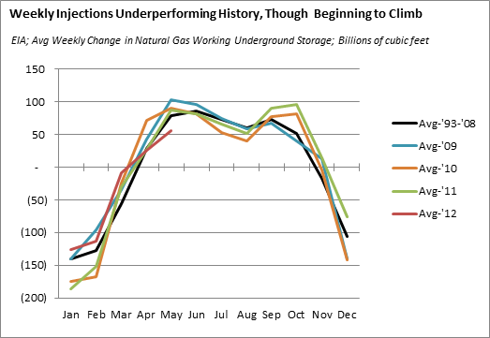 While the Energy Information Administration only releases production and data at a two-month lag, it seems likely that below average injections are being driven by a flattening or mild decline in production, coupled by a strong increase in electricity generation demand. According to the latest EIA consumption data (for February, released April 30th), consumption of gas by electric power producers was up 166,000 MMcf from February 2011, consistent with the comments many of you have made regarding gas-switching by power producers. Increased use of gas for power production was more than offset in December and January by the massive y-o-y decline in residential and commercial use, driven by the warm winter weather across much of the U.S. Indeed, in January, residential and commercial usage was down from January 2011 by a combined 248,000 MMcf (see chart).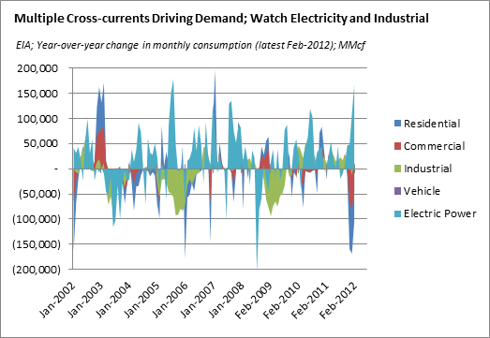 Over the last three months, it seems safe to say that residential and commercial gas demand has returned to more normal seasonal levels while gas for power production has continued to run above historical levels, a trend that will likely continue into the summer if gas generation capacity has truly made the next leg-up from the 40-41% of total capacity range where it has been sitting since 2004.
The wildcard here is industrial demand, which fell in January versus January 2011, the first negative year-over-year reading since 2009. Falling industrial demand was a major drag on the gas market in the spring and summer of 2003, 2005 and 2009. If the economy weakens further into the summer, as the stock market seems to be suggesting, industrial demand could be impacted. Another wildcard is record shale oil drilling, which tends to also produce a lot of dry gas as well.
If industrial demand holds in there, production continues to decline and electricity demand continues to run high, we could see tighter supply and more normal price action in the summer. However, if shale drilling produces more gas than thought, or if the economy weakens and takes industrial demand down with it, than fading the spring natural gas rally may be the way to go in 2012 as it was in 2010 and 2011.
Conclusion - Short UNG: I believe it is more likely that spot price action in 2012 will unfold as it did in 2010-11, with a strong spring rally wilting in the summer.
Traders can position for this view either through an outright UNG short (currently trading at $18.37). This trade would benefit from increasing contango in natural gas futures markets and spot price weakness in the summer and fall. Traders can also short UNG versus the United States Oil Fund (NYSEARCA:USO), which invests in front-month West Texas Intermediate crude oil futures, to reduce some directional risk in energy markets.
WTI crude oil futures experience significantly less contango that natural gas futures, with the front-month contract averaging a 0.33% discount to the next-month contract over the past year, versus a 4.75% discount for the equivalent natural gas futures contracts, leading to the equivalent of significant positive carry for the trade. Also, USO could benefit from the recent reversal of the 150,000bpd Seaway pipeline, which will reduce inventories at Cushing, Oklahoma, and could narrow the spread between WTI crude and more expensive Brent crude. While USO is down significantly in April and May, it is currently in oversold territory and may be bouncing off of support (see chart).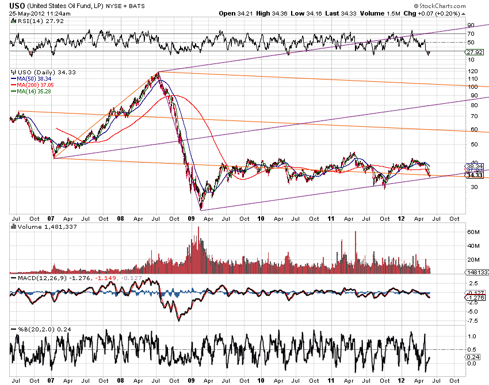 Disclosure: I have no positions in any stocks mentioned, and no plans to initiate any positions within the next 72 hours.