While it has already been a difficult quarter for the stock market, the greatest challenges may lie ahead in the month of June.
After reaching a post crisis peak at the beginning of April, the stock market has been in a steady slide since. By last Friday, stocks as measured by the S&P 500 had fallen from its recent peak by more than -9%. And through the end of this past week, stocks were still down well over -7%.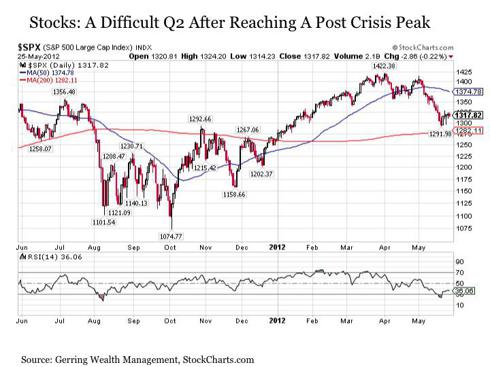 Click to enlarge
The recent bounce in stocks over the last week was promising. In particular, the market's resilience to overcome sizeable intraday declines on Wednesday and Thursday to end each day higher was impressive.
Whether stocks will be able to continue this recent move to the upside into the summer will be largely determined by a handful of key events upcoming in June. And the excitement gets underway starting next week.
Latest Monthly Employment Report
The first key event is the May monthly employment report next Friday, June 1. After peaking at an increase of +275,000 jobs during the month of January, payroll gains have been steadily fading. The preliminary reading for the latest month in April showed employment gains had fallen as low as +115,000 new jobs. The further deterioration of new job growth would clearly provide yet another negative signal about the sustainability of the already sluggish economic recovery. Consensus expectations are for +150,000 new jobs created in May with a range from +95,000 to +206,000. Thus, expectations are for a better month than what we saw in April.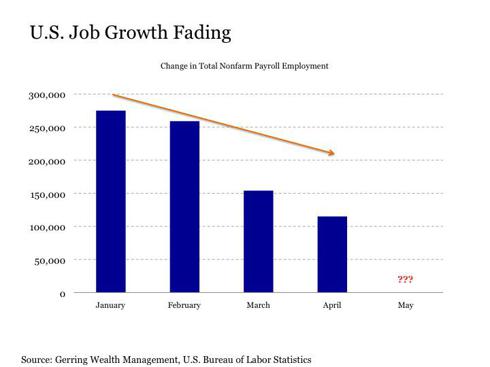 Click to enlarge
But as an added wrinkle in the current post crisis market in which we operate, the market may interpret a bad jobs number positively and a good reading negatively. This is due to fact that a poor report might induce some to believe that the Fed may be more inclined to provide further stimulus, while a strong report may cause the Fed to delay. This leads us to the next key event during the month of June.
The End of Operation Twist
Starting in October 2011, the U.S. Federal Reserve initiated its latest stimulus plan known as Operation Twist. After $400 billion of long duration U.S. Treasury purchases from the banks in exchange for roughly the same amount of short duration U.S. Treasuries, this program will draw to a close at the end of June. Since the beginning of the financial crisis, the stock market has responded poorly once these Fed stimulus programs have come to an end.
Back in 2010, the stock market dropped by -15% in just four weeks and a total of -17% in eight weeks not long after the end of QE1 on March 31. It should be noted that the stock market did not decline immediately after the end of QE1. Instead, it continued to rally for 17 additional trading days through April 26 before turning decisively lower.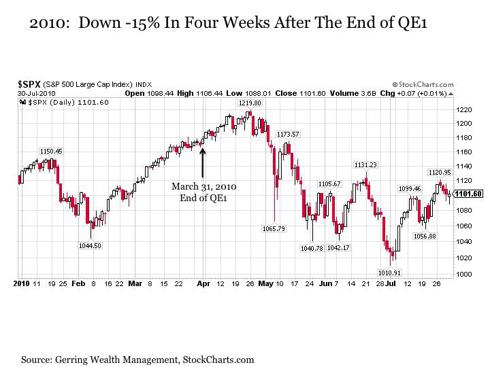 Click to enlarge
In 2011, the stock market plunged by -18% in just two weeks following the end of QE2 on June 30. But similar to the end of QE1, stocks held steady for the first 15 trading days through July 22 before cascading lower.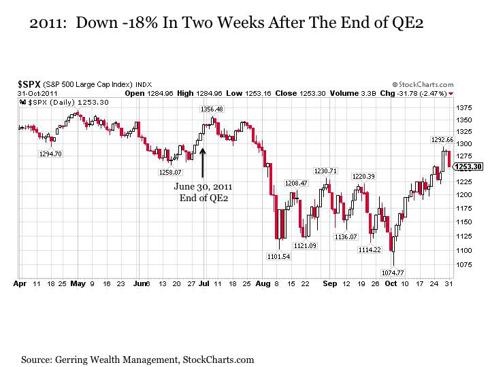 Click to enlarge
Given the market's dismal track record following the end of Fed stimulus programs, many investors are anxiously anticipating the end of Operation Twist. And it is likely that some stock investors are already moving in advance of this event given the recent -7% decline since early April. It should be noted, however, that stocks declined in 2011 by -8% well into June before rebounding sharply higher at the very end of QE2. Thus, a final snap back rally in June 2012 before the end of Operation Twist should not be ruled out in the weeks ahead. This assumes, of course, that the Fed does not do anything to lead the market to think that more stimulus will be on its way, which leads us to the next key event.
The June FOMC Meeting
The U.S. Federal Reserve will be holding its latest Federal Open Market Committee meeting starting on June 19 and concluding on June 20. Investors will be eagerly watching this meeting for any suggestions that the Fed will be coming to the market with more stimulus sooner rather than later or perhaps not at all.
The most hopeful Fed watchers are looking for indications that the Fed stands ready to launch another phase of explicit balance sheet expansion with QE3. While markets would likely soar on such allusions, such an outcome is extremely unlikely. Not only is the current economic and pricing data not fully supportive of such aggressive policy action, but the political implications of such a move would also likely cast additional controversy on the already beleaguered Fed.
The more likely Fed action in the months ahead would be an Operation Twist 2. Such Twist programs leave the size of the Fed's balance sheet unchanged. As a result, an Operation Twist 2 would likely be far less controversial from a political standpoint even though the composition of the Fed's balance sheet is still changing fairly dramatically.
The timing of if and when the Fed might announce any Operation Twist 2 is probably the biggest question associated with the Fed's June meeting. A key code phrase to watch for from Chairman Bernanke in this regard is "sterilized bond buying", which is another way of saying more Operation Twist but perhaps in a less explicit, less formalized way than the current program. While some are hoping that the Fed will announce another such stimulus program at the June meeting, this outcome is also unlikely unless the economic data and/or geopolitical events leading up to June 19-20 make a decisive turn for the worse.
Otherwise, the Fed is likely to remain reserved coming out of their June meeting and say little about further policy action beyond the line of standing ready to apply additional stimulus if conditions warrant. Instead, they will likely be waiting until any post-stimulus plunge in the stock market and/or meaningful deterioration in the economic outlook before launching a new program.
Of course, it is not just the Fed that will be in focus in the coming months. In many respects, the most important event will be coming from across the Atlantic.
The Greek Elections
In what is perhaps the most important event in the coming months, voters in Greece will return to the polls on Sunday, June 17 to elect a new government that is scheduled to convene parliament almost immediately afterwards on June 28. At stake is Greece's continued membership in the Euro Zone. If the New Democracy party that supports current austerity programs wins the election, the status quo is likely to hold at least for the time being. However, if the Syriza party that opposes the austerity measures required by the European bailout prevails, a Greek exit from the Euro Zone may soon follow. And such an event has the potential to be highly calamitous for global investment markets.
According to the latest polls, Syriza is running with a four percentage lead over New Democracy, although other recent polls have suggested the two parties are in a dead heat.
Investment Strategy
The upcoming events in June warrant very close attention. As a result, investment time horizons related to the stock market should be kept very short leading up to these events.
The stock market was deeply oversold heading into last week. I used this opportunity on Friday, May 18 to initiate select positions in anticipation of a short-term bounce in stocks. Added positions included the S&P 400 Mid-Cap SPDR (NYSEARCA:MDY), Waste Management (NYSE:WM) and High Yield Bonds (NYSEARCA:HYG) (I plan on elaborating on my reasoning for selecting High Yield Bonds in this context in a separate article). All of these positions have a limited time horizon measured in weeks and were added along side my existing positions in highly defensive McDonald's (NYSE:MCD), Tootsie Roll (NYSE:TR) and WGL Holdings (NYSE:WGL). Depending on how events play out in the next couple of weeks, it is highly likely that I will have exited the MDY, WM and HYG positions in the days leading up to the Greek elections. And even the more defensive positions of MCD, TR and WGL will be under close evaluation over this same time period.
Instead, my portfolio strategy continues to emphasize allocations to those areas of the market that will either remain largely unmoved or likely benefit from the uncertainty associated with the upcoming events in June. These include Agency MBS (NYSEARCA:MBB), U.S. TIPS (NYSEARCA:TIP), National Municipal Bonds (NYSEARCA:MUB) and Build America Bonds (NYSEARCA:BAB), Long-Term U.S. Treasuries (NYSEARCA:TLT) and the Japanese Yen (NYSEARCA:FXY). I also remain long Gold (NYSEARCA:GLD) and Silver (NYSEARCA:SLV) as protection both against crisis and the potential for another round of aggressive monetary action by global central banks including the Fed and the European Central Bank.
The upcoming month promises to be most interesting for the stock market. And depending on how events play out, it is entirely possible that we could see stocks begin to tumble decisively lower. Hopefully this is not the case, but at a minimum it will warrant close attention to economic, political and market events along the way.
This post is for information purposes only. There are risks involved with investing including loss of principal. Gerring Wealth Management (GWM) makes no explicit or implicit guarantee with respect to performance or the outcome of any investment or projections made by GWM. There is no guarantee that the goals of the strategies discussed by GWM will be met.
Disclosure: I am long TLT, GLD, SLV, TIP, MCD, BAB, FXY, HYG, MBB, MDY, MUB, TR, WGL, WM.