It's that time of year again, as families all over America to do their best impressions of the Griswolds of National Lampoon' fame and set out across this great nation in search of entertainment, rest and relaxation. In other words, Memorial Day weekend marks the start of the summer travel season.
Those looking for a way to profit from another summer travel season have several good options in the ETF universe, but few may be as viable as the PowerShares Dynamic Leisure & Entertainment Portfolio (NYSEARCA:PEJ).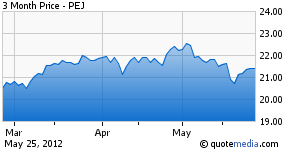 The PowerShares Dynamic Leisure & Entertainment Portfolio is now almost seven years old, home to 30 stocks and $66.4 million in assets under management. PEJ's annual expense ratio is 0.63%. The ETF rebalances on a quarterly basis.
More than 40% of PEJ's weight is allocate to large-caps, many of them familiar blue chips, but risk-averse investors must acknowledge PEJ's almost 49% weight to small-caps, a factor that helps explain why the ETF has lost almost 4% in the past month. That said, let's not be too hard on PEJ. The ETF has found support at $21 and has returned almost 15% year-to-date.
A quick look at PEJ's top holdings indicates this ETF is the quintessential summer travel play. A traveler or a family of travelers can book tickets and hotel rooms on Priceline.com (NASDAQ:PCLN). On the way to their various destinations those travelers might just want a cup of coffee from Starbucks (NASDAQ:SBUX). Each stock accounts for 5.43% of PEJ, making them the ETF's largest holdings.
After getting on the plane and to the hotel, many travelers will likely head to theme parks, and PEJ covers that base as well with a better than 5% weight to Walt Disney (NYSE:DIS). For those that get hungry during all the travel fun, PEJ can satiate your appetite with combined exposure of almost 15% to Yum Brands (NYSE:YUM), Chipotle (NYSE:CMG) and McDonald's (NYSE:MCD).
Overall (if Starbucks is counted as a restaurant stock), PEJ offers exposure to 13 restaurant stocks, making the ETF a legitimate play on the strength of the U.S. consumer regardless of the time of year. PEJ also offers exposure to two pure-play lodging stocks and three casino stocks.
Beyond being a discretionary and travel play, it can be argued that PEJ is a compelling mix of growth stocks (Priceline and Chipotle) and blue chip names (Disney and McDonald's). Disney, McDonald's, Starbucks, and Yum also combine to make PEJ more of an emerging markets play than meets the eye.
Bottom line: PEJ is a versatile fund, but it's also treated as a discretionary play, meaning it's a tricky play in this environment. Stick with the basics. If PEJ drops below $21, get out.
Disclosure: I have no positions in any stocks mentioned, and no plans to initiate any positions within the next 72 hours.