We posted Part 4 of our "Building A DIY Dividend Portfolio" series Friday, which highlighted our top-ranked dividend stocks in the Consumer Discretionary sector (see summary table below).

As we highlighted in Part 4, we believe that patiently waiting for a low-risk entry point for a given stock will drastically improve your long-term investment results. Just because a stock has a high Parsimony composite rating, it doesn't necessarily mean that you should run out and purchase it that day. We scan the charts of our top-rated stocks daily looking for strong levels of support and resistance, which ultimately helps us determine a target "Buy Zone" for each stock.
Tactical Strategy for the DIY Dividend Portfolio
As a follow up to Part 4 (Part 4b, if you will), below are our target "Buy Zones" for each of these top-rated Consumer Discretionary stocks. For the most part, Consumer Discretionary stocks have pulled-back in response to the recent correction in the broader market. As you will see below, there are several great Consumer Discretionary stocks that are currently offering investors some very attractive entry points right now.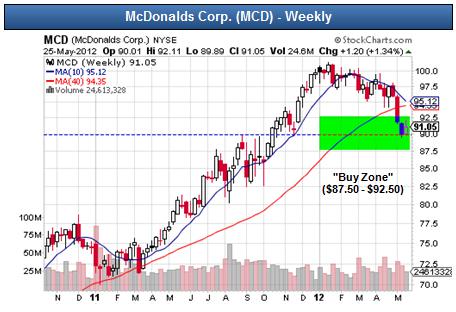 McDonalds Corp. (NYSE:MCD) is one of the few stocks that currently holds the coveted "99" composite rating (which is the highest rating in our system) due in part to the company's long and stable dividend history. The stock is down over 12% from the January 2012 peak of $102.22, which is a relatively healthy pullback for MCD based on past corrections. We have been targeting a 10%-15% pullback for the stock and it is currently in the middle of that range.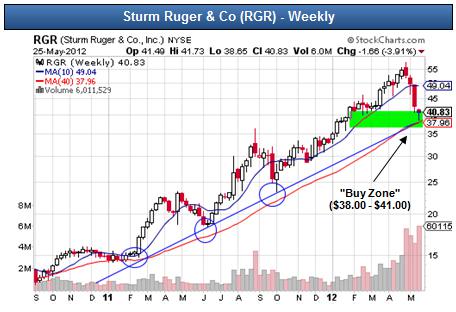 Sturm Ruger (NYSE:RGR) might be the best buy of any stock in our universe right now. RGR currently carries the coveted "99", but what's most impressive to us is the combination of high sub-category ratings as well: Risk-Reward (97), Financial Stability (99), and Relative Strength (99). The stock is down almost 30% from its peak in April. Why, you ask? Because the Company announced in early April that it has temporarily stopped accepting new orders because it can't keep up with demand. Having more orders than you can handle sounds like a great problem to us. This is a classic case of a stock tanking for all the wrong reasons. All that said, we think the stock is trading at a VERY attractive level right now. As a matter of fact, we bought the stock ourselves yesterday just below $41.00.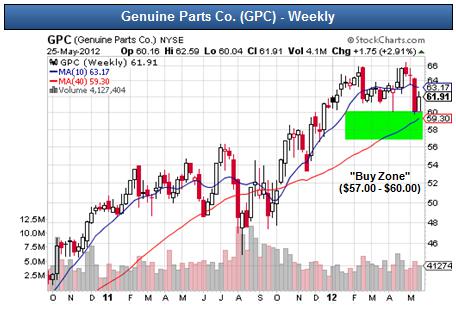 Genuine Parts (NYSE:GPC) is currently down about 10% from its recent peak, which is close to the high end of our "Buy Zone." We have been targeting a 10%-15% pullback for the stock based on how the stock has traded during past corrections. GPC is a good company with a strong long-term uptrend and we think it would be a great stock to add to your DIY Dividend Portfolio on any further weakness.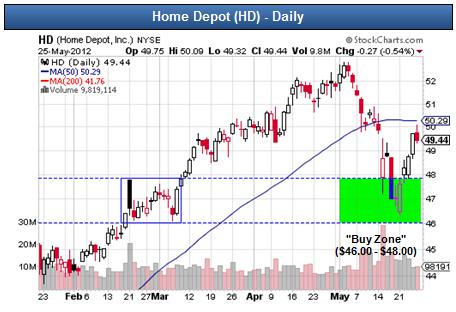 Home Depot (NYSE:HD) was in our "Buy Zone" early last week and we didn't pull the trigger. Unfortunately, the stock has now gotten away from us a bit. That said, we believe that there is a good chance that HD gets some resistance at its 50-day moving average ($50.29) and then subsequently tests our "Buy Zone" again soon. Don't chase it. Let this one come back to you.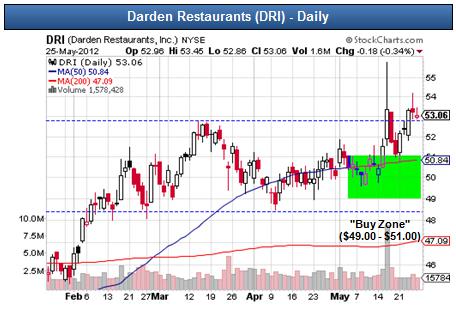 Darden Restaurants (NYSE:DRI) broke out of its short-term range a few weeks ago, hitting a new 52-week high. The stock is in a strong long-term uptrend and seems to have some positive momentum. That said, it looks like this breakout may prove to be "false." If it is, we think the stock will fall back into the lower part of its recent range before attempting another run at a real breakout. Keep your eye in the $49.00-$51.00 level for the stock.
Summary
Investors should consider all of these great stocks for their DIY Dividend Portfolio, but please be patient with your entry points.
That said, two of the stocks above are currently in their respective "Buy Zones" (MCD and RGR). These are two of our highest-rated stocks and investors should feel free to pull the trigger on these stocks immediately.
Investors should use their discretion with the other three (GPC, HD, and DRI) in the short term, as we believe all of these stocks will eventually hit our "Buy Zones".
Good luck out there ... be patient!
Please make sure to "follow" us as we will be continuing our DIY Dividend Portfolio series over the coming weeks. We will also update readers if there are any new stocks entering their "Buy Zones".