The Short Story
Caraco Pharmaceutical Laboratories (NYSEMKT:CPD) is a small cap generic drug developer with big backing that is looking to compete on a large scale. With accelerating growth and an aging American population this company has the potential to reward investors in a big way in the long run.The company's strong financials and experienced management solidify their growing position in a competitive segment.This Detroit based firm has a diversified and growing product mix that that it sells to a variety of companies to generate multiple revenue streams. The firm's products are used to treat everything from hypertension to diabetes to allergies. Note that this company is relatively thinly traded and it is advisable to use limit orders when purchasing the stock
In Depth Analysis
The Business
Caraco is a generic drug producer in a highly competitive market. As certain branded drugs come off patent, Caraco makes and distributes the drug as a "generic." The process to produce a generic drug is straightforward: A company that wishes to produce a generic must file an Abbreviated New Drug Application [ANDA] with the FDA. Once the FDA approves the drug and determines the generic is not violating the patent of the branded medication, then the generic company can begin to produce the medication. The entire process usually takes around 12 to 18 months. Note that in order for the FDA to approve the ANDA the generic must pass a bioequivalency study. The bioequivalency study tests the absorption and performance levels of the generic to ensure they are not significantly different from that of the branded drug.
The first thing that sticks out with Caraco is its small $500 million dollar market cap. The obvious question is how can little Caraco compete with giants such as Teva (NYSE:TEVA) and Barr (BRL) who are sporting $36 billion and $6 billion dollar market caps respectively? To answer that question we have to look at Caraco's with Sun Pharma.
The Caraco and Sun Pharma Relationship
Sun Pharma is an Indian pharmaceutical company that owns about 76 percent of Caraco including both common and preferred stock. Sun is the largest drug company in India valued at around $5.5 billion dollars.
In 1997 Caraco was trading at depressed levels and Sun made a purchase of 5.3 million shares for $7.5 million. This was the beginning of a turnaround for Caraco. In August of that year Caraco entered into a technology transfer agreement with Sun. Under the terms of the pact (it was cleared by independent auditors) Sun was transfer 25 generic products in exchange for 544,000 shares apiece over a five year period that expired in August of 2003. The technology transfer for each medication took place once a bioequivalency test was completed on the generic drug. Sun delivered 13 out of a possible 25 generic drugs under this arrangement
Caraco and Sun entered into a new technology transfer agreement on November 21, 2002. Similarly to the previous arrangement, Sun agreed to supply Caraco 25 generics over a five year period in exchange for 544,000 preferred shares apiece. These preferred shares are not convertible for three years. As of the most recent quarterly filing all 25 products have been selected for transfer and 24 of the medications have passed bioequivalency tests.
Under both of these agreements Caraco had the right to sell products in only the United States and Puerto Rico. Also, Caraco expenses all technology transfers as R&D expenditure on its income statement. In Caraco's quarterly and annual SEC filings they expense the technology transfers as non-cash R&D expenditure at the current market value of Caraco's shares.
In fiscal year 2007 Sun and Caraco entered into a 3 year marketing agreement where Caraco will distribute a number of Sun's products. Even though Caraco will suffer from lower gross margins than usual under this agreement, the company will not have to carry risks normally associated with drug development. Under this arrangement, Caraco hopes to gain alternate revenue streams and fill any holes in its generic portfolio.
In addition to providing the technology, Sun also helps Caraco secure machinery and raw materials no additional cost. This arrangement ensures that Caraco has the necessary resources to continue its rapid expansion. Also, Sun has provided highly skilled personal who are now Caraco employees.
Clearly, Sun has given Caraco the firepower to compete with the larger firms, but Sun has much to gain from these arrangements as well. In addition to making large sums of money Sun will make on Coraco's stock appreciation, Caraco also gives Sun direct access to the lucrative US market at a very low cost. Overall this relationship is vital to Caraco's health and future growth. Currently, the relationship is on good terms (according both the management at both companies) and Sun has a very large incentive (about $380 million at current prices) in making sure Caraco prospers. Also, four members of Caraco's board are affiliated with Sun including the Chairman who is Sun's founder. However, any significant deterioration in the arrangement between these two firms will have large adverse affects on the Caraco's shareholders. Now that we understand the partnership between Sun and Caraco we can get back to analyzing Caraco's operations.
Back to Caraco's Business
As of March 31, 2007 the Caraco produced 33 drugs in 66 strengths (in this sense different strengths means different a different dosage). Today the company has 47 different products approved by the FDA in 101 strengths. This is an increase of 42 percent and 53 percent, respectively, in less than a year! The sharp increase in product development can play major role the company's future performance at management stated in the latest annual filing:
Approvals for new products may have a synergistic effect on a company's entire product line since orders for new products are frequently accompanied by, or bring about, orders for other products available from the same source. We believe that price is the most significant competitive factor in the generic industry, particularly as the number of generic entrants with respect to a particular product increases.
As Caraco continues to expand, new product offerings may buoy the sales of existing products and add to the company's performance. In order to accommodate recent and future growth the Detroit based firm is breaking ground on a $14.5 million, 140,000 square foot expansion to its current facilities. With the completion of the project the company expects to add 598 new jobs in the areas of manufacturing, administrative and research and development. Caraco secured the deal under very favorable terms with the city of Detroit and the state of Michigan where these local governments give the company $14 million of tax abatements over the next 12 years. Also, in FY 2007 the firm acquired a small packaging facility for $1.7 million to improve bottling and reduce costs. This is a 33,369 square foot facility that Caraco acquired from a third-party firm.
Caraco is also starting to also starting to expand away from its relationship from Sun as well. In fiscal year 2007 the company more than doubled its analytical staff to 65 employees. These employees regularly attend continuing education to help increase productivity and remain apprised of the latest techniques. The firm has also increased its expenditure in lab equipment in hopes of speeding results and improving overall efficiency.
Additionally, Caraco is starting to outsource R&D to companies other than Sun. As of the latest quarterly filing, Caraco had agreements to produce six different products with unaffiliated third party firms.
Small Size, Big Advantage
Many people may argue that Caraco's small size will hinder future performance. I couldn't disagree more. First of all, Caraco has managed to keep the costs and risks down of developing ANDAs by outsourcing the process to other companies such as Sun. Also, with Sun's backing Caraco is able to carry a heavy bat with regard to extensive research and development capabilities and ability to secure personnel, machinery and raw materials. In with regards to scale, it appears that Caraco is not disadvantaged compared to industry giants. To make this point clearer, consider the SG&A (Selling, General and Administrative) expenses for Caraco compared to others in the industry: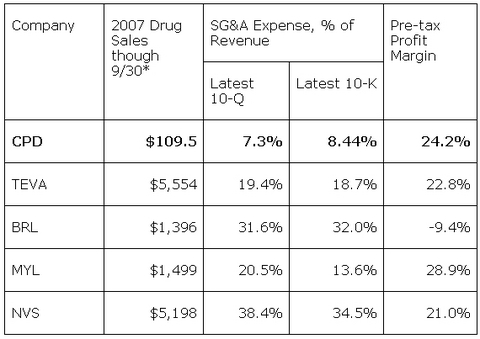 *Drug Sales in millions of dollars
As the table demonstrates, Caraco (CPD) has the lowest SG&A expenses as percentage of revenue. Also, CPD has the second highest pre-tax profit margin only bested by Mylan (NASDAQ:MYL). Mylan's profit margin may a little distorted since the company's recent acquisition of Merck's KGaA has created a lot of debt. In fact, Mylan's balance sheet shows that it currently has more liabilities than equity.
Caraco's small size can be a huge advantage to the company going forward. Since the company is smaller it is more nimble and can react quickly to changes in the industry. The firm's small size also allows it to focus on some smaller generics that the larger companies won't waste time going after. Being small also allows Caraco to pass up generic opportunities if it does not believe it will be advantageous to pursue the endeavor. For example, if a blockbuster drug comes off patent and CPD believes that the competition will be too stiff, it can simply pass. Teva (TEVA) and Novartis (NYSE:NVS) do not have such luxuries given their appetite for extensive markets with large potential revenue streams.
CPD's tactics are best described by management in the latest annual filing:
To date, our strategy has been to analyze the marketplace and try to determine opportunities for products having good market potential, that are difficult to develop, that require difficult-to-source raw materials and/or products representing smaller therapeutic niche markets. Recently, we have begun developing products which will face potential patent litigation, and/or first to file opportunities. We anticipate also seeking opportunities to in-license authorized generics and other generic pharmaceuticals.
Overall, management hopes Caraco's small size will help engender growth and maintain margins.
Caraco sells their products to a variety of sources. The company sells to variety of sources: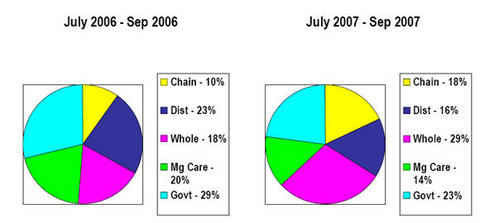 Clearly the company is not dependent on any one customer for revenue.
The Industry and Political Environment
The industry for generic products continues to grow as more and more health care plans are pushing patients toward cheaper generics. In 2006, the generic market grew by 22.3 percent. Also, medications valued at 27 billion dollars came off patent in 2007 and products valued at 28 billion are expected to come off patent in 2008. Undoubtedly, the industry is growing and the competition is strong.
The political environment may also affect the performance of generic drugs. Many politicians in Congress as well as Presidential candidates are looking for ways to make health care cheaper for millions of Americans. Given this fact I do not see future government action to be unfavorable to generic drug makers (but it is possible).
The Financials
The Income Statement
Sales are increasing rapidly for Caraco as Quarter over Quarter sales growth was 46 percent and net income is up 100 percent. In addition, sales are accelerating. The following table presents quarterly sales increases as a percentage.

Clearly, sales growth is accelerating and future product releases will likely increase sales in both new and existing products. It does not make sense to make a similar comparison for income since the firm large fluctuating non-cash R&D expenditures due to the technology transfers from Sun. It is important to note that cash R&D expenditures are quite important have been increasing sharply. Cash R&D was $5.1 million and $8.4 million during the second quarter and first half of fiscal 2008, respectively compared to $2.3 million and $5.1 for similar periods in FY 2007. With cash R&D Caraco conducts tests on current products as well as develop new products and ANDAs.
The Balance Sheet
Caraco's balance sheet has been free of long-term debt since 2003. The company currently has 33.17 million in cash up from 2.46 million dollars in 2003. These numbers indicate an increasingly strong balance sheet. Also, the strong cash position will allow Caraco to take advantage of opportunities to acquire new products or expand existing facilities.
The Cash Flow Statement
Fiscal Year 2007 was the first year that the firm was free cash flow positive as it produced FCF of 21.92 million. For the first six months of 2007, CPD is not FCF positive as the company's accounts receivable was abnormally high for the second quarter of FY 2008. Management attributes the result to the timeliness of sales. These numbers are not concerning since quarterly cash flow figures can be extremely volatile. However, if the problem creeps up in a similar way in future quarters and on an annual basis it may raise a red flag for shareholders.
Risks
Litigation is always a major risk for any drug company especially generics. Currently, Caraco is engaged in certain litigation regarding patent infringement. These lawsuits may affect the sales of some products, but CPD's continually growing product may help mitigate the effect of any one lawsuit. However, if a large number of Caraco's products are implicated in lawsuits it could adverse affects in long term results.
In the generic drug business price is a key driver. As price competition increases, Caraco's margins may be adversely affected. Even though management believes that increased sales and productivity will help combat this competition, if price erosion is more severe than management expects then results will suffer.
I noted above that I believe that the current political climate may be conducive to Caraco's success. CPD's results may be adversely affected, however, if there is a large change in regulation with regards to the FDA or patent length and protection.
The largest with Caraco may be a deteriorating relationship with Sun. As noted above the arrangement is beneficial to both firms, but if the arrangement between Sun and Caraco suffers so will Caraco's shareholders.
Valuation and Buying Point
I believe that Caraco is attractive given the current multiple the company is trading at in relationship to its competitors and its growth prospects. Larger stalwarts have multiples similar to that of Caraco even though they don't carry near the growth potential. For example, Teva's p/e is 21, Novartis' p/e is 25.5 while Caraco's is 19. If you back out Caraco's cash hoard the company's market value and p/e become even smaller. The discrepancy between Caraco and its much larger counterparts with regard to valuation may be due to the fact that no analysts are currently following the CPD. Also, Caraco has a price/sales ratio of 3.57 while the industry sports a much larger number of 16.67.
The current buying point for Caraco is extremely striking. With many new products coming out on the market we will likely see a surge in profits in the near and long term future. Also, Caraco is breaking into new markets. Recently they announced FDA approval to market over the counter versions of hit allergy drug Zyrtec for both adults and children. The large introduction of new products will not only bring in new sales, but bolster the sales of existing products as well. This result is already showing as revenue is increasing on both a yearly and quarterly basis.
Conclusion
With a large number of products recently and soon to be released Caraco is a fast growing company with large potential trading at reasonable levels. Caraco has the tools and the backing to compete larger firms on a large scale. With a strong balance sheet and adept management, Caraco has the potential to take advantage of various opportunities and reward shareholders in the long run.
Disclosure: Chandler Lutz owns shares of Caraco (CPD)