"But I think that your entire life is a process of sorting out some of those early messages that you got." - Bruce Springsteen
The May correction following European election has been quite deep worldwide, and less so here in the United States. I began making the case for a "mini-correction" to occur in early April in my writings, arguing that should stocks act resiliently, and the correction be minor, it would only increase the probability of the "Spring Switch" out of bonds and into stocks getting flipped.
I've been noting in several media appearances my concern over the breakdown in Junk (NYSEARCA:JNK) and Emerging Market debt (NYSEARCA:EMB) relative to Treasuries (NYSEARCA:TLT), warning that it could be a sign that equity markets could conceivably drop much further given the speed and magnitude of the credit spread widening experienced the week before last. For a more detailed look into this, see my CNBC segment from last Tuesday.
Every now and then I run a screen on my list of over 1000 ETFs/ETNs to see what areas of the investable universe are showing the most strength relative to their respective 20 day (1 trading month) moving average. The best performing areas of the market confirms that the flight to safety trade was very real and powerful as can be seen below.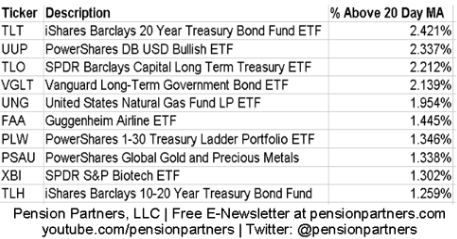 Notice that across the board, longer dated Treasuries such as TLT, TLO, VGLT, PLW, and TLH all showed strong gains as bond yields collapsed in spite of Operation Twist ending next month. The Dollar (NYSEARCA:UUP) got a strong bid as the Euro (NYSEARCA:FXE) and emerging market currencies (NYSEARCA:CEW) fell broadly. Airlines (NYSEARCA:FAA) likely performed well because of the beneficial impact of falling Oil prices, while Biotech (NYSEARCA:XBI) and Gold (NASDAQ:PSAU) also performed well. Bonds have surprised most (including me by the speed of the price advance) as things deteriorated on the backs of Europe.
The Spring Switch/Great Re-Allocation now likely very much depends on credit markets signaling that all is well again. However, as I have been stating, the odds of a further collapse in equities remains high given the credit spread blowout and near vertical strength of defensive sectors such as Consumer Staples (NYSEARCA:XLP), Healthcare (NYSEARCA:XLV), and Utilities (NYSEARCA:XLU) each relative to the S&P 500 (NYSEARCA:IVV). If we are able to recover from these levels in credit markets coinciding with Treasury yields rising, I suspect reflation returns as risk assets rise again. Until confirmation though, the environment likely remains harsh in the very near-term for equities.
Disclosure: I have no positions in any stocks mentioned, and no plans to initiate any positions within the next 72 hours.
Additional disclosure: Pension Partners, LLC, and/or its clients may hold positions in securities mentioned in this article at time of writing.