By Nathan Slaughter
As the name implies, LivePerson (Nasdaq: LPSN) ($4.07) designs software that gives e-commerce companies a much more personal touch to their websites.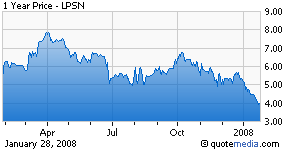 For one reason or another, you have probably left items abandoned in a cyber shopping cart just short of the checkout counter. Perhaps you found a digital camera at just the right price, but had questions about certain advanced features and couldn't find any answers. Or maybe you were set to buy the hottest toy as a birthday present, but ran into problems with gift-wrapping or shipping options.
We all have questions about certain products and want them answered before we even think of entering a credit card number. That's where LivePerson comes in. The firm's Timpani software connects shoppers with live customer service personnel, so that any and all questions can be answered in a friendly, interactive webchat.
While this description is an oversimplification, think of LivePerson's platform as providing a personalized, knowledgeable sales assistant to help customers complete their purchases. So instead of losing shoppers to frustration, online retailers can approach them proactively and guide them every step of the way.
Of course, the software is far more advanced than a simple pop-up chat window or click-to-talk function. The latest version analyzes online visitor behavior and can actually predict which shoppers are most likely to buy something, so that agents can engage them in real time.
In a world dominated by click-thrus and conversion rates, the ability to turn wishy-washy visitors into paying customers is vital. Between 2002 and 2005, companies boosted their traffic by doubling Internet ad spending from $6 billion to $12 billion. Meanwhile, conversion rates (the percentage of visitors who complete a purchase) barely budged, inching up from 2% to around 3%. Translation: increased web traffic doesn't necessarily lead to increased sales -- but teaming up with LivePerson does.
It's hard to argue with the results. By some estimates, roughly 20% of these webchats eventually lead to a completed purchase. And the good news doesn't end there. Those who chat with an agent also spend about +35% more per order -- and satisfied customers often come back again and again.
So it's not surprising that over 6,000 companies rely on LivePerson to get the most out of their marketing dollars and optimize their e-commerce operations. Top clients include well-known firms like Apple (Nasdaq: AAPL), Intel (Nasdaq: INTC), Home Depot (NYSE: HD), Microsoft (Nasdaq: MSFT), Orbitz (NYSE: OWW) and Verizon (NYSE: VZ). Last year, the company hosted more than 4 million chats per month.
And as the company's client roster has expanded, its revenues have soared. LivePerson was just named one of New York's fastest-growing tech firms -- thanks to its torrid +307% revenue growth between 2002 and 2006.
Over the past 12 months, the company has raked in $42 million in sales and produced $3 million in operating cash flow. While those figures might be modest, keep in mind that the firm only has about 40 million shares outstanding. We should also point out that LivePerson has a pristine balance sheet with over $25 million in cash and zero long-term debt.
In short, e-commerce is going to continue gaining momentum. Rather than peering into the crystal ball and trying to predict which retailers come out on top, why not back the one company that has already teamed up with more than 6,000 of them?
At one point or another, nearly all of us have said, "I just want to talk to a live person."
LivePerson is enabling companies to do just that, and the inviting click-to-chat icons are becoming increasingly mainstream. Ultimately, we expect most online retailers (as well as service providers like AT&T (NYSE: T) and Qwest (NYSE: Q) to adopt the technology as the e-commerce landscape continues to evolve.
With thousands of companies pumping billions into their e-commerce operations, we see steady demand for LivePerson's products to enhance conversion rates and reduce call center costs.
Disclosure: none