The current market correction claimed yet another victim on Monday – Alliance Data Systems (ADS 42.48). With the announcement that the Blackstone Group (NYSE:BX) felt the conditions of their merger agreement could not be met, ADS' stock plummeted 23.12 – a whooping 35%. In their press release, ADS said that Blackstone "does not anticipate the condition to closing the merger relating to obtaining approvals from the Office of the Comptroller of the Currency [OCC] will be satisfied." ADS indicated that it felt the conditions could be met, which seems reasonable, considering the thousands of bank mergers that have been executed over the last 15 years. It's hard to point to another bank deal that couldn't get done because of a regulatory issue that didn't involve market share. And it's not like Blackstone is new at doing deals. It seems more likely that the 81.75 looked a little to rich considering market conditions. On Monday, the market reacted as if the deal is dead, which it probably is.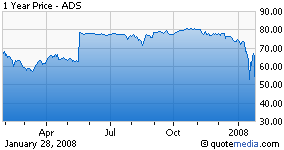 Although the news is disappointing to investors who were hoping to receive the 81.75 merger price in the very near term, these developments open the door for other investors seeking an outstanding company at a very reasonable price.
ADS provides marketing, credit and transaction services to over 600 clients. These services include the AIR MILES Reward Program (the largest coalition loyalty program in Canada) and providing retailers with private label credit card programs. More generally, ADS helps its clients find new customers and build loyalty in their existing customer base. It is primarily a relationship business, with most of ADS clients signed to contracts of three to five years in duration. ADS has two bank subsidiaries – lack of approval from bank regulators killed the merger deal, according to Blackstone.
With yesterday's announcement and the 35% drop in price, ADS now trades at just 9.9 times consensus 2008 EPS. It seems to be incredibly cheap for a company with historical five-year growth rates of 21% for revenue and 40% for EPS. Looking forward, the consensus estimated EPS five-year growth rate is 18%. So far, ADS has not reported any problems related to credit quality issues.
On May 16, 2007, the day prior to the merger announcement, ADS closed at 62.96. While the S&P 500 has declined 10.6% from that date, ADS has sunk 32.5%. And though the outlook for many companies, especially those tied to retail and finance, has weakened considerably since that time, ADS has reported two strong quarters and has preannounced results for the December quarter, which are right in line with expectations.
No doubt yesterday's stock price movement reflected the exit of short-term players, including hedge funds and arbitrageurs. Over the course of the next several months, these traders should be replaced by both long-term value and growth investors. In addition, it would not be surprising to see ADS aggressively purchase its own shares at these levels.
Indeed, while it seems clear that Blackstone was no longer interested in buying ADS at 81.75 per share, one would have to believe that they would find a way to close the deal if they could do it at 43 – that would be a steal. Luckily, it's a price that is available to everyone else today.
Disclosure: Author owns a position in ADS and manages accounts which hold ADS.