As you may know, we are in the midst of our "Building a Do-It-Yourself Dividend Portfolio" series, where we are highlighting our top-ranked dividend stocks within each sector. Part 6 of the series, which is next on our list to cover, will focus on the Technology sector. However, we felt that it was necessary to take a brief interlude from the series to highlight a stock that won't make the current list of Technology dividend stocks (even though it definitely will in the future). We are talking about Apple (NASDAQ:AAPL) folks.
In early March, Apple announced plans to start paying a dividend for the first time since 1995. The Company plans to initiate a quarterly dividend of $2.65 per share sometime in the fourth quarter of its fiscal 2012, which begins on July 1, 2012. That equates to an annual dividend of $10.60 and a current forward dividend yield of 1.9%.
It just didn't seem right to publish the Technology list without first highlighting how Apple would stack up against its soon-to-be dividend-paying peers.
Rating Methodology
We use a combination of fundamental and technical analysis to determine which stocks to buy and when to buy them. For dividend stocks in particular, we have a proprietary rating system that ranks over 700 U.S. dividend stocks on a weekly basis.
Our composite rating is derived by ranking each stock based on 28 key fundamental and technical data points in five sub-rating categories:
Risk-Reward Profile (e.g., current yield, Calmar ratio)
Financial Stability (e.g., sales and EPS growth, ROE, leverage)
Dividend History (e.g., historical dividend stability and growth)
Future Dividend Potential (e.g., payout ratio, EPS estimates)
Relative Strength (e.g., 12-month total return and trends)
It should be noted that we also believe that patience is a virtue. Just because a stock has a high Parsimony composite rating, it doesn't necessarily mean that you should run out and purchase it that day. We scan the charts of our top-rated stocks daily looking for strong levels of support and resistance, which ultimately helps us determine a target "Buy Zone" for each stock. We believe that patiently waiting for a low-risk entry point for a given stock will drastically improve your long-term investment results.
How Does Apple Stack Up?
Below is a table that compares Apple to some of its large-cap, dividend-paying technology peers.

On the surface, Apple rates pretty well with an overall Parsimony rating of 91. However, technology stalwarts, International Business Machines (NYSE:IBM) and Intel Corp. (NASDAQ:INTC), carry a slightly higher rating.
That said, a quick glance at the sub-ratings for these stocks reveals why Apple would have a lower overall rating (see table below).

Apple has highest scores of all the stocks on the list in every sub-category except Dividend History. Clearly, Microsoft (NASDAQ:MSFT) and Cisco (NASDAQ:CSCO) can't hold a candle to Apple. Unfortunately, Apple can't do anything about its short Dividend History, but dividend growth investors should be able to look past this short history given the Company's financial stability and future dividend potential.
This shouldn't be earth-shattering news to anyone, but Apple may very well become the best dividend growth stock of all-time.
Tactical Strategy
While we consider ourselves long-term Apple bulls, we have pointed out in recent articles that Apple's current correction may not be over.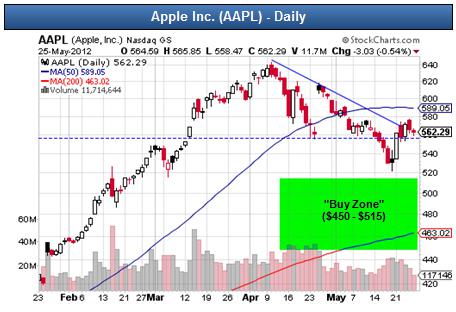 Our "Buy Zone" for Apple remains in the $450-$515 range. Even though we think the stock could go as low as $450 based on the fundamental support discussed in previous articles, $515 is the magic -20% mark for Apple shares (from the peak of $644) and we would feel comfortable starting to add to our position at this level.
Conclusion
It's clear that Apple has the potential to become one of the greatest dividend growth stocks ever. While we don't necessarily think that this is the current mission for Apple execs, the stock should become a core holding in your DIY Dividend Portfolio in the coming months.
Note to readers: We will highlight our top-rated stocks in the Technology sector in Part 6 of our DIY Dividend Portfolio series, so please make sure to "follow" us.
Disclosure: I am long AAPL.