A Master Limited Partnerships, or MLP, is a type of partnership that is publicly traded on a securities exchange. MLPs' primary characteristic is that they combine the tax structure distribution-focused nature of limited partnerships with the liquidity of publicly traded securities. Most MLPs are oil and gas pipeline businesses that earn stable income from the transport of oil, gasoline and/or natural gas, but the format would be appropriate for industries relating to the harvesting and/or distribution of natural resources.
In the low interest rate environment that has existed for the last several years, oil & gas MLPs have become a popular long-term income oriented investment allocation and also a growing business structure for holding certain energy related assets. The industry continues to drop assets into MLPs, and the trend appears to be accelerating over time. There are now several large-cap MLPs, most of which have grown through acquisition.
Several MLPs have come under pressure over the last few months. Nonetheless, given the strong growing appreciation for the MLP business model by fixed income and energy investors, as well as businesses holding energy assets, it is likely that the asset class will grow. Moreover, it is likely that a growing number of funds and ETFs will come to focus on MLPs. This could bode well for many of the smaller MLPs that could either grow or be acquired by the larger ones.
Below are recent equity performance rates for five high-yield, small cap MLPs that are publicly traded in the United States: Breitburn Energy Partners L.P. (BBEP), Calumet Specialty Products Partners LP (NASDAQ:CLMT), Ferrellgas Partners LP (NYSE:FGP), Martin Midstream Partners LP (NASDAQ:MMLP) and Pioneer Southwest Energy Partners (PSE). I have provided 1-month, 3-month and 2012-to-date equity performance rates, as well as the current annualized yield each MLP distributes.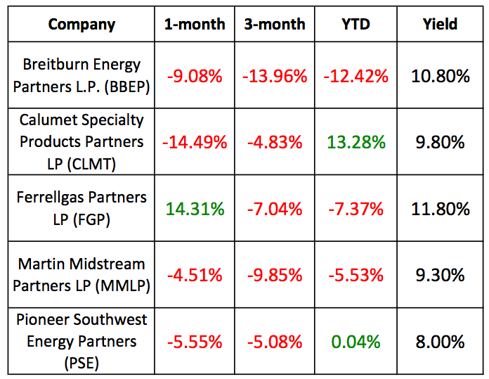 Click to enlarge
Pipeline MLPs generally derive their revenue through the amount of product transported, with minimal sensitivity to energy price fluctuations except to the extent that price will affect energy demand. Not all oil and gas MLPs are pipelines. Several, especially among the small-caps, are exploration and production companies that extract petroleum. Additionally, there are other specialized energy MLPs, such as businesses that store energy for seasonal demand increases and emergency situations, as well as those that deal with specific refined products such as propane, a byproduct of natural gas processing and petroleum refining.
Ferrellgas Partners spent most of 2012 underperforming the other listed MLPs, but it has been the sole appreciating listed equity over the last month. Ferrellgas is a propane distributor, and propane prices have been under similar pressure to natural gas, both of which bottomed out a few weeks ago and have subsequently undergone price increases of between 20% - 30%. Several insiders made purchases at or near FGP's recent bottom.
The best performing listed equity, year to date, is Calumet partners, a refiner of specialty petroleum products that is up 13.28%, but it is also the worst performer over the last month, having fallen by 14.49%. The worst performer, year to date, is Breitburn, an exploration and production MLP, which has fallen 12.42% since the start of the year and 9.08% over the last month.
See the 2012-to-date performance comparison chart for the above-listed MLPs:

Click to enlarge
These five MLPs now average a 9.94% annual payout. It is very possible that some of the MLPs with significant gas exposure will be compelled to reduce their yield within the coming months or quarters, as hedge books come in with lower average prices.
Since MLPs do not pay corporate income taxes, the tax liability of the MLP is passed on to its equity owners. Each investor receives a K-1 statement that details their portion of the partnership's net income. Partnership income is then taxed at the investor's individual tax rate.
MLPs sometimes make cash distributions that are not taxed when received, but that will reduce the cost basis and create a tax liability that is deferred until the MLP is sold. Additionally, MLPs may distribute unrelated business taxable income. Such UBTI could be subject to taxation and require a special tax filing even when held in an IRA, if the UBTI exceeds $1,000 in a year.
Disclosure: I have no positions in any stocks mentioned, and no plans to initiate any positions within the next 72 hours.
Disclaimer: This article is intended to be informative and should not be construed as personalized advice as it does not take into account your specific situation or objectives.