Johnson & Johnson (NYSE:JNJ) shares have pulled back with the markets and now can be bought near the 52-week lows. This company is a diversified medical device, drug, and healthcare company that investors should consider now. This is one of the best buying opportunities for Johnson & Johnson shares in the last several months, and this stock can provide income as well as a measure of defense in a volatile market.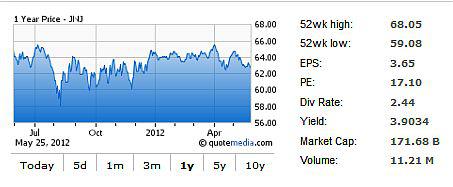 Here are a few reasons to consider buying Johnson & Johnson shares at current levels and even more on any further dips:
Johnson & Johnson is a great way to stay invested but still play defense. Because this company manufactures products that are primarily related to healthcare, it is not likely to see a big drop in revenues since consumers and companies will continue spending on healthcare and cut back on luxury items first. As the world looks more likely to head into a recession in the coming months, investors are likely to seek out defensive stocks like Johnson & Johnson. This company also has a very strong balance sheet with about $34 billion in cash and around $19.4 billion in debt, which adds to its defensive nature.

With the stock trading just barely above $60, the valuation looks very attractive. Johnson & Johnson is expected to earn over $5 per share in 2012 and in 2013. That puts the price to earnings ratio at just about 12 times, which is historically low for a top blue chip stock. Johnson & Johnson has been in business since 1866, and it has a range of well-known products such as Listerine, Motrin, Band-aid, Reach, Splenda, Tylenol, Lubriderm, Sudafed, and others.

Johnson & Johnson is one of the few companies that can say it has paid a dividend and raised it for 49 consecutive years. The dividend has more than doubled in the last 7 years. In 2005, the annual dividend was $1.10 per share, but the payout has risen to $2.44 annually. A more than doubling of the dividend in the past 7 years is particularly impressive when you consider how weak the global and U.S. economy has been since 2008, when the financial crisis began. With interest rates at very low levels, and even many bond yields well below the dividend yield offered by J&J, this stock makes sense. With a history of dividend increases every year for nearly 50 years, the dividend could be much higher in the next few years, while investors who sit in cash or other low yield investments have virtually no chance of increased payouts. Johnson & Johnson has a dividend payout ratio of less than 50% of earnings, so there is plenty of room for future increases. The safety, solid revenue stream, stable history of this company and generous dividend all make this a stock worth buying and holding on to as the economy and market heads towards continued uncertainty. One other potential bonus is the possibility that J&J does a spin-off and separates one or more of its businesses just as Abbott Laboratories has recently announced it would. This could unlock additional shareholder value in the future.
Here are some key points for JNJ:
Current share price: $62.51

The 52 week range is $59.08 to $68.05

Earnings estimates for 2012: $5.12

Earnings estimates for 2013: $5.45

Annual dividend: $2.44 per share which yields 3.9%
Abbott Laboratories (NYSE:ABT) is another defensive stock to consider as it provides pharmaceuticals and medical devices. It also has a consistent history of dividend increases and it has paid a dividend since 1924. Abbott plans to separate into two publicly-traded companies later this year, which could unlock more shareholder value.
Here are some key points for ABT:
Current share price: $62.25

The 52 week range is $46.29 to $63.20

Earnings estimates for 2012: $5.05 per share

Earnings estimates for 2013: $5.36 per share

Annual dividend: $2.04 per share which yields 3.3%
Disclosure: I have no positions in any stocks mentioned, and no plans to initiate any positions within the next 72 hours.
Disclaimer: Data is sourced from Yahoo Finance. No guarantees or representations are made. Hawkinvest is not a registered investment advisor and does not provide specific investment advice. The information is for informational purposes only. You should always consult a financial advisor.