Memorial Day for many simply means the unofficial start to summer, with backyard barbecues and long lines of traffic. It is important to remember that Memorial Day is the day to honor all Americans who died while serving in the Armed Forces.
Given the holiday weekend, I decided to take a look at companies that operate in the Aerospace & Defense industry and see what types of opportunities might exist there. Admittedly, I am very cautious, so I incorporated a relatively defensive approach to looking for stocks.
We start by creating a stock screen that focuses on the 76 companies in this arena. Clearly, we don't have the time to review all of these names to identify the few that are relatively solid and, perhaps even growing. Given the focus (or lack thereof) on fiscal discipline, we don't want a company with a hefty debt burden that could become truly problematic in the event that government spending on defense drops dramatically. In addition, we need to be mindful of the risks to macroeconomic activity, in event that the company also serves the civilian market.
Our next step then is to examine the balance sheet. We want companies with relatively low debt levels. We add to our screen the requirement that a company's long-term-debt to equity ratio in the most recent quarter must be below the industry average. This drops our list to 49 names.
While I would very much like to look at the latest economic statistics and say that everything is going great, I cannot do so. We continue to plod along on a relatively slow-growth path. Granted, the latest housing figures, for example, have been nice, but we are far from being out of the woods. I remain concerned about consumer activity through much of the rest of this year and next year, particularly if nothing happens with tax policy.
With this in mind, we want to see a bit more of a cushion, to guard against a decline in activity. Here, we turn our attention to the income statement, and focus on companies with operating margins that are wider than the industry average. Figure, if conditions improve, that more of each dollar of revenue will make its way to the bottom line. If conditions deteriorate, however, then these companies have more room to work before they start to see losses. Adding the requirements that operating profit in the trailing twelve-month period be positive and greater than the industry average shortens our list to only 11 names. The list has just about reached a reasonable number for further research, so here's a quick peek: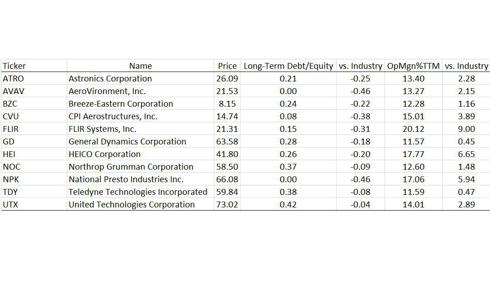 Click to enlarge
Still, we aren't done yet. We can shorten this list further. Again, we would like some indication that the company is growing. For this, we turn to analyst earnings estimates and focus on companies where the current year EPS estimate is at least as high as it was four weeks ago. At the same time, we use those EPS estimates in our calculation of PEG (future P/E relative to EPS growth) ratio. Between the recent weakness in the market and my cautiousness, I want stocks that are priced so cheaply they effectively have an "On Sale" sign hanging on them. We adjust our screen to highlight companies that have a PEG ratio less than 1.20.
This approach results in just two names: Astronics Corp. (NASDAQ:ATRO) and United Technologies Corp. (NYSE:UTX). Here's a quick look at both of them.
Astronics Corp. reportedly operates in two areas, aerospace and test systems. In the former, the company is involved in lighting, such as airfield lighting, aircraft lighting, and cabin electronics. The latter segment focuses on communications and weapons test systems. Analysts have been increasing their EPS estimates for next year. According to Reuters, these estimates have climbed from $2.12 two months ago to $2.19 today. Nonetheless, ATRO shares have lost considerable ground over this time, shedding more than 27% of their value, relative to the approximately 7% decline in the S&P 500 Index. This decline in its share price has pulled its valuation deep into value territory, with a PEG ratio of 0.73.
United Technologies Corp. operates in aerospace, but it is also involved in building systems. Regarding building systems, think Otis elevators and escalators. As for aerospace, think Pratt & Whitney aircraft engines and Sikorsky aircraft. Here, too, analysts have been upping their estimates. According to Reuters, the average EPS estimate for next year has climbed from $6.70 two months ago to $6.72 today. Here, too, shares have been hit, falling approximately 12.5%, relative to the 7% decline in the S&P 500 Index over the last two months. Not surprisingly, UTX also has a price tag that seems appropriate for value hunters: its PEG ratio stands at 1.08.
Disclosure: I have no positions in any stocks mentioned, and no plans to initiate any positions within the next 72 hours.