A protected covered call or collar search performed using PowerOptions tools, seeking to find the highest returning positions for profitable companies with a maximum potential loss of 8% and a stock price in an uptrend, produced online professional network company LinkedIn (NYSE:LNKD), as shown below:

Right on the heels of LinkedIn were communication equipment company Ciena (NASDAQ:CIEN), internet software and technology company VirnetX (NYSEMKT:VHC), apparel and accessory company Michael Kors (NYSE:KORS) discussed in this article and virtualization company VMware (NYSE:VMW).
A protected covered call may be entered by selling a call option against a purchased or existing stock and using some of the proceeds from selling the call option to purchase a protective put option. The protected covered call can be thought of as a way to insure a stock and get paid for doing it. The LinkedIn protected covered call has a potential return of 3.2% (53% annualized) and a maximum potential loss of 7.4%, so even if the price of LinkedIn's stock drops to zero, the maximum loss (at expiration) which can be sustained is 7.4%.
The highest returning positions as shown above were found by selecting to search and sort by the highest returning positions. Stock prices for companies in an uptrend were found by selecting to search for companies with a 100-day moving average greater than the 200-day moving average. The 8% maximum loss parameter was selected, as a loss of 8% or less can often be recovered fairly quickly using option income generating investment methods.
LinkedIn's competitors include Facebook (NASDAQ:FB), Jigsaw Data Corporation (private) and Monster Worldwide (NYSE:MWW) discussed in this article. Monster Worldwide indicated it was considering its strategic alternatives-- i.e. putting up a for sale sign-- at which it has been rumored that LinkedIn might be interested in pursuing the purchase of Monster, but apparently LinkedIn is not interested in acquiring Monster Worldwide.
In LinkedIn's Q1 2012 earnings call held on May 5, 2012, the company noted strength across all key metrics. The company's quarterly revenue grew to $188 million, which was an increase of 101% over the same quarter in the prior year. Membership grew 58% year-over-year to a total of 161 million members. Of new members in Q1, two thirds were from outside of the United States. The company is experiencing its fast membership growth in Latin America, Asia-Pacific and southern Europe. LinkedIn now supports 17 different languages with support for more languages in the pipeline.
LinkedIn acquired presentation sharing company SlideShare, which has had 9 million presentations uploaded to its website. LinkedIn added 331 new employees in the first quarter with most of the new employees involved in sales and marketing. Additionally, more than 60% of the new employees added in the first quarter were international. Hiring Solutions is the company's largest and fastest-growing product area and was responsible for 54% of LinkedIn's revenue versus 49% in the previous year. The company guided for Q2 revenue in the $210 to $215 range and raised full-year guidance to $880 to $900 million. The guidance included consideration for the slowing of the European economy.
LinkedIn's stock price has recently pulled back (shown below), probably more due to the negativity of the market than to the performance of LinkedIn. The company does have some exposure to Europe, and companies with exposure to Europe, like Fossil (NASDAQ:FOSL) discussed in this article, have been taken to the cleaners recently.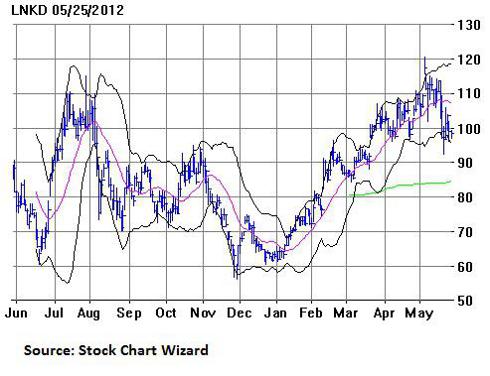 LinkedIn's earnings release is in the rear-view mirror and will not have another earnings release for a couple of months, so the spike in the company's implied volatility is a quandary, as there isn't any new information related to the company. The spike in implied volatility could be a result of the recent IPO of its competitor Facebook, but this is doubtful. Something appears to be brewing with LinkedIn, but it's unclear what it is.
A current investor in LinkedIn seeking to protect a long position in the stock or an investor seeking to take advantage of the company's spike in implied volatility might consider entering the protected covered call position listed in the table above. The call option to sell is the 2012 Jun 97.5 at $6.20 and the put option to purchase is the 2012 Jun 87.5 at $2.10. A profit/loss graph for one contract of the protected covered call position for LinkedIn is shown below: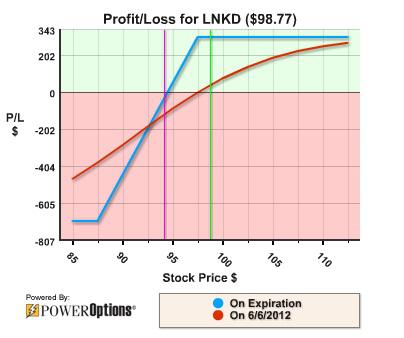 For a stock price below the $87.5 strike price of the put option, the value of the protected covered call remains unchanged. If the price of the stock increases to around $95, the position can most likely be rolled in order to realize additional potential return.
Disclosure: I have no positions in any stocks mentioned, and no plans to initiate any positions within the next 72 hours.