For a variety of reasons the following biotech stocks may break-out if general Market conditions do not impede that possibility. What am I pointing to? YM BioSciences (YMI) and Astex Pharmaceuticals (NASDAQ:ASTX). While Vivus (NASDAQ:VVUS) and Arena (NASDAQ:ARNA) may battle it out, YM BioSciences and Astex Pharmaceuticals may be a much better option for investors who like high-risk and the potential for high-reward.
I. YM BioSciences
Chartists will immediately see an inviting trading pattern referred to as the 'cup and handle' -- while the curvature is not picture perfect, it's nevertheless intriguing for those who look for trading patterns.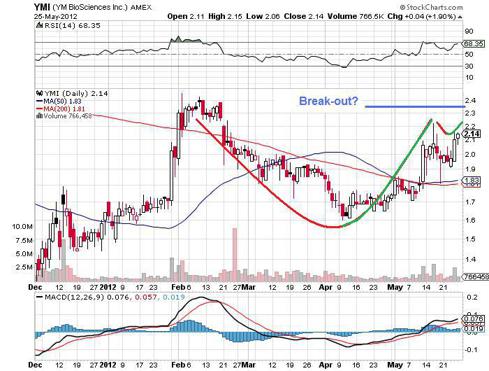 The 3 month trading volume averages just over 1 million shares, so for day-traders it should be relatively easy to move in and out of the stock. The company has certainly had no problems raising investment capital having added ~$81M to its corporate coffers for the expected phase 3 clinical launch of CYT387.
If the stock breaks out above $2.50/share, it has plenty of room to run up to at least $3.75/share.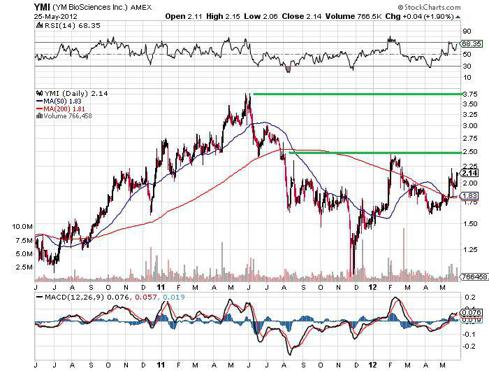 With the advancement of CYT387 the company's outlook may get even better in the eyes of the Market. That the company is well-funded is a plus and the effect of the ~43M common share dilution has disappeared in the sunset for new investors.
II. Astex
Has Astex hit a double-bottom? If it has, the jump up could be significant. I have long thought of Astex as a tradeable stock, but being at the bottom means buyers will have to think that the stock is going to go up in order to take a position. Investors will need to make their own risk assessment. Short-term or long-term, this stock trading pattern could be attractive to the investor who is willing to wait 6-12 months before selling the stock.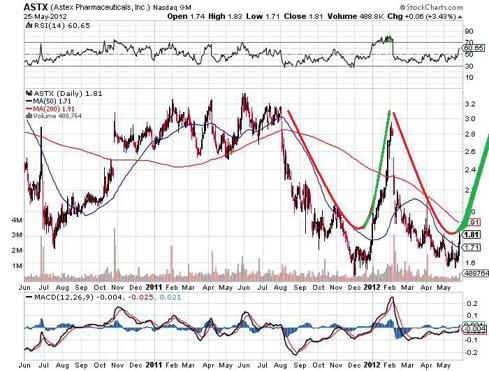 The chart is incomplete because the story is yet to be told. Nevertheless, it looks like Astex has put in a double-bottom. Even on the lowest estimate, the 6 month holder could execute a position for $2.40/share.
Conclusive Commentary
There is a lot of talk these days about Vivus and Arena , and stocks like these certainly draw attention as they go head-to-head. I wrote two articles on Vivus assessing their two drugs going before the FDA--one now is already approved; the other is on the slate for July. Meanwhile, Arena has jumped ahead of Vivus, and while the outcome of the FDA panel surprised me, I can't blame anyone from taking a high-risk position going into the FDA PDUFA date. For example, were I to invest $10,000 in Arena, and lose -- I'd probably lose $7,000; but on the other hand, if Arena's weight-loss drug is approved, that $10,000 will probably be worth $30-40,000 if I sell on the spike. Right now, the Arena odds far out-weigh the Vivus odds and this is coming from someone who wrote two favorable articles on Vivus.
Of course, Vivus already has one drug approved exactly as I predicted, but the weight-loss competition between Vivus and Arena has investors on the edge of their seats. So is there another way to go about biotech investing?
This is why the counter-opportunity is to look in a different direction: to consider a stock like YM BioSciences and/or Astex Pharmaceuticals, or to execute a position in all four: YMI, ASTX, VVUS, ARNA.
This summer I am under the impression that the biotech sector is going to steal the show from technology. I continue to think that astute investors, willing to accept high-risk, are going to be taking significant positions in the biotech industry. My only warning is: Don't buy into a pumper who promotes low-volume biotechs that can be easily manipulated when he dumps while the naive investor buys. Instead, look to the charts. Do your due-diligence. Don't trust anyone who says he is 90% correct even if the gullible masses follow is so-called "tips"--that is pure donkey-dung! I'd say, if you read a "tip" on the chat boards, run in the opposite direction! YM BioSciences and Astex have verifiable reasons for the potentiality of going up; likewise, Vivus and Arena are locked in what may be the biggest battle of biotech stocks in 2012.
Disclosure: I have no positions in any stocks mentioned, and no plans to initiate any positions within the next 72 hours.
Additional disclosure: Investors buy and/or sell at their own risk.