Jefferies analyst Katherine Egbert this morning raised her rating on Novell (NASDAQ:NOVL) to Buy from Hold, and raised her price target to $7.50 from $7.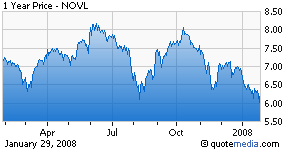 Egbert notes that revenue from its core business has stabilized, with an increase in the maintenance price of Netware. After a series of annual revenue declines from that business, she says, revenue should be flat in 2008 and 2009. Meanwhile, she also says that Novell has streamline costs, setting the stage for margin expansion.
Egbert also notes that the company is "sitting atop a pile of cash" - $1.3 billion, or about $3.64 a share. That is well over half of the current market cap. She thinks a share repurchase would be a logical step, and notes that a $500 million buyback could boost EPS by about 5 cents. She currently sees EPS of 23 cents in the October 2008 fiscal year and 27 cents in 2009.
Novell Tuesday is up 34 cents, or 5.6%, at $6.37.