As always, Sodastream (NASDAQ:SODA) trades in its own world. After popping from $28 to $38 on stellar 1Q earnings, the stock quickly lost almost all of its gains, bottoming again at $30. No company specific news to justify the move, just continued Euro panic dragging the stock down.
SODA has been trading in a range for the last few months and it appears we may be back in that same saddle again. Let's take a look at the 3 month daily chart for some more information: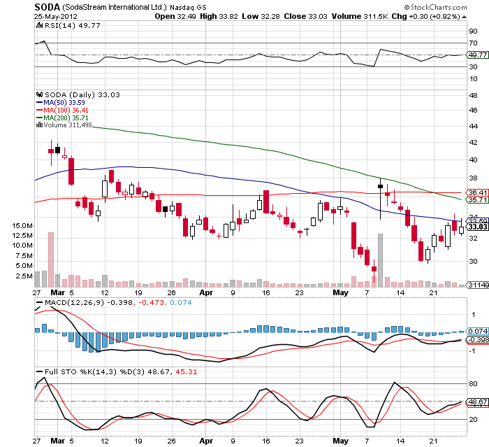 The rebound from $30 has been rejected twice at the 50DMA with the recent uptrend coinciding with a bullish 100/200DMA and MACD crossover. Full Stochastic and RSI are near equilibrium so we are no longer oversold on the daily chart and could move either way.
The chart does have one thing going for it that is making me hopeful for some near term strength. If SODA can maintain a break above the 50DMA for a few days we will have a 50/200DMA golden cross on our hands.
With more than two thirds of the float being held short (10.8M short on a 15.0M float as of May 15) this would be a setup for a significant short squeeze. Shorts have to see this coming and we may see near term weakness to prevent the cross from materializing.
Blue Light Special
As a small cap with significant European market exposure, SODA has been extremely volatile since going public. At first benefiting from a QE induced momo moonshot, the stock quickly returned to earth and bottomed at $28. Ever since, the company has been trying and failing to convince the market that their growth is both sustainable and significantly higher than their stock would indicate.
With 50% earnings growth in 2011 and projected growth for 2012 at 50%, SODA is growing at a fast clip for a non-tech company. The fact that they have just scratched the surface in the US market and are continuing to expand globally gives me confidence that the growth rates we are seeing now can be sustained for years into the future. Japan just started, Brazil is now approved, India is on the burner and China looms large with unexploited potential. Even their European markets are still growing strongly in the midst of a recession.
At the current price of $33.03, SODA has a forward P/E of 15 for 2012. Go out to 2013 and the forward P/E drops to 12. All this with the company consistently growing earnings 50% annually or more.
As it stands now, you can buy the growth that SODA is seeing at a steep discount. For 50%+ of consistent annual earnings growth, you currently only have to pay for a growth rate of 15% or lower. Even if the forward P/E maxes out at 30, we are still talking about a double or more from here.
While I have little faith in analyst projections, it appears that the 5 analysts following SODA agree with me. The current mean price target for SODA is sitting at $61 which is easily achievable with a short squeeze and some stability in Europe.
Sodastreaming Europe
Let's talk about Sodastream's European market exposure for a second. What are the main markets for SODA in Europe?
Germany, the Nordic Countries (Sweden, Norway, Finland) and Switzerland.
If there were any markets that I would want significant exposure in Europe, those would be it. While I can't get details on the country by country breakdown, SODA is still seeing growth in the above established markets as well as the newer additions of France, Italy and the UK.
For the market to continue to pummel the stock on Greek woes makes no sense as the company is firmly entrenched in the strongest markets on the continent. Recent currency weakness is not nearly enough to justify the collapse since earnings.
Were SODA dependent on the performance of Southern Europe, I would be much more concerned of their prospects. As it stands I feel that the concerns being priced in to the current valuation are excessive to the extreme.
Traders Delight
At $33, the market is basically choosing to completely ignore SODA's consistent growth and instead focus on overblown European market impact fears and decry all of their products as fads.
Were this any other company with no debt, strong growth, global exposure and continual product innovation there would likely be a significant premium applied to the shares instead of the current massive discount. Don't get me start on comparing this company's operating metrics to current momo darlings like Facebook (NASDAQ:FB), LinkedIn (NYSE:LNKD), Amazon (NASDAQ:AMZN) or Salesforce.com (NYSE:CRM) as each of those companies trade at a massive premium to their top and bottom line growth.
My recommendation for the SODA trade is fairly simple. I would initiate a position here and add more if it dips to $30 or below. While I plan on holding my shares at least through 4Q2012 results, shorter term traders should use the $36 level as the point to start taking profits as that was the ceiling of the previous trading range.
I feel very confident that if the company can continue to expand while remaining profitable and debt free, we have not seen the highs yet for SODA in 2012.
Disclosure: I am long SODA.