The Mexican economy is the largest economy in Latin America, and in recent years has not been growing quickly. But, the Mexican peso is becoming so devalued versus the dollar that more and more American imports will be coming from Mexico rather than China. NAFTA is a large reason for this.
In other words, the currency manipulation going on in China has been reversed slightly. This is allowing competitive countries to replace China as an exporter to the United States. Competitive countries are those which can offer products cheaper than other countries can due to a weak currency. Competitive countries also have free trade.
Mexico has gone under the radar, but it is the primary beneficiary to a Chinese slowdown. The Mexican Peso is down almost 1500% versus the dollar just since 1987. There aren't many examples of currency this weak, and it will not be much longer before the effects become visible by the world. The longer it takes, the larger the growth cycle will be.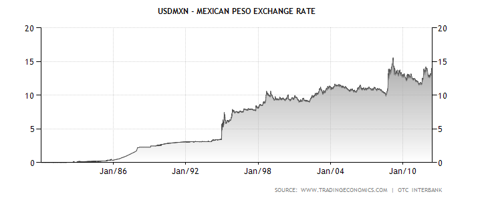 Click to enlarge
Around 2007, China began appreciating the Yuan versus the dollar. Since that time, the Yuan has risen some 30%, all while the peso has fallen from 10 pesos per dollar to the current 14 pesos per dollar. This means that compared to 2007, Americans currently pay 30% more for Chinese products and 40% less for Mexican products (a 70% swing). Corporations have already begun to notice this and are already slowly moving operations into Mexico.
Microeconomic evidence of the Mexican economy's strength can be found in the decisions of specific companies. On a recent trip to Walmart (NYSE:WMT), I noticed something different about many of the goods I was buying--they were made in Mexico rather than China. Walmart is a major importer into the United States, and its purchasing decisions have large effects on nations.
Recent economic evidence which supports Mexican growth:
Mexican auto manufacturing grew 20% yoy in April 2012 and set a new record.
The (IMEF) Mexican Finance Executives Manufacturing Index was 52.3 in April, signaling there is manufacturing growth currently taking place.
The number of Mexican illegal immigrants living in the United States fell significantly over the past five years, which signals significant job growth in Mexico.
Mexico is currently experiencing above trend growth in both retail sales and exports.
The benchmark overnight interbank interest rate in Mexico is at 4.5% compared to zero in the United States, yet growth is visible. Meaning, Mexico could easily grow dramatically by lowering interest rates and sinking the peso much further.
The evidence is strong enough that many investors may want to get in early on the best hidden growth story in the world. Mexican equities are traded in US markets under three main exchange traded funds. The ETFs are the ishares MSCI Mexico Investable Market Index Fund (NYSEARCA:EWW), the Proshares Ultra Short Fund (NYSEARCA:SMK), and the Proshares Ultra Fund (NYSEARCA:UMX). Mexican growth seems to be in its earliest stages. Bullish investors may also want to buy the Mexican peso itself when more growth becomes evident.
Disclosure: I have no positions in any stocks mentioned, and no plans to initiate any positions within the next 72 hours.