Grace Groner is a late millionaire you don't know. Her net worth was $7 million when she died in 2010. She was not the millionaire you will hear buying out companies. In fact, she was a secretary of a pharmaceutical company. She bought her clothes at rummage sales, lived in a tiny, one bedroom house and was an employee for most of her life.
Her secret was that she invested her income in one single investment. This one single investment paid her handsomely. In 1935, she bought 3 issued shares for $180. Since then, she held on to the stock and kept reinvesting the dividends she received. At the time of her death, she owned more than 100,000 shares valued at $7 million.
What was the single investment she bought? It was the company she served for the last 43 years. The name of the company is Abbott Laboratories (NYSE:ABT). Financial advisors would not agree with over concentration but Grace thought it was worth the risk. She was probably familiar with the company relative to other stocks. On hindsight, she was right about how the stock has maximized shareholder's value through capital appreciation and 39 years of consistent dividend payment.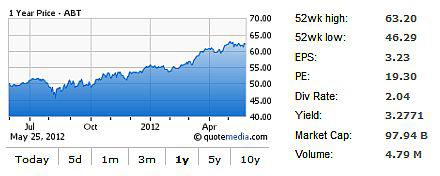 Will Abbott deliver the same shareholder returns for the next 30 years?
In my view, there is a big possibility that it won't deliver the same investment returns that Ms. Groner had when she bought it. However, it would be a good addition to the list of dividend stocks that one should include in his or her portfolio.
Here are some reasons why Abbott will not produce massive gains over the next 30 years:
Depressing Outlook for Pharmaceuticals over the Next Few Years
According to the Data Monitor data, the growth for pharmaceutical companies will slow to 1.3% to 2015. This is significantly slower than the historical growth of 7% from 2003 to 2009. It said that the sharp declines in branded sales with the loss of patent exclusivity will drive the decline in growth of pharmaceutical companies.
The growing number of major drugs losing patent protection will force these major pharmaceutical companies to compete with cheaper generic makers. Over the last year, these companies have invested in generics, vaccines and biological drugs. The result is that major pharmaceutical companies will have to cut down drug prices, which would eventually put pressure on margins and profitability.
Looking at different major pharmaceuticals, this seems to be already happening. Pfizer (NYSE:PFE) sales have declined slightly by 0.98% compared to its 5-year growth of 6.80%. Its operating margins are also down slightly at 18%. Another big pharmaceutical company Merck (NYSE:MRK) has sales growth falling to 4% from as high as 16% over the last 5 years. Its operating margins have also contracted to 16% compared to the average 5-year operating margins of 22%.
Given the uncertainties surrounding Europe, countries have introduced austerity measures. Bailed-out countries like Greece and Spain have decreased healthcare spending significantly. Even European drug maker Sanofi SA (NYSE:SNY) has experienced the same decline. Sales growth rates declined to 3% compared to the 4% growth it posted over the last 5 years. Its margins have also decreased 16% from average margins of 18%.
The report mentioned only a few pharmaceutical companies that will post better than expected growth rates. These companies are able to offset European woes through revenue growth from high biologics or targeting smaller niches. These includes Bayer, Novartis (NYSE:NVS) and GlaxoSmithKline (NYSE:GSK).
Abbott appears fairly valued at current levels
One of the reasons why the stock will not outperform the market is due to its valuation relative to its future growth. The current price implies a 12 times 2012 earnings and carries a dividend yield of 3.28%. This is based on expectations that earnings will grow by 8% this year. On a trailing price earnings ratio, the stock trades at 20 times earnings. This is in line with its 5-year historical average.
In contrast, other pharmaceuticals are currently trading at more attractive multiples. Investors will pick up shares that are trading at single digit valuations to give them a cushion if earnings will contract further. Pfizer is valued at 9 times 2012 earnings and has a dividend yield of 4%. Merck is trading is 10 times 2012 earnings and carries a dividend yield of 4.50%. On the other hand, Sanofi is also trading at 8 times earnings and has a dividend yield of 4.9%.
Best way to play Abbott is to buy Abbvie
Last year Abbott Labs announced that it will split into two companies amid pressures on patent expirations and the threat of lower pricing. The split is expected to be completed by the end of this year. The spin-off company will be a smaller company named Abbvie.
Abbott institutional holders are expected to sell off shares after its listing. The reason is that big funds do not want smaller companies in their portfolio as it does not impact their returns. This creates a compelling opportunity for small investors to pick up beaten shares that were sold off for no fundamental reason.
Abbvie's drivers will be the sales of rheumatoid arthritis therapy Humira, which accounted for one-fifth of the company's sales. After the spin-off this will account for 40% of Abbvie's sales. It is expected to earn $8 billion in net income this year. It still faces competition from cheaper biosimilar versions of the drug by 2016.
However, management said that Abbott will diversify its revenue sources for the new company to drive better future profitability. Over the long run, this will yield to more stability in free cash flow and dividend payments.
Given the immediate sell-off from the spin-off, Abbvie's stock price will trade at single multiple valuations with a higher dividend payment compared to its parent, Abbott Laboratories. This is definitely a better deal than buying Abbott at current levels.
Disclosure: I have no positions in any stocks mentioned, and no plans to initiate any positions within the next 72 hours.