When it comes to investing, many real estate investors have gravitated towards higher yielding stocks - a more popular option for income-oriented investors in recent years, since traditional fixed-income investments such as bank accounts, CDs, and U.S. Treasuries pay next to nothing.
Accordingly, these historically low rates of return have again reached record lows and this period we are in now can inevitably create economic imbalances that are often smoothed out by periods of adjustment that can be both prolonged and difficult. This imbalance can be best explained by Tom Lewis, CEO of Realty Income (NYSE:O), in his company's 2011 Annual Report and Letter to the Shareholders:
We might think of the past 30 years as being akin to an easy downhill ski run with evenly packed powder and little to block one's progress. Eventually, however, we do get to the bottom of the hill, which is where we may be right now with interest rates and there seems to be no chairlift in sight. A compelling graphic illustration of where interest rates have been, since 1962, is shown in a chart that tracks the history of interest rates for 10-year US Treasury notes, a leading benchmark for what other lenders charge. (See chart below) This chart depicts the story of a steady, downward trajectory of interest rates from their peak of over 15% in 1982 to a low of 1.9% by the end of 2011.
Click to enlarge
Correlating Leverage and Risk
As in any form of investment, the more debt you use, the greater the potential for gain or loss. When we buy stocks on margin, we are leveraging investment returns with debt. And any asset carried on high margin involves substantial risk, since a decline in the asset's value will cause a much larger decline in the original investment (principal).
Likewise, REITs that use excessive leverage to increase returns do not provide long-term value (except during extraordinary periods when commercial real estate is acquired at abnormally cheap prices) and those REITs that generate the most consistency are distinguished by modest debt and conservative balance sheet fundamentals. As Howard Marks, chairman and cofounder of Oaktree Capital Management and author of The Most Important Thing wrote:
"But a few people understand asset correlation; how one asset will react to a change in another, or that two assets will react similarly to a change in a third. Understanding and anticipating the power of correlation - and thus the limitations of diversification - is a principal aspect of risk control and portfolio management, but it's hard to accomplish. The failure to correctly anticipate co-movement within a portfolio is a critical source of investment error."
Mortgage REITs - Swinging for the Fences
As owners of debt instead of property, mortgage REITs benefit from reductions in interest rates that increase mortgage values. This is especially true for mortgage REITs that invest in commercial mortgages because commercial mortgages impose pre-payment penalties on borrowers that pay back the principal too quickly. In contrast, mortgage REITs focused on residential mortgages can suffer from higher than expected pre-payment risk as residential mortgages allow borrowers to refinance at lower rates without penalty. On the flip side, commercial mortgages, especially the construction type, are much more likely to default than residential mortgages.
Those mortgage REITs that engage in leverage (i.e., borrowing money to magnify returns) also benefit from a steepening of the yield curve which can increase profit margins by widening the spread between the interest cost of borrowings and the interest income from the mortgages themselves. Interest rates are typically much more volatile than real estate prices, so mortgage REIT investors experience a bumpier ride than equity REIT investors.
Examples of mortgage REITs engaged in high-quality leverage are Annaly Capital Management (NYSE:NLY) and Cypress Sharpridge Investments (NYSE:CYS). Credit risk is nil since the mortgages are government-backed. The main risks here are margin calls caused by over-leverage and rising short-term interest rates that flatten the yield curve and squeeze profit margins.
Examples of bank-like mortgage REITs engaged in the origination of private-label mortgages are Colony Financial (NYSE:CLNY) and Apollo Commercial Real Estate Finance (NYSE:ARI). Credit risk based on poor underwriting standards is substantial.
Examples of vulture mortgage REITs engaged in workouts of distressed mortgages are PennyMac Mortgage Investment Trust (NYSE:PMT) and Chimera Investment Corp. (NYSE:CIM). Credit risk is a given, so diversification and buying these mortgages at a sufficient discount is crucial.
(Source: Mortgage REIT data from InvestingDaily by Jim Fink)
The average dividend yield for mortgage REITs is 13.27 percent (NAREIT as of April 30, 2012) while the average dividend yield of the equity REITs is 3.45 percent (NAREIT as of April 30, 2012). However, the consistency of the lower leveraged equity REITs provide income investors with a strikingly reliable total return platform. For example, during the period of 1980-1990, the average total return for the mortgage REIT sector was 5.67 percent and the average total return for the equity REIT sector was 13.19 percent.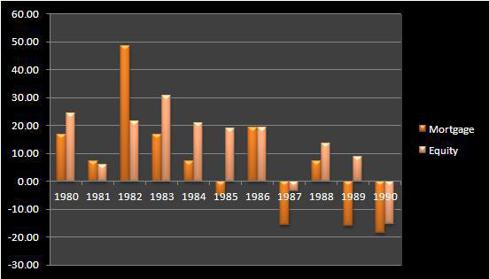 Click to enlarge
During the ten year period of 1990-2000, the average total return for the mortgage REIT sector was 6.44 percent and the average total return for the equity REIT sector was 12.07 percent.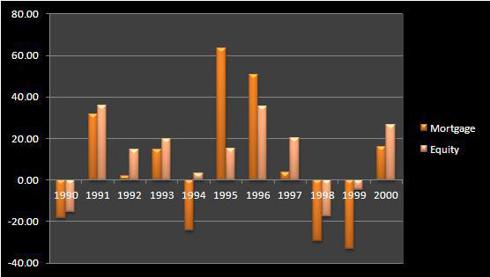 Click to enlarge
And as the REIT era entered Y2K (2000)…entered a great recession…and began to recover (Q1-12), the mortgage REITs averaged total returns of 13.96 percent while the equity REITs averaged (total return) 21.41 percent.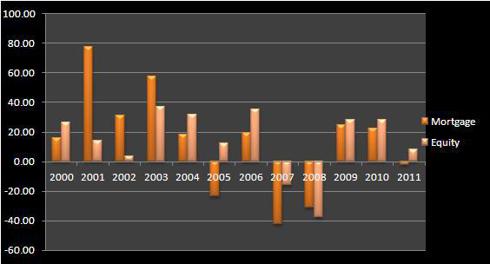 Click to enlarge
And the latest three years (2009-2011) proved equity REITs to be more consistent (than mortgage REITs) as the more volatile mortgage REIT sector averaged 14.94 percent while the more reliable equity REITs averaged (total return) of 21.41 percent.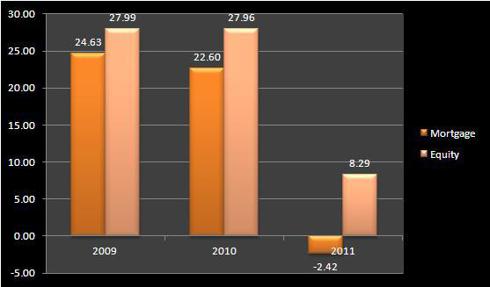 Click to enlarge
Recognizing interest rate risk is essential to investing and especially when one is considering an alternative that has considerable debt and use of leverage. Before you go out and buy mortgage REITs for their high yields, keep in mind that these investments are very risky. Unlike other types of dividend-paying companies which pay the same dividend each quarter, the dividends paid by mortgage REITs are very unstable and are cut often - sometimes drastically - when interest rates and/or mortgage defaults rise or the yield curve flattens. As Howard Marks wrote (in The Most Important Thing):
Risk control lies at the core of defensive investing. Rather than just trying to do the right thing, the defensive investor places a heavy emphasis on not doing the wrong thing. Because ensuring the ability to survive under adverse circumstances is incompatible with maximizing returns in good times, investors must decide what balance to strike between the two. The defensive investor chooses to emphasize the former.
All-Star REITs that Provide Consistency in 'Good Times and Bad'
According to NAREIT, dividends make up sixty percent of total return and the power of the income- oriented consistency is driven by sound risk control management practices. Specifically, the most conservatively capitalized equity REITs have built a competitive advantage around sound balance sheet management fundamentals. This less popular but more consistent strategy is explained by Howard Marks:
We go for batting average, not home runs. We know others will get the headlines for their big victories and spectacular seasons. But we expect to be around at the finish because of consistent good performance that produces satisfied clients.
Accordingly, equity REITs are known for their consistency - in hitting singles, not home runs. For it is the durability of the dividends (over time) that distinguishes the "all stars" from the "gun-slingers" that strike out frequently (breezing for home run pitches). By practicing sound risk controls - notably conservative balance sheet management - equity REITs are considered durable fixed-income alternatives that win championships by utilizing the power of compounding.
By focusing on long-term success, an investor is more likely to win a championship. And by building a defensive portfolio on safety and consistency, an investor is more likely to minimize risk while also maximizing return - a process best explained by Howard Marks:
Many investors - amateurs and professionals alike - assume the world runs on orderly processes that can be mastered and predicted. They ignore the randomness of things and the probability distribution that underlies future developments. Thus, they opt to base their actions on the one scenario they predict will unfold. This works sometimes - winning kudos for the investor - but not consistently enough to produce long-term success. In both economic forecasting and investment management, it's worth noting that there's usually someone who gets it exactly right…but it's rarely the same person twice. The most successful investors get things 'about right' most of the time, and that's much better than the rest.
The following REITs are considered exceptionally defensive picks differentiated (from the other equity REITs) by sound risk control and conservatively leveraged fundamentals:
Taubman Centers (NYSE:TCO), Simon Properties (NYSE:SPG), Regency Centers (NYSE:REG), Federal Realty (NYSE:FRT), Realty Income , National Retail Properties (NYSE:NNN), Kimco Realty (NYSE:KIM), and Tanger Outlets (NYSE:SKT) are all high-quality REITs recognized for reducing debt to low level leverage ratios. By reducing leverage (even in a low interest environment) and managing debt maturities conservatively, these REITs are distinguished by exceptionally sound risk control fundamentals that are defined by quality, durability and reliability - all primary attributes for risk-aligned competitive advantage.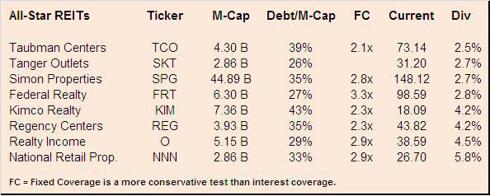 Click to enlarge
By focusing on conservative financial stewardship, these defensive equity REITs enable income-oriented investors to maintain consistent dividend yields in "good times and in bad". These "all-star" REITs will likely not become homerun champions but instead they promise to deliver consistency and reliability - and the most powerful performance strategy of compounding. As Howard Marks explains in his book (The Most Important Thing) and his company's motto:
While aggressive investing can produce exciting results when it goes right - especially in good times - it's unlikely to generate gains as reliably as defensive investing. This, a low incidence and severity of loss is part of most outstanding investment records. Oaktree's motto: "if we avoid the losers, the winners will take care of themselves," has served well over the years. A diversified portfolio of investments, each of which is unlikely to produce significant loss, is a good start toward investment success.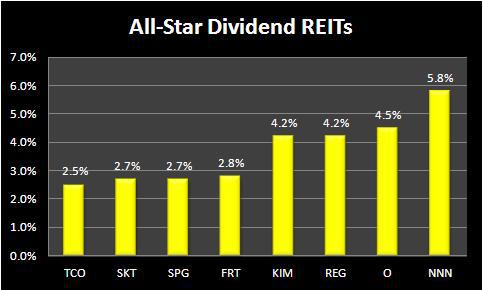 Disclosure: I have no positions in any stocks mentioned, and no plans to initiate any positions within the next 72 hours.