Weekly Outlook: The market stayed fairly rangey last week moving into the holiday weekend, but with the end of a rough month here, we may see a bit more larger shifts this week in the market. The market continued to see a lack of catalysts for upside last week, but we held some key support lines like 1300 on the S&P 500 (NYSEARCA:SPY). Europe was relatively quiet for the week, and when we do not have major issues there, it can give us some support. The continual decline of the euro vs. the dollar though is continuing to hurt American equities. It is a busy week ahead for the market on the short four-day week.
There are a lot of headlines, data points, and market moving points for this week that makes us think that things will be more volatile. There is a ton of economic data packed into the next four days to start that is very important to the market. Additionally, it is the end of the month, so some window dressing elements may occur. At the same time, some investors/traders may be looking at a long summer and want to dump things before June. Further, Europe and Greece will continue to remain a main topic for the market.
We have a ton of economic data out this week starting Tuesday. Consumer Confidence and Case-Shiller City Index will both be released. Wednesday is a little bit more light with Pending Home Sales, but the end of the week is jam packed. Thursday will give us the release of Initial Jobless Claims, GDP - Second Estimate, Chicago PMI, and Crude Inventories. Those data points will be crucial, but Friday is the big day with Nonfarm Payrolls as well as Unemployment Rate, Personal Spending/Income, ISM Index, Construction Spending, and Auto Sales. Wow. What a packed day to start June, which set the mood to start out the month. We look for Consumer Confidence, GDP, Nonfarm Payrolls, and the ISM Index to move the market the most, so watch those for direction.
With plenty of data on the shelf for this week, Europe may not be quite as potent to directing the market. Over the weekend, Greece appeared to be electing a more conservative party, which should help the markets. The developments there will continue to be crucial as well as how the euro moves. More weakness there will continue to hurt American equities. Some of the key reports in Europe are the Consumer Confidence report on Wednesday, German unemployment information Thursday, and Euro-Zone unemployment on Friday. That grouping of information will all be important to movements in the euro, which right now is really the most influential way Europe will affect our equities.
Earnings are extremely light this week with maybe the only key report being Joy Global (NYSE:JOY) on Thursday. We would look at "window dressing" into the end of May as potentially being impactful this week instead.
The Fed is having a very light week with the Dallas Fed Manufacturing report on Tuesday and just a handful of speeches the rest of the week. With the Fed, most of all we are going to be looking for is some speech and rhetoric that starts to suggest they are looking at another QE round in the June meetings, and so those speeches will still be parsed for the information.
So, where are we headed this week?
It's a very busy week, and while things are weak, we have held some key support areas that are definitely important for us to watch. The market has a lot to react to this week, so it's more likely to provide some larger movements. We could see it being a good week for data cooperates as we are oversold, coming out of the holiday, and ending a month. Yet, the market is also on some key support lines. A few bad reports would definitely test those lines and failing them may cause some technical breakdown in the market. It's definitely an important week moving into next month, so we'll need to be prepared for both sides.
Stocks To Trade:
Two stocks we are watching for this week are VeriSign (NASDAQ:VRSN) and Monster Beverage (NASDAQ:MNST). We like both companies and believe both have solid technicals. VRSN has two moving average resistances it is trying to break out from. The 50-day and 20-day sit at around $40, so we would look for VRSN to start to move if it breaks that $40 line. MNST is one of our favorite companies, and we just upped our price target to the mid-$80s for the 12-month target. The company has great growth. They seemed to have formed a bull flag that bounced off the 20-day MA, and we would look for them to be a leader this week if the market continues higher.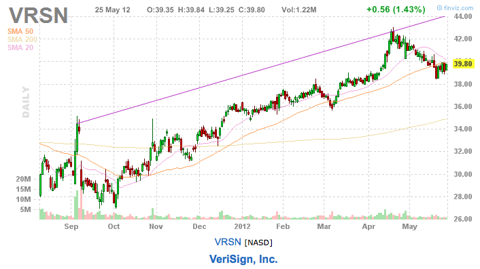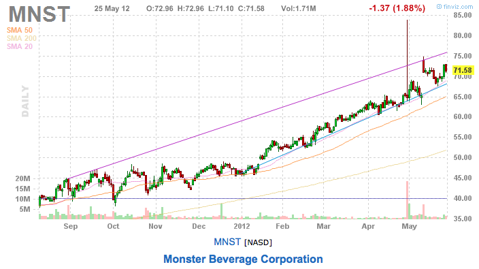 Oxen Group Holdings:
We have the following positions. In our Short-Term Equity Portfolio we are long TripAdvisor (NASDAQ:TRIP), Buffalo Wild Wings (NASDAQ:BWLD), Whole Foods (NASDAQ:WFM). We are short Under Armour (NYSE:UA), SPDR Dow (NYSEARCA:DIA), and Sara Lee (SLE). In our Options Portfolio, we are long Disney (NYSE:DIS) and Panera Bread (NASDAQ:PNRA). We are short Sina (NASDAQ:SINA), Under Armour , Apple (NASDAQ:AAPL), and General Dynamics (NYSE:GD). We have a reverse iron condor on Ultra Proshares Financial (NYSEARCA:FAS). In our Earnings Alpha portfolio, we are long Discover (NYSE:DFS), Western Digital (NYSE:WDC) and Dollar General (NYSE:DG). We are short Adobe (NASDAQ:ADBE). We have a reverse iron condor in Verifone (NYSE:PAY).
Chart courtesy of finviz.com.
Disclosure: I am long TRIP.