Stock markets are nervous. Retail investors have been withdrawing assets from equity funds at a rapid clip lately. Greek stocks are better today, but Spanish bonds are worse. We are in for a bumpy ride for some time to come.
Goldman Sachs is sticking with their 1250 projection for the S&P 500 by year-end, down about 4.2% from where it is now and down about 12% from the most recent high. They cite a below trend growth rate for the US and low multiples in such periods.
Down 12% is still in the correction, not bear territory. Whether 2013 goes up or down from year-end 2012, is a bit of a toss up, with a tilt of the odds to negative. However, there may be more rabbits in governments' hats around the world. We'll just have to see.
Europe could come up with another hopeful program, and China could offset some of lost export potential with internal development and consumption, and the US could avoid the nastier aspects of the fiscal cliff. All that may come true, but playing it safe in the equity arena is probably wise.
Looking for low volatility stocks in the US with a pattern of outperforming in down periods is a reasonable thing to do.
In our prior article, we identified the 48 liquid stocks from the entire NYSE and NASDAQ that were in the top quartile of price return during the 2008 crash, and the 2010 and 2011 corrections, and the current correction so far.
For this article, we reviewed each of those 48 stocks in terms of ratings by Reuters StarMine, Standard & Poor's, ValueLine and Wright Investor Services.
By eliminating any stocks that did not have at least one bullish rating, and further eliminating those that had a bullish rating from one but a bearish view from another, we ended up with 18 stocks.
| | |
| --- | --- |
| AMERISOURCEBERGEN ORD | ABC |
| BIOGEN IDEC ORD | BIIB |
| BRISTOL MYERS SQUIBB ORD | BMY |
| COLGATE PALMOLIVE ORD | CL |
| CMS ENERGY ORD | CMS |
| CLECO ORD | CNL |
| FAMILY DOLLAR STORES ORD | FDO |
| HORMEL FOODS ORD | HRL |
| HERSHEY FOODS ORD | HSY |
| MCCORMICK ORD | MKC |
| MONSTER BEVERAGE ORD | MNST |
| NEXTERA ENERGY ORD | NEE |
| ANNALY CAPITAL MANAGEMENT REIT | NLY |
| PG&E ORD | PCG |
| PERRIGO ORD | PRGO |
| ROSS STORES ORD | ROST |
| STERICYCLE ORD | SRCL |
| SXC HEALTH SOLUTIONS ORD | SXCI |
This table presents those 18 stocks, along with their forward P/E, PEG, EV/EBITDA, and indicated Yield (from Bloomberg) along with their Wright Rating for liquidity, financial strength, profitability and growth (see explanation of Wright rating system here).
The chart is listed in descending order by yield.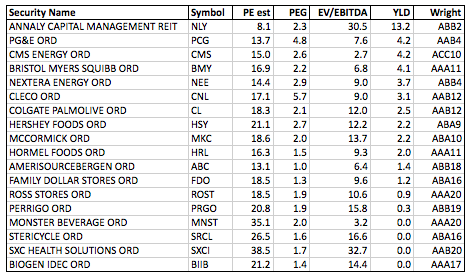 The stocks have substantial variation in valuation parameters. Conventional wisdom says PEG ratios under 2 are preferable. Thinking of stocks in terms of private entities and the valuations that private buyers would employee, stocks with EV/EBITDA valuations of perhaps 6 or less would be attractive.
Note: None of these stocks are specific purchase recommendations by QVM Group. They are simply the result of a review and compilation of the opinions of several independent research organizations.
Disclosure: QVM has positions in NLY as of the creation date of this article (May 25, 2012).
Disclaimer: StopAlert.com is a service of QVM Group LLC, a registered investment advisor. This article provides opinions and information, but does not contain recommendations or personal investment advice to any specific person for any particular purpose. Do your own research or obtain suitable personal advice. You are responsible for your own investment decisions. This article is presented subject to our full disclaimer found on the QVM site available here.