Currently, Navidea Biopharmaceuticals (NYSEMKT:NAVB) represents an undervalued opportunity with a high reward potential. Given the strong Phase 3 data package, Navidea's first commercial candidate, Lymphoseek, is expected to receive FDA approval by the PDUFA date of September 10, 2012. If approved, Lymphoseek would be the first receptor-target agent for Intraoperative Lymphatic Mapping (ILM) and would have much greater specificity than agents currently on the market.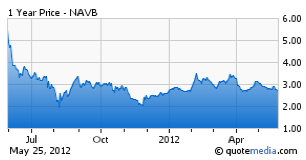 Uri Landsman, president of the Platinum Partners hedge fund, recently said in an interview on Bloomberg radio that he is very confident that Lymphoseek is going to get approved by the FDA and NAVB is the one (among biotech stocks) he recommends to buy.
Lymphoseek is the first new radioactive tracing agent in more than a decade. It is to be used during cancer surgery to give surgeons a better targeted diagnostic tool to find metastasised cancer in the lymph nodes and to more flexibly, quickly and accurately find and treat the crucial sentinel node. Lymphoseek has generated promising results in two Phase 3 trials, one in breast cancer and melanoma, and the other in head & neck cancers.
Lymphoseek demonstrates the following advantages:
Lymphoseek is retained in the first predictive lymph node by virtue of tight binding of the ligand to lymph node receptors.
Clears the injections site - 8-fold faster than competing colloid agents due to small size.
Provides flexible administration of 15 minutes to 24 hours as opposed to just prior to surgery.
Allows for anatomical imaging methods (radioactivity and CT scans).
Possesses an excellent safety profile - No drug safety issues have been reported with Lymphoseek.
These advantages translate into patient benefit by:
Avoiding unnecessary removal of lymph nodes and surrounding tissue.
Reducing patient trauma and pain associated with existing off- label agents.
Improving the quality of correct cancer staging.
Reducing operating room time.
Lymphoseek compared very favorably to the standard of care, vital blue dye, was well tolerated without side effects, and continued to show superior performance characteristics. As a surgeon who has worked with Lymphoseek for years, I find it easy to localize the sentinel node and appreciate its ease of use.

- Dr. Wallace, MD, Moores Cancer Center, University of California, San Diego.
The worldwide market potential for Lymphoseek across all cancer indications is estimated to be approximately $450 million. Navidea's CFO Brent Larson stressed that the number represents the drug's "reachable" market.
Reni Benjamin, Senior Biotechnology Analyst at Rodman & Renshaw noted that Navidea is well positioned to generate revenues for Lymphoseek upon FDA approval, as the company forged a favorable distribution and commercialization agreement with Cardinal Health (NYSE:CAH). Cardinal Health controls approximately 65% of the US radiopharmaceutical market with a network of approximately 160 nuclear medicine pharmacies and over 175 sales representatives.
This network enables Cardinal Health to deliver to over 90% of US hospitals in less than 3 hours. The agreement has a 5-year initial term from NDA clearance, covers all radiolabeled indications for Lymphoseek and provides for an approximate 50:50 revenue split for each Lymphoseek procedure. The gross margins to Navidea are expected to be approximately 75%, which takes into account a low single-digit royalty to licensor UCSD. In Addition, Navidea is entitled to $3 million in incremental sales milestones.
In addition, European partnering of Lymphoseek has been a high priority for the company over the last few months and partnering talks are likely to accelerate and an agreement could be announced prior to the PDUFA date on September. Additionally, Navidea reiterated that they expect to file the Lymphoseek Marketing Authorization Application to the European Medicines Agency's (EMA) for review before year-end.
As for the financial aspect, senior analyst Reni Benjamin noted that Navidea had approximately $22 million in cash and cash equivalents at the end of 1Q12, which he believes should be sufficient to fund operations in to 2013. The analyst and director Kevin DeGeeter of New York City-based investment bank Ladenburg Thalmann also believes Navidea has adequate cash to fund operations through the Lymphoseek's launch late in 2012.
Moreover, a funding by Hercules Technology Growth Capital of $3 million is available to Navidea upon FDA clearance to market Lymphoseek in the U.S.
Analysts' price targets - More than double from the current price:
| | | | |
| --- | --- | --- | --- |
| Last Update | Analyst Firm | Rate | Price Target |
| May 11, 2012 | Rodman & Renshaw | Outperform | $7 |
| May 3, 2012 | JMP Securities | Outperform | $8 |
| May 3, 2012 | Ladenburg Thalmann | Buy | 6.25 |
| April 3, 2012 | WBB Securities | Strong Buy | $9 |
| Feb 2, 2012 | Morgan Joseph | Buy | $9 |
Disclosure: I am long NAVB.