Introduction and Background
Last October, shortly after Abbott Laboratories (NYSE:ABT) announced that it would be splitting itself up, I published "Abbott: Still a Dividend Growth Stalwart?" I examined the official announcement, an 81-slide presentation about the split, and other materials.
My conclusion was, Rats! That is because Abbott had been a near-perfect dividend growth stock: Perpetually undervalued; in my Top 40 Dividend Growth Stocks every year (2008-2011); terrific dividend characteristics including a 3.6% yield and a 39-year dividend growth streak; and decent total returns. I had made a number of purchases of Abbott over the years, and it constituted about 9% of my public Dividend Growth Portfolio.
But one hallmark of dividend growth investing is monitoring your stocks for a continuing high degree of confidence about what the company is likely to do with its dividend. We want dividends that are reliable and growing. The announced split introduced uncertainty on that score. I concluded that article with these thoughts:
I think I know where this is going. Absent more information leading to an ability to predict with confidence that both new companies will adopt the dividend practices of their parent, I will sell Abbott, in all or in part. I will have a tear in my eye if it happens.

There's no sense of urgency to sell. I believe that current dividend practices will remain in place until the actual split at the end of next year. An important test will come next April [2012], when Abbott's usual dividend increase would normally occur. If the increase drops to 2%-3%, I would probably consider that a signal to get out right away. By the way, Abbott will probably incur considerable "one-time" charges between now and the split-up date, and after the split-up, it is likely that former cost-saving synergies will be destroyed as each new company wants to go its own way. What Abbott is doing on the cost side is the opposite of what most companies try to accomplish when they merge.

If I end up selling Abbott, I will probably do it by sticking a sell-stop a small distance under its price, hoping to milk any additional price gains out of the stock before I let it go. In any event, I presently do not consider Abbott a candidate for further purchase, and I doubt it will show up on 2012's Top 40 list. If it does, it will have a special red flag beside its name.
In fact, Abbott is not on my 2012 Top 40 list. Its dividend increase was 6.3% in April-not down to the 2%-3% level, but not up to the steady 9%-10% gains that had preceded it for several years. So a couple of months ago, I placed a 7% sell-stop under my shares, with the intention of reducing the gap by 1% per month until either the stock sold off, or new information appeared that removed uncertainty about the future reliability and growth of Abbott's dividend going forward.
What Do We Know Now?
It's funny. I consider the split to be easily the most important investment issue concerning Abbott, but I have read several articles and professional analyses since last October in which the split is not even mentioned. For example, Thomson-Reuters' most recent "Stock Report" on Abbott, published on May 25, 2012, spent 12 pages analyzing fundamentals and esoterica, including earnings, relative valuation, risk, price momentum, peer analysis, price targets, valuation, risk, and insider trading. The split was not mentioned once. The writers of these kinds of "analyses" act as if the split has not been announced, or they just discuss Abbott as if it will remain the same company as it is now.
It will not. In its recent 2012 Annual Shareholders' Meeting Remarks and Presentation (April 27, 2012), and the associated call transcript, Abbott devoted quite a bit of time to the split.
The split-off company now has a name, AbbVie. The Abbott name will remain with the other of the two new entities.
The two companies will divide the product lines the way they were first announced. The new Abbott will be a diversified medical products company composed of established pharmaceuticals business, diagnostics, devices, nutritional products and animal health. The new AbbVie will be a research-based pharmaceutical company consisting of Abbott's current proprietary pharmaceutical business.
The two companies will be of roughly equal size: Abbott will have sales of more than $22 billion, while AbbVie will have sales of roughly $18 billion (that's about a 55-45 split).
The company is on schedule to meet its year-end target for separation. It has an established cross-functional working team devoted to managing this effort, and it has achieved a number of important milestones in the separation process. The transition organization has been fully engaged in this separation since the announcement last October.
During the second quarter, Abbott expects to file the initial Form 10 with the SEC for AbbVie. It will provide historical results for AbbVie on a GAAP basis for the past 3 years and for the first quarter of 2012. These historical results will include an allocation of certain costs previously held at the corporate level. Amendments are typically made to Form 10 disclosures after the initial filing as more information becomes available, including future quarterly results. The historical balance sheet is not expected to include an allocation of debt to AbbVie, as such debt was incurred for the total Abbott operations and was not associated with specific AbbVie entities. The final or effective Form 10 will, however, include pro forma adjustments to reflect the impact of debt levels, cash balances and interest expense for AbbVie as an independent company. The Form 10 is one element in a communications plan for the two companies post separation.
The company has stated that it has already evolved into two distinct halves, with different business models and different demands and priorities. "For all practical purposes, these two halves are already functioning as separate, highly successful companies." On their first day of independent operation, both businesses will be Fortune 200 companies in the top ten in their respective industries. Both will have broad product portfolios, global reach, very strong balance sheets, and significant, durable cash flow.
Here are two slides that were used at the shareholders meeting to illustrate the new companies.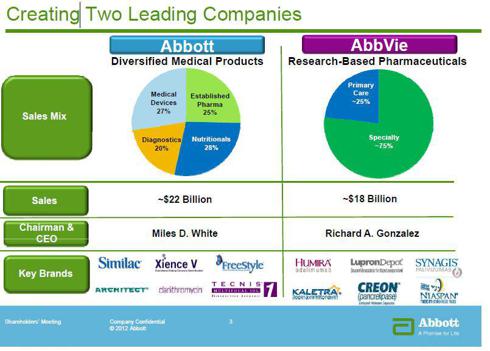 Click to enlarge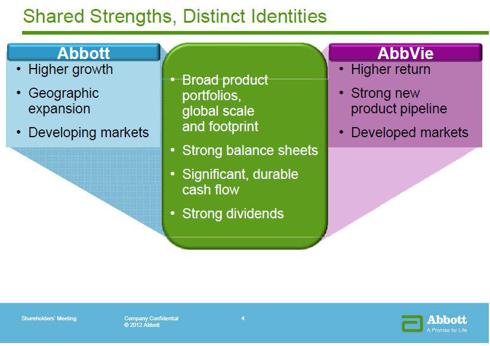 Click to enlarge
So far, the market has liked the split idea. The stock's price has been on a steady rise since the announcement last October.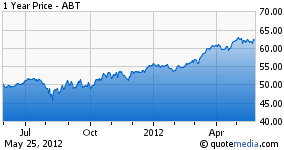 What About the Dividend?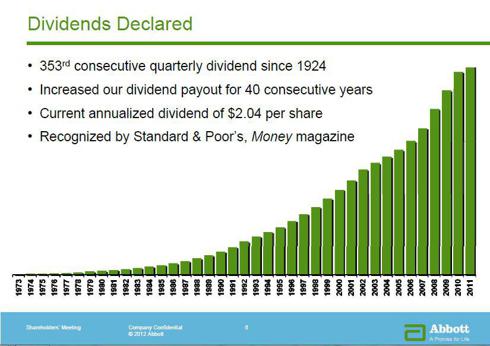 Click to enlarge
Similar to what was announced last October, management recently stated that both new companies are expected to pay a dividend that, when combined, will at least equal the Abbott dividend at the time of separation. Abbott's dividend is $2.04 per share, and at its current price its yield is about 3.6%, reflecting the combined impact of its steady price increase since the announcement as well as a 6.3% dividend increase announced in the first quarter of 2012.
The company's 1, 3, 5, and 10-year dividend growth rates through 2011 were all 9% to 10% annualized, including a 9% increase in 2011. The 2012 increase was 6.3%, marking the 40th consecutive year of dividend increases but the lowest percentage increase since 2005 and the fourth-lowest since at least 1979.
Here is what I said about the dividend last October:
When I evaluate dividend-growth companies, I place significant emphasis on the stock's Story. In the Story, I try to understand what the company does, how it makes money, and why it is likely to experience continuing success. Specifically as to dividends, I want to see evidence of a strong dividend-raising culture combined with the wherewithal to carry it out for the foreseeable future. The wherewithal comes not only from great financials, but also from attributes like industry dominance, strong management, coherent strategies, great brands, and sustainable competitive advantages. If I can't find or understand those things, I won't invest in the company.

When I last analyzed Abbott in January [2011], I gave it high marks for its Story. As I review that analysis today, this sentence jumps out at me: "Non-drug businesses (like nutritionals) help shield [the company] from effects of periodic loss of patents on branded drugs." In other words, Abbott is a diversified, multi-line healthcare conglomerate, not just a drug company. I saw that diversification as a strength, just as I see it as a strength for Johnson & Johnson (NYSE:JNJ).

Now they are splitting it up. There will be duplicate boards, executives, departments, managers, employees, and cost structures. Both new companies will lose the protection from cyclical revenue changes that came when all the business units operated under the same umbrella.

When companies make significant, transformative strategic shifts, my experience is that everything comes up for reconsideration. Consultants swarm, transition committees are formed. Hundreds of PowerPoint presentations are created. Ideas come out of the woodwork, and it is not unknown for strange ideas to get traction that they would never have received in the old company. The neat, clean original vision gets worked over. Executives jockey for position. Ego often wins over logic. Original intentions can get run over by the momentum of "change is good." Former statements can become inoperative.

In a reorganization, former cultural imperatives get re-examined. That's what worries me here, because it is a source of risk to continued dividend growth. Abbott has a strong culture and practice of raising its dividend annually (currently at 39 years and counting). Will that culture survive? Will it survive in both new companies? In just one? Which one?
I have examined several articles and analyst reports on Abbott. Opinions vary on the overall goodness of the split, but I found very little that addressed the dividend. Here are some samples.
"This kind of split happens fairly routinely, and it is always for the same reason: The management feels that the stock price does not reflect the value of the company, and by splitting the company into more than one part, each part can find its own level in the marketplace based on its earnings, growth, and strategic mix…. But, you have to say on the surface of it, we have an already well respected company at the very top of their industry, engaged in growing and highly profitable markets, and with an opportunity to capture additional value by splitting strategically. There is an opportunity for an investor if he or she wishes to take it." This article focused exclusively on the growth opportunities for the company and its stock price(s), with nothing about the dividend. ("Long Opportunity: The Abbott Labs Split Strategy," James Shell, April 30, 2012, Seeking Alpha)
"Spin-offs…are virtually always a strategy designed to 'unlock value,' and seeking to 'unlock value' in this manner is a really good sign of a management that is paying altogether too much attention to stock price! Execute, people, and let the market eventually figure out how awesome or crappy you are. This spin-off is no exception, and page 3 of the 2011 annual report explicitly states this is the primary rationale for the split, along with a supposed divergence in the priorities and regulatory structures of the businesses (as if that hasn't always been the case!). Don't buy that bologna, this split-up is about quickly 'unlocking' a bunch of shareholder value." Again, nothing about the dividend. ("Abbott is Cheap, But Abbvie Will Likely be Cheaper," The Dumb Money, May 19, 2012, Seeking Alpha)
"Frankly, the break-up does not make sense to me. The two halves work well together. For instance, this year's blockbuster will be a branded generic at some time in the future. But branded generics will be the province of Abbott, not Abbvie. On the other hand, a drug-eluting stent, sold by Abbott, usually requires a proprietary drug, which could come from Abbvie. Most analysts rate the company as a hold. The company's stock price has increased about 20% since the break-up was announced, so maybe the market is applauding the idea. I say take the money and run. I would sell the company now." Again, nothing about the dividend. ("Abbott: New Reasons the Split Could Tank Stock," Dividend Kings, May 8, 2012, Seeking Alpha)
"In mid-October 2011, ABT announced a planned split-up of the company, to be accomplished through the spinoff to shareholders of the research based pharmaceuticals business (estimated sales of $18 billion) as a separate concern. Abbott will retain its legacy medical products operations (sales of $22 billion), comprising diagnostics, devices, nutritionals and generic drug operations. We believe this move will result in higher valuations for each company, with investors better able to focus and appreciate the respective growth potential of each firm. We expect the planned tax-free spinoff, subject to customary approvals, to be completed by the end of 2012." Yet again, nothing about the dividend. (Standard & Poor's Stock Report, May 26, 2012)
Conclusions
In researching this article, I gained a little more confidence that the split-up of Abbott is well conceived, and that it is probably being well executed. I take with a grain of salt the company's statement that they are already operating as if they were two separate companies. If that were true, it would not take 12 months to split them up. The fact is that a lot of work needs to be done to effect the split for a company of this size and the apparent care they are taking in doing it right.
I also became more convinced that the split is more likely than not to "unlock value" not only in the sense of freeing both companies to pursue their separate businesses vigorously, but also in the sense of stockholders potentially valuing one or the other new company more highly as separate entities.
But my focus is on the dividend and dividend growth. Other than the company's reiteration that the combined dividend of the two new companies will be similar to Abbott's current dividend and its historically low 6.3% increase earlier in 2012, I found nothing to move the needle on the uncertainty question. So on that issue, I haven't changed my Rats! point of view of last year.
Therefore for June, I will move my sell-stop another 1% closer to actual price (to 5%). The company has not yet convinced me that the two new companies will be the dividend stalwarts going forward that the single Abbott Laboratories has been for many years.