I've been a notorious bear on Research in Motion (RIMM) lately and with good reason. The BlackBerry maker has seen its market share struggling, its revenues and earnings plunge, and management change hands quickly. The company just has not been able to evolve as quickly as others in the industry, especially when it comes to Apple (NASDAQ:AAPL). That has left the company in a tough place, and shares just recently hit a new 52-week low.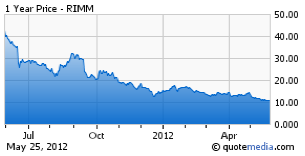 I recently discussed Research in Motion when I analyzed a few names trading at 52-week lows. I said stay away, and maintained that view again towards the end of last week. But I said something interesting in that article, and I've provided the exact quote below.
We still have about 5 weeks until the company reports its current quarter (June 28th looks like the date), so I wouldn't be surprised if there were efforts to prop up the stock before then. Whether it is another round of buyout rumors, or some insider or director buying shares, I feel like the company will want the stock to get back to $15 rather soon.
So I was not at all surprised Sunday night when I heard that RIMM was planning another round of layoffs. The company is expected, probably this week or next, to axe another 2,000 or so employees from the roughly 16,500 they currently have. This move seems logical, as new CEO Thorsten Heins has vowed to streamline operations and save $1 billion by the end of fiscal 2013. Now, the layoffs have not been officially announced, so this is all speculation. But what about all of that buyout speculation we got in January that pushed the name from $13 to $17? How did that work out?
The effects on RIMM's revenues shouldn't be that great. Current expectations call for an 18% decline this fiscal year (ending next February), and for earnings per share to drop from $4.20 to $1.90. Likewise, on the flip side, Apple is expected to see revenues soar by 50% this year, and for earnings per share to rise by about 70%. Going forward, the next fiscal year shows more improvement for Apple and things getting worse for RIMM. However, the layoffs could save the company some money, so analysts would need to raise their estimates as necessary. It would also be nice if the company decided to start providing guidance again.
So I was all ready to break out the RIMM celebration, as I figured that the RIMM-bulls would use the planned layoffs rumor to boost this stock up. Hey, I said something was coming. Every time this name seems to hit a new low, something comes out to prop the stock up. But you know what? I was disappointed in just the layoffs. I expected more, potentially even more than I mentioned above. Bulls always point out about the huge cash pile that RIMM has, more than $1.5 billion at the end of last quarter. Why doesn't the company buy back some stock if they feel it is too low? Even if they only used a third of that cash, $500 million could buy back a lot of stock when your market cap is just $5.67 billion. I'll wait till next week when that rumor gets started.
But just when I was about to start the party, we got some more bad news on Monday. News broke that RIMM lost another senior executive; this time it was Chief Legal Officer Karima Bawa. This is now the second high level departure in less than a week. Last week, RIMM announced that Patrick Spence, head of global sales, was leaving. I can't say things are turning around when everyone is jumping ship. You jump ship when the boat is going down, you don't do it when they are plugging up all of the leaks. There is still a lot of pain to come.
So it was a mixed weekend for RIMM. On one hand, the layoffs could save the company going forward, but another executive joined the parade of those leaving. Earnings are getting closer and closer, and I stand by my prediction that shares will get propped up in the next few weeks. But I continue my recommendation that you should short that pop.
RIMM will be a short candidate until it can prove that it can slow the decline of both revenues and earnings. RIMM's position in the stock market has gotten so small that Apple could buy out RIMM with a 40% premium on Friday's close, and Apple would only be spending about as much as it will be paying out in dividends in the first three quarters or so (once it starts paying it).
Disclosure: I have no positions in any stocks mentioned, and no plans to initiate any positions within the next 72 hours.