Television personality Jim Cramer has recommended shares of B&G Foods (NYSE:BGS) several times on his program. On Thursday, Cramer once again recommended shares and had the company as the centerpiece of the episode by showing off several of the company's brands on the set of the show. Cramer's two biggest reasons for recommending B&G Foods were their 0% exposure in Europe and their high dividend yield.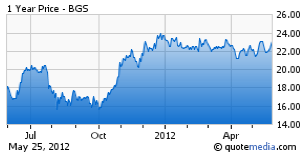 He also went on to praise the company's move into dollar and discount retailers by acquiring brands with a presence in that retail segment. The recommendation of the food company's shares last week will likely see B&G Foods hitting a fifty two week high during the shortened trading week. Here's a more in depth look at the food company with smaller brands.
Brands:
Ac'Cent (acquired from Pillsbury in 1999) - seasonings
Baker's Joy (acquired from Unilever (NYSE:UL) in 2011) - no-stick baking spray
B&G Condiments - pickles, relish, jalapeños, giardiniera, olives, sauerkraut, other sandwich toppings
B&M (acquired from Pillsbury in 1999) - baked beans
Brer Rabbit (acquired from Nabisco in 1997) - molasses
Cream of Wheat (acquired from Kraft (KFT) in 2007) - cream of what, cream of rice
Crock Pot Seasonings (licensed in partnership with Jarden (NYSE:JAH) - seasonings
Don Pepino (acquired from Violet Packing in 2010) - pizza sauce, spaghetti sauce, marinara, peppers
Emeril's (licensed brand) - seasonings, stocks, salsas, sauces, dressings, mustards, barbecue, cooking sprays, dips
Grandma's Molasses (acquired from Cadbury Schweppes in 2006) - molasses
Joan of Arc (acquired from Pillsbury 1999) - beans
Las Palmas (acquired from Pillsbury (NYSE:GIS) in 1999) - sauces, chili, jalapenos, beans
Maple Grove Farms (acquired in 1998) - syrups, dressings, baking mixes, maple candy, cookies, maple spread, peanut butter, jelly, maple sugar
Molly McButter (acquired from Unilever in 2011) - seasonings
Mrs. Dash (acquired from Unilever in 2011) - seasonings, marinades
Ortega (acquired from Nestle in 2003) - taco meal kits, tortillas, taco shells, seasonings, beans, salsas, peppers, dips, sauces, soup mixes
Polaner (acquired from International Home Foods in 1999) - spices, all fruit spread, jams, jellies
Regina (acquired from Nabisco in 1997) - wine vinegars, balsamic vinegars, cooking wine
Sclafani (acquired from Violet Packing in 2010) - tomatoes, spaghetti sauce, pizza sauce
Static Guard (acquired from Unilever in 2011) - static cling spray for clothing
Sugar Twin (acquired from Unilever in 2011) - sweetener (no calories)
Trappey's (acquired from McIlhenny in 1997) - pepper sauces, pickled peppers
Underwood (acquired from Pillsbury in 1999) - meat spreads
Vermont Maid (acquired from Nabisco in 1997) - maple syrup
Wright's (acquired from Nabisco in 1997) - liquid smoke seasoning
As Cramer discussed on his show, B&G Foods often acquires unloved brands and turns them into money makers for shareholders. The company's most recent acquisition was a $325 deal with Unilever in November of 2011. B&G Foods acquired Mrs. Dash, Molly McButter, Sugar Twin, Baker's Joy, Static Guard, and Kleen Guard from the large Dutch consumer company. Another recent deal was a partnership with Jarden to use the Crock Pot brand for a line of seasonings.
Despite owning undervalued brands, B&G Foods also has some market leaders in its portfolio.
Ortega is the #1 selling taco sauce
Cream of Wheat remains the #1 hot wheat cereal
B&M beans are the bestselling bean brand in the New England region
Grandma's and Brer Rabbit have the first and second market position in molasses
The acquisition of the Static Guard brand from Unilever (NYSE:UN) gives the company the possibility of a sale of the brand. The newly acquired brand could also be the beginning of B&G Foods pushing into consumer brands to diversify away from food.
The company is also a play on the growing Gluten Free demand sought after by consumers. Many of the company's brands offer gluten free options. Back in October, I recommended shares of Smart Balance (SMBL) after their acquisition of Glutino, a leader in the gluten free food category. Perhaps B&G Foods could further its position in gluten free by acquiring or merging with Smart Balance. Major food companies like General Mills are also pushing into the gluten free and health food segments.
One big reason shares look attractive is the hefty dividend yield of 4.7%. The yield was actually over 5% prior to the share run-up last week. B&G paid a $0.27 dividend in March, after raising the quarterly payout 17% from the previous amount ($0.23). The company has been consistently raising its quarterly dividend since 2009.
The other reason I see the company as a nice long term buy is the possibility of international expansion. This seems to offset Cramer's recommendation a little bit. Europe is not the place to expand right now but the company has some brands that sell in discount stores in America that it could take to emerging markets. The last three fiscal years for B&G Foods has only seen a 1% total of net sales accounted for from international markets. The new acquisition of products from Unilever in late 2011 is expected to make B&G's international sales 3% of fiscal 2012's total net sales.
The international sales are mostly from Canada. As the company grows its sales base and retail presence, there is a possibility of gaining entry into international markets. I think the company would be smart to acquire an international small packaged food company to establish an international presence. The initial entry would help the company sell its existing products and could make the shares at today's levels greatly undervalued.
B&G Foods is a large holding in the Powershares S&P Small Cap Consumer Staples (NASDAQ:PSCC). The stock is the ninth largest holding, representing 4.53% of the fund (as of 05/25/12). Vanguard is also the largest shareholder in the common shares. The company will be a holding in many dividend funds with its large payouts.
Analysts on Yahoo Finance see B&G Foods earning $1.37 per share for fiscal 2012. The following year, analysts have predicted B&G Foods to earn $1.48 per share. This has shares trading at 17 times this year's earnings and 16 times next year's earnings. Three of the last four earnings estimates have met analysts' targets and one was 4% above projections.
Two big risk factors I found while digging through the company's financials are the high debt load and recent insider selling. B&G Foods has $20 million in cash and $718 million in long term debt. With a market capitalization of just over $1 billion, the high debt level seems too close to the company's valuation. Insiders of the company sold shares of B&G in February, March, and May.
B&G shares trade at $23.13, just shy of their year high $24.64. Cramer's recent recommendation will likely send shares over $25. I would be cautious adding shares at this level. I think a more reasonable buying opportunity would be below $20. Shares were up more than 80% in 2011 so they at some point have some cooling off to do. The company clearly is a winner over the long term and will continue to grow through smart, strategic acquisitions.
Disclosure: I have no positions in any stocks mentioned, but may initiate a long position in BGS, PSCC over the next 72 hours.