People are living longer and thus require more long-term medical care for the future. This poses financial risks for many investors, as they might not be able to afford the desired levels of healthcare, and these costs might also significantly reduce their retirement savings. Soaring retirement costs, low interest rates, and the lack of good yield vehicles force investors to rethink every possible component in their portfolio. The following are a few investment ideas that could generate consistent cash flows:
Investment Property
The rental yield for investment property could be 8% in some areas. It is true that people will always need places to live. However, if there is too much real estate on the market, or if that real estate is unaffordable, then supply can outweigh demand - even though there is a shortage of land, new land is created all over the world every day. This new land is in the form of building up through vertical high-rises and landfills. Population increases alone will not necessarily result in ever-increasing real estate prices, as this also depends on how much real estate is available. Often, population increases will drive vacancy rates down and rents upwards rather than market value, according to Don Campbell, author of Secrets of the Canadian Real Estate Cycle.
The following chart shows seasonally adjusted S&P/Case-Shiller Home Price Indices for two cities in Florida (Miami and Tampa) from 2000 till February, 2012:
Click to enlarge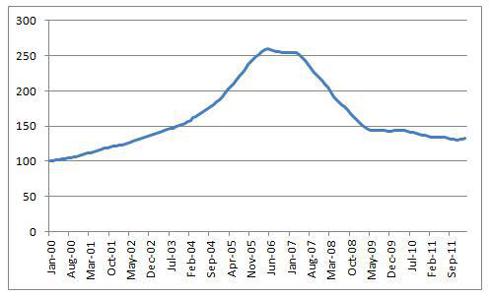 The housing market in Florida has yet to bottom, but the methodology used in this index can distort the home price tracker downward during times of a weak economy, since there is no distinction between foreclosure, short sale, and regular sale. For example, 35% of all homes sold in January were distressed, according to the National Association of Realtors. In one Florida zip code area I am looking at, the average price is $80/sq ft for foreclosures, $95/sq for short sales, and $110/sq for regular sales.
Equity ETFs
Over the last few months, I sold most of holdings in my non-retirement portfolio and was actively looking at investment property. In the last few weeks, however, the market downtrend lured me back into the equity markets. The following is a comparison on the iShares Dow Jones U.S. Index (NYSEARCA:IYY) versus the three other high yield iShares equity ETFs: MSCI EAFE Index (NYSEARCA:EFA), MSCI Canada Index (NYSEARCA:EWC) and Dow Jones US Real Estate (NYSEARCA:IYR):
| | | | | |
| --- | --- | --- | --- | --- |
| Metrics | IYY | EFA | EWC | IYR |
| 30-Day SEC Yield | 1.7% | 2.3% | 1.9% | 3.5% |
| Price/Earnings Ratio | 18.3 | 15.0 | 16.8 | 41.3 |
| Beta vs. S&P 500 | 1.05 | 1.13 | 1.13 | 1.16 |
The 30-day yield is a standardized yield calculation developed by the U.S. Securities and Exchange Commission (SEC) that allows for fair comparison of yield performance. The table above shows EFA has the lowest current P/E and second highest dividend yield.
Fixed Income ETFs
The iBoxx $ Invest Grade Corp Bond (NYSEARCA:LQD), S&P U.S. Preferred Stock Index (NYSEARCA:PFF) and iBoxx $ High Yield Corporate Bd (NYSEARCA:HYG) are three popular iShares fixed income ETFs with high yields. The following table compares them to iShares Barclays 7-10 Year Treasury (NYSEARCA:IEF). A 52-week-high-to-low ratio is used to measure risk: the higher the ratio, the higher the risk.
| | | | | |
| --- | --- | --- | --- | --- |
| Metrics | IEF | LQD | PFF | HYG |
| 30-Day SEC Yield | 1.4% | 3.5% | 6.5% | 6.7% |
| 52 Week High / Low Ratio | 1.13 | 1.08 | 1.22 | 1.19 |
Surprisingly, Invest Grade Corp Bond (LQD) has a higher yield and lower risk than 10-Year Treasury. Investors can select fixed income ETFs based on their risk tolerance.
Portfolio Construction
A balanced portfolio typically consists of about 60% equity and 40% fixed income. A well constructed portfolio can help smooth out performance during volatile market periods.
Many retail investors suffered a huge loss due to the lack of diversification in 2008 financial crisis and rushed to the safe haven ultra low treasury markets. Many of the best investors allow a single stock to have only a maximum negative impact of 5% on their whole portfolio. For example, if none of your stocks makes up more than 5% of your portfolio, even a 60% loss on a single stock will impact your portfolio by only 3%.
Conclusion
As individual investors, we have some major advantages over large institutions. We don't have to answer to clients. We don't have to provide daily or monthly returns. We just have to set up rules ahead of time that help us stay with our plan over the long term. We have to choose allocations to stocks that are appropriate for our individual circumstances and then stick with it, according to Joel Greenblatt, author of The Big Secret for the Small Investor.
There will always be opportunities for investors. The U.S. debt ceiling issue and Europe sovereign debt problem might be around for a long time. As a retail investor, if you can construct a well-diversified balanced portfolio with a long-term horizon, you could outperform Wall Street professionals and look ahead to a comfortable retirement.
Note: Data is from Yahoo Finance and iShares and is valid as of May 28, 2012.
Disclosure: I am long EFA.