The US dollar (NYSEARCA:UUP) is, for lack of a better phrase, the best house in a bad neighborhood. Out of control spending combined with spiraling debt is creating a recipe for disaster. Even more frightening are the articles proclaiming gloom and doom should the budget cuts and tax increases next year take effect.
However, when compared with the problems around the world the reasons the US dollar is considered a safe haven are apparent once again.
China is grappling with a slowdown in exports, the gradual popping of the real estate bubble, and rising stockpiles of base metals across the country. BHP Billiton (NYSE:BHP) has also put on hold its ambitious $80 billion dollar plans to expand output indicating slow demand from both India and China.
Why is this bullish for the US dollar? During the buildout of China and India raw materials and base metals were sucked towards both countries, coinciding with the devaluation of the US dollar as seen in the chart below.
click to enlarge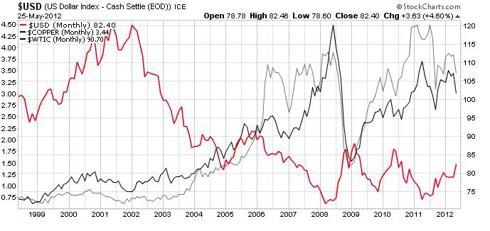 It is no coincidence that the price charts for Copper (NYSEARCA:JJC) and WTIC (NYSEARCA:OIL) closely mirror tops and bottoms with the US dollar?
In addition, the well-known problems facing Europe, where banks in Spain and Greece were recapitalized, in the last week people are moving their exposures out of euros (NYSEARCA:FXE) and into US dollars. Even South America is rumbling where the Argentine government recently chose to nationalize YPF and Bolivia recently decided to nationalize the owner of most of its electrical grid, a subsidiary of Spain's Red Electrica Corporacion S.A.
Around the world there are significant problems occurring in the global financial system which pose great risks. In times like these the US dollar maintains its place as a safe haven and people look to the Federal Reserve for leadership.
While the United States economy remains troubled at the current time we remain the best house in a bad neighborhood. The time will come when we will have to get our house in order causing an economic disruption in the United States, but in the meantime as long as there are serious problems in the world, the US dollar will remain a safe haven in the global currency market.
Disclosure: I have no positions in any stocks mentioned, and no plans to initiate any positions within the next 72 hours.