In a previous report on YRC Worldwide (NASDAQ:YRCW) on January 9, we reiterated our underweight recommendation on the stock as a result of an expectation that the economy in the first half of 2008 would slow materially. While we still believe the economy will endure a near-term sluggish rate of growth, the latest actions from the Federal Reserve and the government should help to stave off a recession and a reignite growth later this year.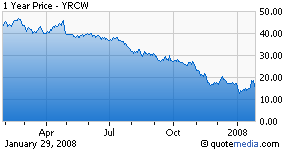 The company reports earnings on January 28, and we expect a drastic year-over-year decline in earnings, but there is a probability of the report being received somewhat favorably by the market. CEO William Zollars has been very negative about the outlook for the economy since late 2007, essentially preparing investors for the worst case scenario. As noted above, our modeling for lower per share earnings reflects (in our previous report we lowered our earnings estimates to $0.51 and $2.22 for the fourth quarter and full year, respectively) fuel expenses increasing approximately 30% during the fourth quarter. Industry tonnage failed to improve in the fourth quarter, a key input to our analysis. However, we anticipate industry tonnage to regain momentum in the second quarter, with the second half of the year being stronger.
The fuel cost structure in the quarter is obviously a key area of focus for us, but we are placing a greater weight to how management controlled variable expenses as fuel is largely out of their control. All transportation companies are dealing with higher fuel prices right now, and the best management teams are those who are able to mitigate the effect with strong cost management elsewhere in the business.
In summary, we expect the trucking industry to continue to be weak for the first half of the year in all important operating metrics due to existing macro circumstances. But, as the Fed's interest rate cuts begin to flow through the economy, in addition to the government's economic stimulus package, we believe stronger earnings in the back half of the year are supportive of higher valuation for the industry. Market expectations are so low right now that any modicum of good news should send the stocks in the sector higher. We are increasing our recommendation on YRCW shares to overweight at this time, but would like to add the caveat that continued cautious statements from Mr. Zollars could pressure the stock. The Company is one of the largest truckload carriers in the country, and when the market begins to turn, YRCW should be ahead of the majority of the industry. A year from now, we expect YRCW shares to be trading around $27.00.
Written by David Silver, a Research Analyst for Wall Street Strategies (www.wstreet.com) covering companies in the Transports, Autos, and Beverage sectors.
Disclosure: none