We recently posted Part 5 of our "Building A DIY Dividend Portfolio" series, which highlighted our top-ranked dividend stocks in the Financial sector (see summary table below).

As we highlighted in Part 5, we believe that patiently waiting for a low-risk entry point for a given stock will drastically improve your long-term investment results. Just because a stock has a high Parsimony composite rating, it doesn't necessarily mean that you should run out and purchase it that day. We scan the charts of our top-rated stocks daily looking for strong levels of support and resistance, which ultimately helps us determine a target "Buy Zone" for each stock.
Tactical Strategy for the DIY Dividend Portfolio
As a follow up to Part 5 (Part 5b, if you will), below are our target "Buy Zones" for each of these top-rated Financial stocks. For the most part, Financial stocks have pulled-back in response to the recent correction in the broader market. As you will see below, there are several great Financial stocks that are currently offering investors some very attractive entry points right now.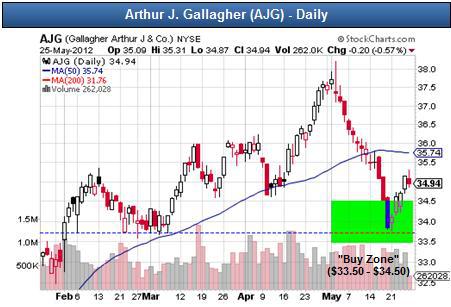 Arthur J. Gallagher (NYSE:AJG) is one of the world's largest insurance brokerage firms. AJG has a very stable dividend track record over the past 20 years and the current 4% yield is very attractive. Although AJG is down about 8.5% from its recent peak, the stock's long-term positive uptrend is still very much intact. We think that the stock will consolidate in the $33.50-$35.50 range before heading higher again later this year. The lower part of this consolidation range should be a nice low-risk entry point for investors.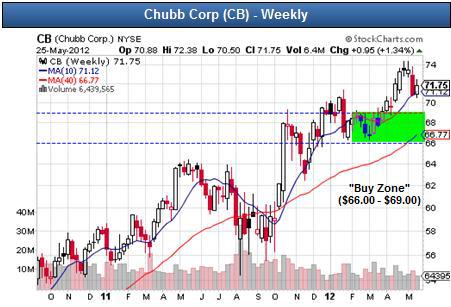 Even though Chubb Corp (NYSE:CB) is in a long-term positive uptrend, we think that the stock could test its 40-week moving average ($66.77) if the broader market continues to weaken. That said, we think the stock will get strong support at this level and we would recommend buying it in the $66.00-$69.00 range. Chubb has increased its dividend for over 25 years in a row now and the stock would yield 2.5% if purchased around $66.00.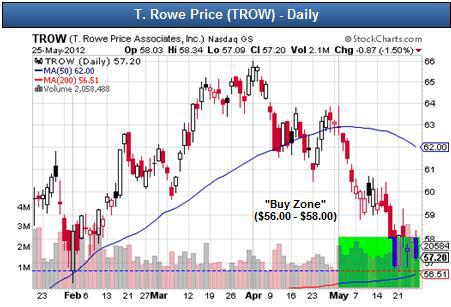 T.Rowe Price (NASDAQ:TROW) is down over 13% from its peak in late March and the stock is currently testing its 200-day moving average ($56.51). We think that this level will hold as support and investors should feel comfortable initiating a position in the $56.00-$58.00 range. TROW is an S&P Dividend Aristocrat with a very long and stable dividend history. It's 10-year compound annual dividend growth rate is over 15%.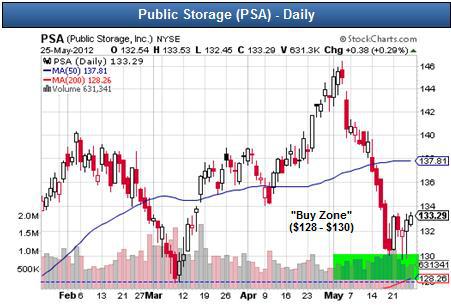 While it can't be seen in the daily chart above, Public Storage (NYSE:PSA) is also in a very strong uptrend. PSA is a real estate investment trust ("REIT") that is focused on self storage facilities. The stock is down about 10% from its recent peak and it is getting very close to testing its 200-day moving average ($128.26). This 200-day moving average also coincides with the company's recent low in early March, which is why we believe it will be a strong level of support. Keep your eye on the $128-$130 range for the stock and get ready to pull the trigger.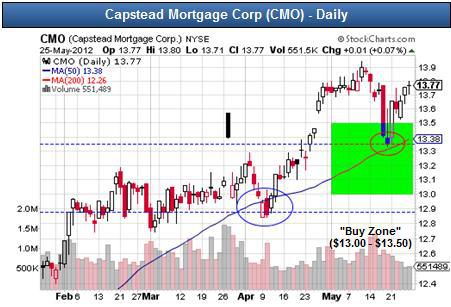 Capstead Mortgage Corp (NYSE:CMO) is a mortgage REIT that invests in agency mortgage-backed securities. CMO has a current dividend yield of 12.5% and a low beta of 0.47. The 50-day moving average has held as support during the last two dips and we think that that level will continue to hold on any weakness. Mortgage REITs tend to trade at a slight premium to book value and CMO currently trades around 1.05x its book value of $13.04. This valuation is in line with industry veterans Annaly Capital Management (NYSE:NLY) and American Capital Agency (NASDAQ:AGNC), which trade at 1.03x and 1.11x, respectively. That said, if CMO fell as low as $13.00, it would be an extremely attractive entry price.
Summary
Investors should consider all of these top-rated Financial stocks for their DIY Dividend Portfolio, but please be patient with your entry points.
That said, with the exception of Chubb, all of these stocks are currently in (or very close to) their respective "Buy Zones". Investors should feel free to pull the trigger on these stocks immediately.
Good luck out there ... be patient!
Please make sure to "follow" us as we will be continuing our DIY Dividend Portfolio series over the coming weeks. We will also update readers if there are any new stocks entering their "Buy Zones".