Coming out of a four-day weekend, many traders begin to look for stocks that might be on the move. Facing an overall choppy market that we are in now, stock appreciation might be hard to find this week, but I do think the stocks I list below could see nice gains this week. The weight loss drug battle continues to heat up, potentially giving traders/investors more opportunity for both the short and long term stock price appreciation.
Arena Pharma (NASDAQ:ARNA) 5/25/12 pps: $6.00 Market cap: 1.09B
Arena engages in discovering, developing and commercializing oral drugs that target G protein-coupled receptors in the therapeutic areas of cardiovascular, central nervous system, inflammatory and metabolic diseases. The company just received a favorable recommendation from an FDA advisory panel for its much talked about weight loss drug, Lorcaserin.
Moving factor:
It appears more likely than not that Arena will not be required by the FDA to engage in a Risk Evaluation and Mitigation Strategy (REM) as Vivus (VVUS) was required to do when its weight loss drug Qnexa was also recently recommended for approval by an advisory panel. It appears to me at this time that Lorcaserin is going to beat Vivus' Qnexa to market here. I have consistently maintained that I feel Lorcaserin is the safer of the 2 weight loss drugs, while Qnexa provides the best reward in terms of over all effectiveness.
It is my opinion that approval of Lorcaserin is a given at this point, while I am a little less certain of Qnexa, although I do feel that one will be approved as well. Again, it does not seem to me that a REM will be required by the FDA for Lorcaserin, possibly making Lorcaserin the first doctor proscribed weight loss drug to hit the market since 1999. Arena to me is looking less like a speculative investment, and more like a long term winner. Keep a close eye on this one after a successful secondary offering was completed at $5.50 a share. The stock is trading well above the secondary offering, currently near $6.00 a share. In my opinion, this is a bullish factor.
My Short term pps target opinion: $6.50 a share.
ZIOPHARM Oncology (ZIOP) 5/25/12 pps: $5.13. Market cap: $402.56M
ZIOPHARM engages in the development and commercialization of small molecule and synthetic biology approaches to cancer therapies in the United States. The company's clinical programs include Palifosfamide, a DNA cross-linker, which is in a phase III clinical trial for the treatment of metastatic soft tissue sarcoma in the front-line setting. ZIOPHARM is also developing Palifosfamide in combination with etoposide and carboplatin in phase I clinical trial to determine safety for initiating a pivotal, adaptive phase III trial in front-line.
| | |
| --- | --- |
| *Shares Outstanding: | 78.47M |
| Float: | 54.15M |
| % Held by Insiders: | 21.80% |
| % Held by Institutions: | 34.50% |
| Shares Short (as of Apr 30, 2012): | 9.19M |
| Short Ratio (as of Apr 30, 2012): | 24.90 |
| Short % of Float (as of Apr 30, 2012): | 16.20% |
| Shares Short (prior month): | 9.24M |
ZIOPHARM has a rather high short interest coming in over 16%, but does it have a catalyst that can squeeze the shorts?
Moving factor:
The upcoming PICASSO III Trial Results (due Q4 2012) - ZIOP's PICASSO III trial is attempting to use Palifosfamide (an ifosfamide derivative) as a treatment in soft tissue sarcoma (STS). Recent FDA actions in the disease indicate that progression free survival (PFS) is now a viable approval metric for STS treatments.
I remarked in a prior article that I believed a short term pop to $5.05 a share would occur in 2 weeks or less. I got the opinion right as on Wednesday, May 23rd, the stock hit over my short term target price, so I sold my position. I still like the company and may take a longer term position in the future in ZIOPHARM.
My Short term pps target opinion: $5.50 a share.
Amarin Corporation (AMRN) 5/25/12 pps: $11.55. Market cap: 1.58B
Amarin focuses on developing the treatment for cardiovascular disease in the field of lipid science.
Potential Catalyst: PDUFA date July 26, 2012 for AMR101 in patients with very high triglycerides.
AMR101 is an investigational ultra-pure omega-3 fatty acid in a capsule, comprising not less than 96% icosapent ethyl (ethyl-EPA) in a capsule. Amarin is developing AMR101 for the potential treatment of patients with very high triglyceride levels and high triglyceride levels, or hypertriglyceridemia. Triglycerides are fats in the blood.
On May 24th, Amarin announced that additional data from the AMR101 pivotal Phase 3 studies (MARINE and ANCHOR) will be presented along with an encore presentation of the ANCHOR study by Harold E. Bays M.D., Medical Director, Louisville Metabolic and Atherosclerosis Research Center,at the National Lipid Association (NLA) 2012 Annual Scientific Sessions in Scottsdale, Ariz., on May 31- June 3.
For some in depth detailed analysis on Amarin, refer to this article written by SA author Iggy Igette who covers Amarin inside and out.
My Short term pps target opinion: $12.50 a share.
IsoRay (NYSEMKT:ISR) 5/25/12 pps: $0.78. Market cap: $22.87M
IsoRay engages in the development, manufacturing and sale of isotope-based medical products and devices for the treatment of cancer and other malignant diseases primarily in the United States. The company produces Proxcelan Cesium-131 brachytherapy seeds that are used for the treatment of prostate cancer; ocular melanoma; head, neck, and lung tumors; breast cancer; liver cancer; brain cancer; colorectal cancer; gynecological cancer; esophageal cancer; and pancreatic cancers.
Moving factor:
The company announced on May 22nd 2012, that the GliaSite radiation therapy system, the world's only balloon catheter device used in the treatment of brain cancer, has earned the European CE Mark, allowing immediate sale in 31 European countries. The system's balloon catheter is a landmark technology that allows physicians to treat more patients than ever before with brachytherapy or internal radiation and provides important benefits over other radiation treatment options.
IsoRay's GliaSite system introduces a balloon catheter into the brain which is inflated with a radioactive solution. This radiation is delivered locally to a specific area of the brain to treat primary, recurrent or metastatic tumors.The GliaSite catheter is actually a dual balloon system. The inner balloon acts as a reservoir for the radioactive solution. The outer balloon is not used but ensures that the radioactive solution is not released if the inner balloon is compromised.
I do not think the market knows about the above news as it should, and it seems the company is under most traders/investors radars. I might cover this company moving forward in the coming weeks.
| | |
| --- | --- |
| Shares Outstanding: | 29.32M |
| Float: | 28.75M |
| % Held by Insiders: | 1.95% |
| % Held by Institutions: | 1.50% |
| Shares Short (as of May 15, 2012): | 361.50K |
| Short Ratio (as of May 15, 2012): | 5.30 |
| Short % of Float (as of May 15, 2012): | 1.30% |
IsoRay's trading float is rather low. The company to date has had no stock splits that I can find.
*(click to enlarge)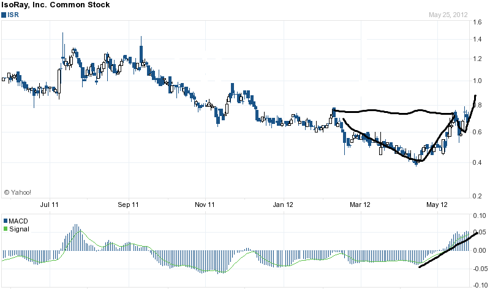 A cup and handle appears to be forming (which I draw in crude black lines) on the IsoRay chart from late February to the current date. This confirms with the proper 9 to 12 weeks for a cup handle to complete. The MACD and signal continue a bullish trending as well. It is my strong opinion a break-out is coming here to a pps over $1.10 in the short term, if not higher.
The Discovery Channel made a video that speaks about IsoRay's Cesium-131. i encourage investors to carefully view these 2 videos as part of prospective due diligence on IsoRay. Also, a power point presentation that references a $320M revenue potential based on the latest news for IsoRay that the company CEO Dwight Babcock mentions, can be downloaded from this link.
My Short term pps target opinion: $1.10 - $1.25 a share
*Data sourced from Yahoo Finance.
Disclosure: I have no positions in any stocks mentioned, but may initiate a long position in ISR over the next 72 hours.