Silver investors have had a tough time since the spike to nearly $50 per ounce in April 2011, but the 13 month consolidation appears to be about over.
Silver is Approaching Long-Term Support:

click to enlarge
iShares Silver Trust (NYSEARCA:SLV) has strong long-term support around the 26 dollar level. A long consolidation after the parabolic move to nearly $50 is healthy for silver in the long-term. It has been just over a year since the April 2011 high, with typical long-term consolidations averaging about 12-18 months.
PSLV Premiums: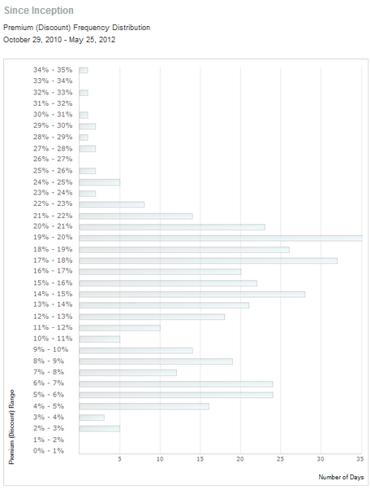 Source: sprottphysicalsilvertrust.com
Sprott Physical Silver Trust (NYSEARCA:PSLV) premiums are at 5.32%, which is well below the average since inception, and has reached as high as 34%-35%. The low premiums are indicative of a major bottom being formed. I wrote an article about how investors can take advantage of this rare opportunity here.
Investor Sentiment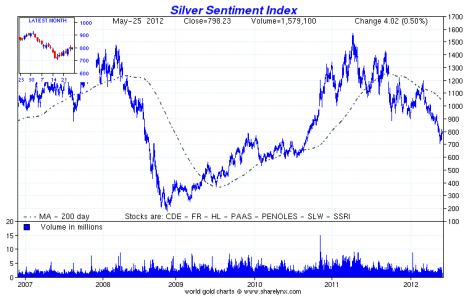 Source: sharelynx.com
Nick Laird's Silver Sentiment Index has retraced back to 2010 levels, after falling 50% from the peak in 2011, and is positioned for the next big move up.
US Dollar Index: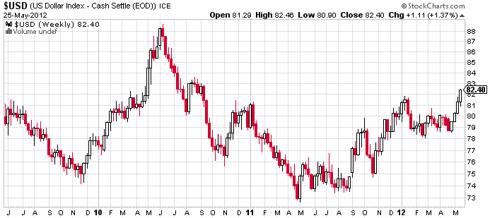 Source: Stockcharts.com
The US Dollar Index has increased dramatically since its low a year ago, but the rally is overextended, and likely to resume its downward trend once Europe settles on a temporary solution for Greece. Last year, when the dollar was in the doldrums I warned the Dollar Index would blow past 80. After the recent run, investors should prepare to switch back to dollar bearish. When everyone is on one side of the boat like they are now, it is best to start positioning yourself on the other side of the trade. Although I expect another euro scare to push the dollar higher in the near term, the long dollar trade may be nearing the end of its run.
Gold/Silver Ratio: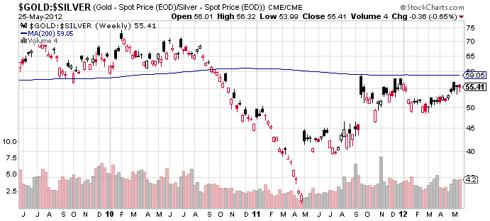 Source: Stockcharts.com
The gold to silver ratio is approaching strong resistance at the 59:1 level. During times of apathy in the metals market the ratio rises as silver drops faster than gold. The current level is indicative of extreme bearishness that looks likely reverse in the near future.
SLV vs. SIL: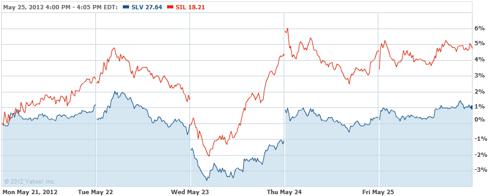 Source: Yahoo! Finance
The miners often lead the physical metal and are showing signs that they may continue last week's outperformance of the physical metal. Global X Silver Miners ETF (NYSEARCA:SIL) is back to where it was in late 2010, and ready to move upward as the market obtains a resolution from Europe.
Options Volatility: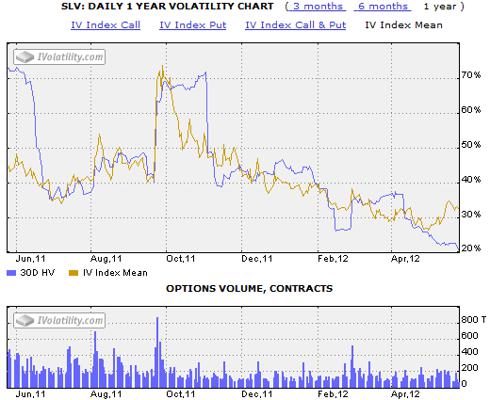 Source: IVolatility.com
The implied volatility of SLV options are trading near the lowest levels they have been in a year, while 30-day historic volatility is half of what it averaged over the last year. I recently wrote an article that details how to take advantage of the current mispricing here.
Commercial Shorts Covering: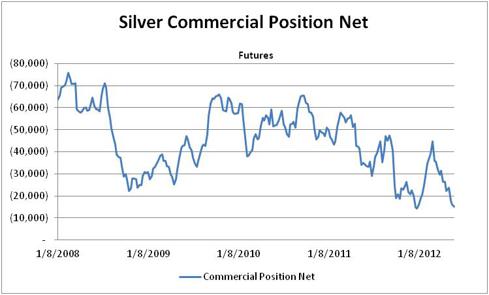 The commercial shorts have been unwinding their position, which are currently near 10-year lows. Their reduced short position indicates they are preparing for a powerful move to the upside in silver.
Investment Thesis:
SLV has strong support at $26 per share.
Silver sentiment has been cut in half since the 2011 highs, and is well positioned for the next move up.
The US Dollar Index has had a powerful run that has been fueled by European concerns, but likely to reverse as investors get a resolution out of Europe.
The gold/silver ratio is approaching strong resistance, and ready to begin contracting again.
Silver miners recently started outperforming the physical metal, and often lead the metal at peaks and troughs.
Historic and implied volatility in SLV options are at unrealistically low levels.
The Commercials have dramatically decreased their short positions, and are positioned for a powerful move up in silver.
After blow-off moves (i.e. when silver went to nearly $50 per ounce), the subsequent consolidation often takes between a year and 18 months to work through. With more than a year since silvers peak in April 2011, silver is ready to start moving higher.
After such a long and trying consolidation, only the strongest hands are left, while everyone else will play be playing catch-up.
If silver prices went much lower for any sustainable period of time, the exchange risks losing too much physical metal.
Commodity position limits as part of the Dodd-Frank Act could help reduce the excessive short selling in the silver market.
Many investor expectations for additional QE have come down since the end of QE2.
Weak economic data, a stronger dollar, and lower bond yields will eventually enable the Fed to provide additional stimulus.
The Fed is typically accommodative in an election year.
Summer is generally the season when silver finishes consolidating before the next move higher.
Popular silver investors like David Morgan have recently mentioned a loss in subscribers, which is common during market bottoms.
Easy money policy coming out of China.
Historically low premiums to purchase PSLV.
Precious metals provide a better opportunity over the next 3-5 years than stocks, bonds, or real estate as detailed in my article here.
Major Risks:
India's tax on gold imports, and a weak rupee could cause silver and gold to suffer.
A major economic shock (i.e. Greece exiting the euro) would probably result in significant near-term downward pressure on every asset class except the dollar and government bonds.
Continued currency turmoil could keep the dollar rising longer than expected, and continue to exert downward pressure on precious metals.
Disclosure: I am long SIL, SLV.
Additional disclosure: Long SLV call options.