We are almost to June. That means the summer driving season has started with Memorial Day. It means the hurricane season, which often disrupts oil production, is here again. In fact we have already been teased by Tropical Storm Beryl, which did little harm to the oil infrastructure. With the pro-austerity party making headway in Greece, those two factors may be all we need to see a near term rally in oil. Nymex WTI crude has fallen since its near term high on May 1, 2012 of $106.43/barrel to a recent low of $89.28/barrel on May 23, 2012. It currently stands at $91.68/barrel. This could be the beginning of a near term bounce, or it could be a lull before the next leg down (or both).
It looks like it could be a near term bounce, especially if the Non-Farm Payrolls number on Friday June 1, 2012 is a decent one. The market expects a gain of 155,000 jobs. If the government juices the numbers occasionally, this would rationally be one of those times. Plus 155,000 does seem like an achievable number. The second estimate for the Q1 GDP is due out Thursday May 31, 2012. With a current expectation of +1.9% growth, this too looks achievable given that the first estimate was +2.2%. In other words US expectations this week are set up to be met or beaten. Such an occurrence could allow oil to rally. On top of the above the overall market in general and oil specifically are near over sold levels. They are set up to rally if given half a chance.
Big Bakken producer Continental Resources (NYSE:CLR) stands to be one of the biggest beneficiaries if such a rally does occur. A few of the factors that might help it rally are:
CLR trades at a PE of 21.56 and an FPE of 16.51. These multiples seem a little high until you realize CLR is estimated to grow EPS at approximately 30% for the next two years. Plus it has a 5 year EPS average growth estimate per year of 25%. Given its growth estimates, its multiples make it look like a bargain.
In the last month the analysts' opinions on CLR have gone up. As the price of CLR has gone down, more analysts are seeing CLR as a buy.
Q2, Q3, FY2012, and FY2013 average analysts' EPS estimates have gone up significantly over the last three months. The FY2012 estimate moved from $3.33 to $3.51. The FY2013 estimate moved from $4.41 to $4.60. Many other stocks have seen their EPS estimates cut. The list of oil companies on which analysts lowered estimates includes such bellwethers as Exxon Mobil (NYSE:XOM), ConocoPhillips (NYSE:COP), Marathon Oil (NYSE:MRO), and Occidental Petroleum (NYSE:OXY).
CLR is the number one oil producer in the Williston Basin (Bakken).
CLR had strong Q1 2012 results. Production was up 66% year over year. Total production was 85,526 Boepd.
CLR has 508 MMBoe of proved reserves, which represents 39% year over year growth.
CLR's guidance for 2012 is for 47% to 50% production growth. Plus CLR has nearly 1,000,000 net acres in the Bakken. It will not run out of drilling inventory soon in this prolific field.
CLR has achieved an average EUR of 603,000 Boe per well in North Dakota. Plus it has been successfully testing the benches of the Three Forks (a formation below the Bakken). Things just keep getting rosier.
CLR has many properties other than the Bakken. Development in these areas has been going well also.
Given the recent weakness in natural gas prices this year, it is a big plus that 73% of CLR's FY2011 production was oil.
CLR has benefited from efficiency improvements and economies of scale.
CLR has natural gas hedges for April - June 2012 of 1,820,000 MMbtus at $4.06/MMbtu. CLR has July - Dec. 2012 natural gas hedges of 11,040,000 MMbtus at $3.45/MMbtu. This is a little light as its production stands to exceed 56,000,000 MMbtus. However, the analysts who have been increasing estimates know this information.
CLR has WTI oil hedges of 9,506,750 barrels for April - Dec. 2012 at a floor of $80/barrel. It has Brent hedges for that time of 3,162,500 at an average weighted price of $111.17. This likely means the floor is $100/barrel or above. The total oil hedges are for approximately 12.7 million barrels of oil. Production in 2012 will likely exceed 22 million barrels. Roughly half of oil production is hedged at decent prices. This is not ideal for a highly uncertain economic environment. However, CLR is by no means naked. It should be able to muddle through any economic storm it sees.
In Q1 2012 CLR had a 75% operating cash margin. That's impressive. It is the sign of a well run oil and gas E & P company. As an example of how well run, its EBITDAX for Q1 2012 exceeded that for all of 2009. That's impressive growth.
The two year chart of CLR adds some technical direction to this trade.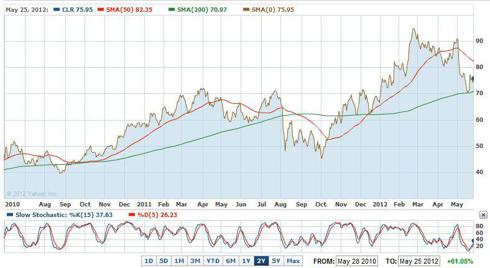 The slow stochastic sub chart shows that CLR is near over sold levels. The main chart shows that CLR has been in a downtrend since late Feb. 2012. It shows that CLR has recently bounced off a very strong support point at approximately $70 per share. This was also a bounce off the 200-day SMA. This is a very positive short term signal. No one can promise what the market will do (or what oil and oil equities will do) in the intermediate term in this time of high economic uncertainty.
However, CLR 's production is mostly oil. It is in the relatively economically stable US. If any oil equity can rally in this environment, CLR should be able to. I am not highly recommending this as a buy at this time. However, you could start to nibble at it; or you could use it as a hedge against any downward bets you may be making. If oil prices keep rising you should be able to make some good money on this stock in the short term.
If you are only a long term buyer, CLR is one of the stronger and least troubled oil stocks. It should be a survivor, and it should eventually excel. If you keep it long enough, it should make you money. There is a long term, worldwide, secular bull market for oil.
For the short term traders, remember, "Chance favors the prepared mind." I hope this article has helped to prepare you.
Note: Much of the fundamental financial information above comes from Yahoo Finance.
Good Luck Trading.
Disclosure: I have no positions in any stocks mentioned, but may initiate a long position in CLR over the next 72 hours.