Boeing (NYSE:BA) is expected to report Q4 earnings Wednesday with a conference call scheduled for 10:30 am ET.
Guidance
Analysts are looking for the company to post Q4 EPS of $1.32 on revenue of $17.33B. The consensus range is $1.21 to $1.40 for EPS, with a revenue range of $16.56B to $17.97B, according to First Call. Boeing has currently been trading around $79.60, close to its 52-week low. Most of the price decline is because of continued delays in the production of its 787 Dreamliner.
Analyst analysis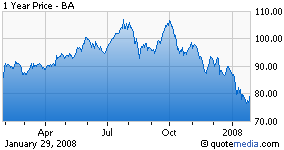 Bernstein said on January 9 that they think the company's declining share price is due to concern about the 787 time line, and they expect a 12 month delay in the 787 production schedule. The firm believes that any delay would limit the share price and create the risk of more short term declines. However, Bernstein Research has since upgraded the company to Outperform form Market Perform, based on valuation.
Credit Suisse rated Boeing to Outperform, and said on January 10 that to justify the recent sell-off, 787 delays would have to be a year or more and notes that Boeing's backlog is at a record level, and operating leverage is strong.
Wachovia said on January 16 that they think investors may lose more confidence in the company's management of the 787 if it doesn't provide specific guidelines on the project.
Gabelli & Company continues to rate Boeing a Buy, noting that although the delay will impact near-term deliveries, Boeing is four years ahead of its competition and that the 787 is sold out until 2013.