Haynes International (NASDAQ:HAYN) develops, markets, and manufactures specialty alloys for aerospace, chemical processing, gas turbines, power generation, incineration, industrial heating, hazardous waste, etc. These alloys are manufactured in several forms: sheet, coil, plate, forgings, fasteners, bar, wire, billet, tube, as well as value-added custom cuts and forms.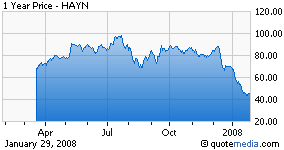 The Company's customers are very diverse, including GE (NYSE:GE), Rolls Royce (OTCPK:RYCEY), Boeing (NYSE:BA), DuPont (NYSE:DFT), Dow (NYSE:DOW), Eli Lilly (NYSE:LLY), BP (NYSE:BP), and many more. The manufacturing occurs in the US (Indiana, Louisiana, North Carolina) with 6 US Sale/Service centers and 7 international (England, Frarnce, Italy, Switzerland, India, China).
As of the last conference call, the company was operating at +100% operating capacity for flat alloy products (accounting for 70% of profits). The Company claims to have "big demand for value-added service" and is "moving up the value chain" in their niche markets. Moving into this model can grown the companies moat and competitive advantage. By continuing R&D, becoming critical partners with their customers, and increasing value-added products the Company can protect their weak moat.
The valuation for this company is attractive on traditional metrics.
Market Cap: $520
P/E: 7.5
ROE: 28.26
D/E: 0.12
Net Margins: 11.81%
Yield: 0%
EPS: $5.88
BV/Share: 26$
The stock is down nearly 50% in the past three months (in the bottom 10% of the market). This scary drop opens up an opportunity for long-term investors.
Here are several return scenarios using a discounted EPS valuation. The models conservatively estimate EPS at $5 with a 10% discount rate:
Scenario 1: 2% growth in perpetuity = $63
Scenario 2: 6% growth for 4 yrs. followed by 2% in perpetuity = $73
Scenario 3: 10% growth for 5 yrs. followed by 2% in perpetuity = $88
*This model assumes no further dilution.
Notes:
As a small company, HAYN is always subject to take over speculation. They pose a nice value to the massive multinational steel companies.
The price of nickel (needed for nickel-alloys) is driven by the stainless steel markets. Third Avenue Value is a holder of the company.
The Company is a provider to Boeing but hes very low exposure to the 787 Dreamliner.
The company has a decently sized short interest.
Disclosure: none