This article is the first in a series on closed-end funds that pay a distribution to shareholders of greater than ten percent and trade at a ten percent discount to net asset value. I believe that this series of articles is timely since the prolonged low interest rate environment has sent investors on a "search for yield." With no S&P 500 Index (SPY, IVV) constituents paying a 10% or higher dividend, and the lowest quality portion of the junk bond universe paying on average only marginally higher than 10% yields, this level of distribution to shareholders is certainly above market.
Of course, above market returns typically come with above average risk. With the market price of these funds trading at least ten percent less than their underlying asset value, there is an inherent downside protection. Hopefully, this combination can help income-oriented investors earn high risk-adjusted returns.
About the Fund
Since its May 2007 inception, BlackRock International Growth And Income Trust (NYSE:BGY) has been seeking high levels of current income by investing in an international portfolio of companies. Structured as a closed-end fund, BGY has followed a managed distribution policy that has not necessarily aligned its payout with the income generated by its underlying assets. Currently, the fund sells call options against roughly fifty percent of the net assets of the fund, using the call premiums to enhance current income. (See call overwriting section below). BGY currently pays an indicated yield of 12.66% and is trading at 10.44% discount.
The fund is off to a rocky start in its five year track record. Its 2007 launch and focus on international markets has led to negative returns on net asset value.

Source: Blackrock
The fund's poor net asset value performance led to the cut in the stock's distribution on March 1st from $0.34 per quarter to $0.22. The fund fell 5% upon announcement of the cut, and is down nearly twenty percent since the change in distribution. The company had been paying out over 90% of its dividend as a return of capital, meaning shareholders were getting largely their own dollars back instead of net income from the funds managed. The cut in distribution should allow the fund to become more sustainable, but the fund is now trading at a substantially larger discount. The fund has not traded at this large of a discount to net asset value since the heights of the Great Recession.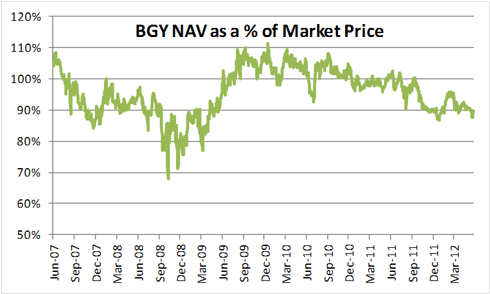 Click to enlarge
Source: Bloomberg
The fund is capitalization agnostic with the bulk of the underlying stocks in the large cap space, but funds distributed from small cap through mega cap. The top five holdings at the end of March were Nestle, (OTCPK:NSRGY) Vodafone (NASDAQ:VOD), Royal Dutch Shell (NYSE:RDS.A), British American Tobacco (NYSEMKT:BTI), and Australia and New Zealand Banking (ANZ), and the top ten holdings constitute 22% of the fund. The top five countries include the U.K (20.9%), Japan (11.3%), Germany (7.5%), France (5.9%), and Switzerland (5.7%). The average underlying stock trades at 13x trailing earnings and paid a dividend of 3.1%.
On the day before the distribution cut, the fund was trading at $8.48, or 95.4% of its net asset value. Today, the fund trades at $6.95, or 89.6% of it net assets. Since investors preferred the higher distribution amount to allowing the fund to retain the assets and try and earn increasing returns, investors are implicitly assuming that the fund will not be able to earn the distribution rate and investors prefer the return of their funds sooner than later.
With the fund now scheduled to pay out $0.88 per year on a net asset value of $7.76, investors must not believe that the fund can sustainably earn the now lower 12.7% yield because investors are not willing to pay net asset value. Below is a historic look at the call overwriting strategy employed by Blackrock (NYSE:BLK) in this fund. Potential investors can combine this information with their own outlook for the market to determine if BGY is suitable for them.
About Call Overwriting
Many market participants believe that we are entering a "new normal" and the de-leveraging of the household, corporate, banking, and government sectors, combined with demographic headwinds, will necessitate lower capital market returns in future periods. Combining these return expectations with a historically low interest rate environment has sent fixed income investors in search of non-traditional ways to boost income streams.
Call overwriting, a strategy that sells call options against shares held long, can provide increased levels of income while providing some downside protection. In range-bound or down markets, call-overwriting will typically outperform owning stocks outright due to the premium earned from selling the calls. However, in a rally, call overwriting will underperform owning the stock outright because selling call options caps the upside returns.
The graph below compares the S&P 500 Total Return Index with the CBOE Buywrite Monthly Index. The latter index is a passive benchmark designed to track the hypothetical performance of a strategy that buys an S&P 500 stock index portfolio and sells near-term S&P 500 call options with about one month remaining to expiration at an exercise price just above the prevailing index level.
The call is held until expiry, at which point the strategy rolls into a new one-month slightly out-of-the-money call. While this is not exactly the strategy undertaken by most option income closed end funds, it gives a good visual of a long-term return profile. Over the past twenty-five years, this strategy has had a slightly better total return than the S&P 500, but did so with less variability of returns. The annualized quarterly standard deviation for the Buy-Write Index returns has been just 75% of the S&P 500 annualized standard deviation of returns.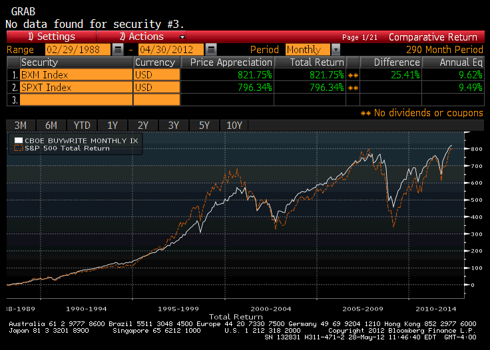 Click to enlarge
Conclusion
The call overwriting strategy may make sense in this market environment for investors who do not see a large advance as probable. Investors who want to add international diversification are protected by the ten percent discount and the fund's focus on high dividend payers, which typically outperform in down markets. Additional downside protection is potentially provided through the strong sponsor, presuming Blackrock chooses to repurchase shares if the market value falls too far relative to net asset value, and the investment management giant sees more value in buying the fund at a discount than the future value of management fees.
While this strategy will outperform in down equity periods, investors who see a highly probable down scenario should eschew this fund and allocate higher proportions of their investment dollars to fixed income or cash. Over long time periods, passive call overwriting strategies have produced market-beating risk-adjusted returns.
Of course, with BGY, the individual investor is paying active management prices for the Blackrock name though a 1.1% expense ratio. Investors who want international exposure to dividend paying stocks, and who believe that we are in a range bound market will do well to buy BGY at less than 90% of the value of the underlying stocks.
Additional articles on funds trading at 10% or greater discount and paying distribution rates of greater than 10% are forthcoming.
Disclosure: I am long SPY.