I was pumping gas into my car the other day, and I realized I was at a former BP (NYSE:BP) gas station. This made me think back to the Gulf Spill, the subsequent BP stock price plummet, and the blowback that caused this BP gas station to reinvent itself as a Huck's (Midwest food/gas mart.) This also made me curious as to how Beyond Petroleum's stock is faring these days. This article will look at the most current earnings report, fundamental factors, and technical factors to determine if BP is a current buy.
Due to the high correlation of the price of oil and oil company stocks, I started out by looking at a 1 year chart of BP and USO (NYSEARCA:USO) (an ETF that tracks performance of light sweet crude.) Take a look for yourself: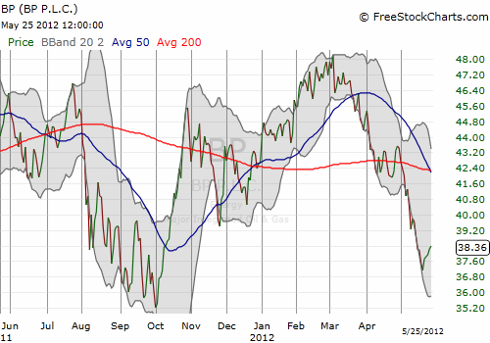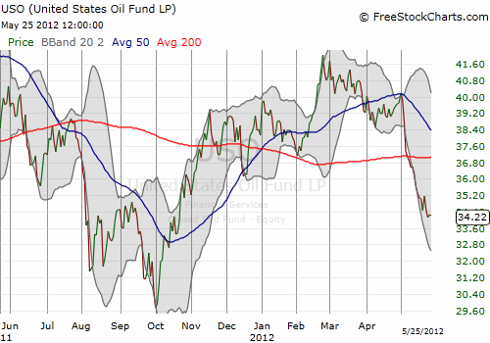 Technical Takeaways From Charts:
Both BP and USO have been in a sharp downtrend since March
Without USO staging any sort of strong bounce, an upward move by BP (and any other oil company) will be short term, since oil stocks usually move in tandem with the price of oil
Since plummeting through their 50 DMA and 200 DMA neither security has been able to stage any kind of meaningful comeback
BP is actually about to be the victim of a death cross (50 DMA crossing below 200 DMA), if its bounce last week cannot be sustained
BP currently has a RSI of 35.61, with last week's bounce taking it from oversold conditions. Until the reading makes a meaningful stay over 50, I can't believe that last week's bounce was anything more than temporary
USO is technically oversold with an RSI of 26.75, on the lower BB, and looks ready for a short-term bounce
Internal Fundamentals and Generic Financial Ratios:
Next, I will go through the internal fundamentals of BP and list some basic financial ratios (P/E, P/B, P/C my three favorites) which will give a detailed look into BP's financial position:
BP has a current Price to Earnings ratio of 4.94 against an industry average of 7.5
BP is expected to have EPS in 2012 of $6.35. This will give BP a forward P/E of 6 against an industry average of 7.8, and the S&P average of 13. Typically a lower P/E indicates an "undervalued" company, but with earnings growth for BP estimated at 2.3%, and an industry earnings growth estimate of 5.7% the reason for the lower P/E is obvious. However, it is worth noting that analysts are typically wrong when estimating BP's annual earnings. For the past two years, BP has beaten analyst estimates by over 20%
BP is trading at a P/B of 1.02, about 30% below the industry average of 1.49.
BP currently generates $1 in cash for every $2.92 dollars in share price. This is $1.84 below the industry average.
Obviously there is still some concern as to the total amount of cash outflow that will take place due to the Gulf Oil Spill, but BP has already provisioned heavily for any and all eventualities
BP has been spending a lot of cash on capital investments recently, and not even their continued asset sales have been able to completely offset the cash outflows. However, management expects these continued investments in operations to pay big returns in the coming years.
BP has also been plagued by low margins, driven by higher costs to multiple segments of their businesses. With gross, operating, and profit margins being 40% lower than the industry average BP still has a lot of room for improvement.
BP's saving grace is its 5% yield dividend. With a payout ratio of around 30%, chance of a reduction or termination of this dividend look low.
I also like to look at the dividend cash payout/ operating cash flow. This makes sense since dividends are paid in cash, not GAAP earnings, and CAPEX can easily be lowered in order to make sure there is enough cash to pay shareholders. The ratios for the 2011 fiscal year and Q1 2012 were 18% and 36% respectively. Looking at it from this perspective, the risk of a dividend reduction or termination are still low.
External Fundamentals:
Due to the increasing volatile macroeconomic environment, there are a few external fundamental factors that could serve as a downward or upward catalyst for BP's stock. Before making an investment decision pertaining to BP, it is prudent to analyze these potential outcomes:
European fears do not show any signs of stopping in the long-term. This will cause the dollar to strengthen overall driving down oil prices and oil stocks. However, these fears could also lead to a "quick fix" by the ECB and European politicians and restore confidence in the EMU for at least a little while. Any actions by ECB that are considered positive, such as LTRO III, could serve as a catalyst for an increase in Euro strength, and an overall increase of confidence in financial markets. This would probably lead to a strong upward move in BP
Recession fears (and upcoming election) in the U.S. could force the Fed to turn on the QE faucet (FOMC meeting coming June 19-20.) I think that we will need to see the S&P 500 (NYSEARCA:SPY) below 1000 and oil below $80 for this to happen. However, once/if QE3 is given the green light, oil related stocks will benefit greatly.
Iran and the Western countries have vowed to continue talks next month.

If an agreement is reached and sanctions are lifted, the market will be flooded with previously embargoed Iranian oil. and cause a further drop in oil prices. It is worth noting that if talks deteriorate, a military strike by Israel would disrupt the global supply chain of oil through the Straits of Hormuz. This would most likely cause a substantial spike in oil and oil related stocks.
Conclusion
BP is a solid company, has strong fundamentals, and pays a solid high yield dividend. However, I believe that the market is pricing BP appropriately given the circumstances. Low earnings growth expectations, low comparative cash flows, low margins relative to the oil and gas industry, uncertainty over future liabilities pertaining to the Gulf Spill, and low demand/price for oil are all logical reasons why BP's stock price has fallen in the past few months. I do not see any reason to buy this stock at the moment, but I definitely have it on my watch list. The question is not if but when will I invest in BP. I am looking for BP to get into the low $30 range before starting a position.
That being said, buying now for the dividend is not a bad idea. So even if the stock goes lower from here you will continue to get that 5% on your investment. If you do plan to buy now, I would average in over the next several months in order to get the best possible price. Selling puts (which is what I am considering) in order to initiate a position is not a bad idea either.
Disclosure: I have no positions in any stocks mentioned, and no plans to initiate any positions within the next 72 hours.
Additional disclosure: BP is on my watchlist. I reserve the right to change my position at any time. Please do your own due diligence before investing.