They say you're not supposed to count your chickens before they hatch, but I think I've discovered a set-up that says otherwise. Not only have I found an opportunity for a likely double and beyond, I think you'll be able to recognize these significant gains in the extreme short term and in this stale and uncertain market, the last thing you'll want to end up saying is "coulda woulda shoulda."
Yes, I sound extremely confident, so let's find out why...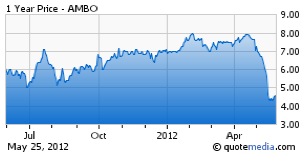 Back on March 4th, Ambow Education (NYSE:AMBO) announced its unaudited Q4 and full-year 2011 financial results here and the company's performance was nothing short of spectacular with 58.5% revenue growth year-over-year and even more amazing was the fact that the company had realized 42.6% growth organically in an economy that was slowing. Accordingly, Q4 fully diluted EPS rose 54.6% from .16 to .25 and for the full-year of 2011, revenue grew by 44.4% year-over-year and the company achieved 39.3% organic growth, resulting in an EPS climb from .44 to .61
Investors not only received this pleasant earnings surprise on March 4th, they also learned that the company's Chairman, President and CEO, Dr. Jin Huang along with Baring Asia, one of China's private equity leaders in the Chinese education sector, collectively spent $50 million dollars in acquiring nearly 6 million shares both publicly and privately from November 2011 through January of 2012 at prices far higher than Friday's closing price of $4.58. If that isn't a display of extreme confidence, I don't know what is - especially during a time when Chinese companies are being heavily scrutinized by American investors.
With explosive growth in tutoring centers, career enhancement centers, K-12 schools and colleges along with student enrollment eclipsing the 1 million mark in 2011, Ambow's Chief Strategy Officer, Jenny Zhan, stated, "We expect to see substantial improvement of our Return on Equity in 2012." Ambow's CFO, Gareth Kung, added, "Though we are still in the early stages of our expansion, it is our goal to maintain sustainable growth in both top and bottom lines." Kung also declares that Ambow will grow at least 25% organically in 2012, not including any potential accretive acquisitions. Hungry and aggressive growth investors crave these two key phrases of "substantial improvement of ROE" and "early stages of expansion."
I recently had the opportunity to discuss the company's operations with Ambow's Chief Strategy Officer, Jenny Zhan, and I'm as confident as ever that Gareth Kung's statement about Ambow being in its early stage of expansion is indeed factual, just as factual as the company's monster growth in the last twelve years and just as factual as the powerhouse companies that continue to seek partnerships with Ambow.
In sizing up Ambow against two of its publicly traded competitors, New Oriental Education & Technology Group (NYSE:EDU) and ATA, Inc. (NASDAQ:ATAI), Ambow's valuation in comparison is beyond compelling after the unwarranted sell-off with a current forward P/E of 6.1 versus EDU's 22.8 and ATAI's 14.8. Not to mention, Ambow is growing at a much faster clip than the two others. It also doesn't hurt that Ambow is on Goldman Sachs' "Conviction Buy" list with a price target of $21.00
Powerhouse companies such as Cisco Systems (NASDAQ:CSCO), McGraw-Hill (MHP) and SkillSoft have sought support from Ambow in management of channel partners, development of IT talent, development of English language training courseware and content for IT engineers along with exclusive distribution of e-learning and performance support solutions. Ambow's most recent partnership is with Oracle (NASDAQ:ORCL) in providing the Workforce Development Program in which Ambow will prepare students for Oracle certification exams.
Now on to the reason as to why the stock plunged 50% and why I think it's extremely short-lived ......
Ambow's due date to get its annual report filed on form 20-F was April 30th and instead, the company filed an NT 20-F followed by a press release the next day stating they expected to file the 20-F within 15 days. Obviously, this began to make investors nervous. On May 16th, Ambow announced a further delay, stating the report would most likely be filed within one month, identifying preliminary adjustments to the previously announced 2011 results with regards to the revenue recognition method in relation to distributors with a proven payment history versus those without. It's obvious that the company's auditor, PricewaterhouseCoopers, was the cause of the delayed 20-F filing in requesting the change of revenue recognition as opposed to what PWC required last year. Thus, Ambow will now recognize revenue immediately from a distributor with a proven payment history and for distributors without adequate payment history, revenue will be recognized upon collection.
Accordingly, Ambow will reverse $13.5 million to $15.1 million of previously recognized revenue from 2011, meanwhile in the company's May 16th press release, Ambow indicated that $12.2 million of this deferred revenue had already been collected and thus it will be reflected in the first half of this year. A few other possible minor adjustments were pointed out, but just as the company indicates in the NT 20-F, there's no anticipated significant change in the results of operations.
Regardless of how inconsequential PWC's request was to the company's business, the stock dropped to a 52-week low of $4.00 on May 17th instead of continuing towards the $10.00 mark and higher as I think would have been the case with a 20-F filing. What leads me to believe that Ambow will quickly retake the $8.00 territory it plunged from once the 20-F gets filed is what I witnessed on Friday in the fact that the stock rose on higher volume than its seen in over a year. Friday's action told me a lot of things and in knowing that certain institutions can't hold a sizable position when delayed filings are in play, I suspect an institution was slightly reducing their exposure, but at the same time brought in clients to snap up the shares.
This may not have been obvious to most, but I thought it was as clear as the day is long as to an explanation for the soaring volume and rise in price. Friday's explosion in volume and slight price rise indicates to me that the 20-F may be filed much quicker than the time frame given by Ambow on May 16th. There's no doubt that eager investors would love to have a piece of Ambow below $6.00 if they knew a filed 20-F was right around the corner.
The stock is not a target of short-sellers, as the short interest has consistently remained low and the sell-off down to $4.00 was not a result of unusually high volume. You can bet that upon the 20-F filing and as the stock starts to move back up, potential investors will certainly be taking notice of the much higher price that Ambow's CEO and Baring Asia paid for the shares they recently bought, over $50 million dollars' worth.
Ambow's management team is nothing short of brilliant, not just in terms of their academic credentials, but how far they've brought the company since it was founded in 2000. Take it from someone whose father was a School Superintendent for over 16 years in two large districts in two different states, California and New Mexico. Going from enrollment of zero students to over 1 million in just twelve short years is truly remarkable and a fascinating and amazing accomplishment. It's unfortunate that education in the USA has been ruined by teacher unions and politics, but there's at least one educational company on this planet that can't be stopped from creating the next generation of brilliant minds, creating very happy shareholders and that has the full support of the Chinese Ministry of Education and that's Ambow Education.
Once Ambow's 20-F is filed, I look for a very fast ascent to the $6.00 area, as I believe institutional reduction will immediately cease and accumulation of shares will be fast and furious. All fears related to the past non-filing of the 20-F will be tossed aside and forgotten. After $6.00, I see a gradual trend back up to the $8.00 area and higher and thus a 100% gain from the May 17th low after the 50% sell-off to $4.00 and later this year, I expect to see analysts raise their price targets.
Lastly, back to the counting chickens thing for a minute. I see an egg with Ambow's name on it and the shell is cracked and moving. Ambow wants out in a big way, so be ready.
Disclosure: I am long AMBO.