While many investors refuse to touch housing related stocks with a ten-foot pole, an attractive long term opportunity has opened up to purchase the leading flooring company in the US, Mohawk Industries (NYSE:MHK).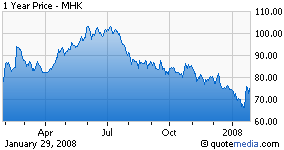 Comprising 24% of the flooring market, MHK holds a dominant industry position along with Berkshire Hathaway (NYSE:BRK.A)(NYSE:BRK.B) owned Shaw (21% of market). Over the past decade, MHK has evolved from a pure-play carpet manufacturer to a diversified flooring manufacturer that generates a greater percentage of profits from higher margin products such as Laminate (25% of operating profits vs 15% of revenues) and ceramic (31% of operating profits vs. 24% of revenue.)
In order to understand why MHK and Shaw enjoy such strong pricing power, one needs to examine the dynamics in the flooring industry. While production is highly consolidated at the manufacturer end, it is highly fragmented at the distributor level. This imbalance has led to MHK's strong pricing power even in the midst of rising raw material costs and a housing market that is in shambles. MHK has successfully passed on numerous price increases over the past year, as the rising cost of oil has made carpet inputs more expensive. Furthermore, while many building material companies are heavily reliant upon HD and LOW for sales, MHK has less than 5% of sales to home centers.
Due to a high fixed cost model, margins have compressed as a lower sales base has been unable to absorb excess overhead costs. This should be of minimal concern for investors as this type of fluctuation is expected for a company that highly dependent upon the cyclical housing industry.
Despite being in a housing recession, MHK figures to generate strong free cash flow for the forseeable future (mid to high single digit cash flow yield). In the past, nearly three quarters of cash flow has been used to fund acquisitions such as Dal-Tile and Unilin. I look for MHK to expand its international footprint into fast growing Eastern European countries such as Poland and Russia.
Imports (~25% of the industry) have been a concern in the past. With the weakening dollar, I expect these pressures to ease up. Furthermore, the VAT taxes have hurt Chinese manufacturers who once enjoyed a notable advantage.
Since going public in the early 1990s, MHK has traded at roughly 12.7x earnings, or nearly a 25% discount to the S&P500. While many attribute this discount to the cyclical nature of a housing related supplier, I believe that we will see multiple expansion during the next housing growth period. Investors will come to realize that MHK and Shaw enjoy a significant competitive advantage that limits competition due to their strong brands and large manufacturing and distribution scale. As a new buyer, I would look for near-term weakness as a prime opportunity to invest in this growing cash-flow machine. This investment will require patience, but the company is no doubt positioning itself for performance that will reward investors.