This monthly report series began in December. The series applied dog dividend methodology to each of eight major market sectors. The sectors were, in alphabetical order: basic materials; consumer goods; financial; healthcare; industrial goods; services; technology; utilities.
A ninth sector, conglomerates, according to Yahoo Finance, contained just eight firms, five of which paid dividends. The editorial decision was not to apply dogs of the index metrics to a sector containing fewer than ten dividend paying equities.
Dogs of the Index Metrics Selected Ten Top Services Stocks by Yield
Two key metrics determined the yields that ranked these sector dog stocks: (1) stock price; (2) annual dividend. Dividing the annual dividend by the price of the stock declared the percentage yield by which each dog stock was ranked.
Historically, dividend dog investors utilize this ranking system to select portfolios of five or ten stocks in any one index, sector, or survey to trade. They awaited the results from their investments in the lowest priced, highest yielding stocks and prayed that the price of every stock they now owned would climb higher (having locked in a high yield percentage at purchase).
This Dogs of the Index strategy, popularized by Michael B. O'Higgins in the book "Beating The Dow" (HarperCollins, 1991), revealed how high yielding stocks whose prices increased (and whose dividend yields therefore decreased) could be sold off once a year to sweep gains and reinvest the seed money into higher yielding stocks in the same index.
Comparative Methods Used
First, the entire list of technology sector companies was sorted by yield as of May 16 using Ycharts.com to reveal the top thirty. Market performance of these thirty selections was then reviewed using four months of historic projected annual dividend history from Yahoo Finance along with annual divided projections adjusted for market realities.
Thereafter, this article assessed the relative strengths of the sector top ten services dividend dogs as of May 1 opening prices vs. the Dogs of the Dow May 11 stock list. Annual dividends from $1000 invested in the ten highest yielding stocks in the sector and index were compared to the aggregate single share prices of the top ten stocks in each.
Technology Dividend Dogs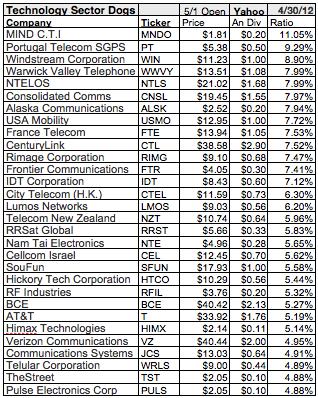 Top ten technology sector stocks showing the biggest dividend yields in April represented four industries. Top technology sector stock MIND C.T.I., Ltd. (NASDAQ:MNDO) was the only information technology services firm in the top ten. Portugal Telecom SGPS (NYSE:PT) at number two was one of two telecom services - foreign firms. The other foreign telecom was France Telecom (FTE). The remaining two industries and their representative firms were: telecom services - domestic, Windstream Corporation (NASDAQ:WIN), Consolidated (NASDAQ:CNSL), Alaska Communications (NASDAQ:ALSK), Warwick Valley (WWVY), and Century Link (NYSE:CTL); wireless communications, NTELOS (NASDAQ:NTLS), and USA Mobility (USMO).
Up and Down Moves Show 70% Changeover in Technology Dividend Dog Stocks
Going back four months, Cimatron (NASDAQ:CIMT) claimed the top of this list by yield in October and stayed there into January. As of February 25, Otelco (OTT) claimed the yellow tint as top techno dog due mostly to Cimitron dropping out as its forward looking dividend prospects died. In March information technology services firm MIND C.T.I., Ltd. took on the yellow tint for top dog and held on in April as OTT announced discontinuation of its dividend.
Color code shows: (Yellow) firms listed in first position at least once between January and April 2012; (Cyan Blue) firms listed in tenth position at least once between January and April 2012; (Magenta) firms listed in twentieth position at least once between January and April 2012; (Green) firms listed in thirtieth position at least once between January and April 2012. Duplicates were depicted in color for highest ranking attained.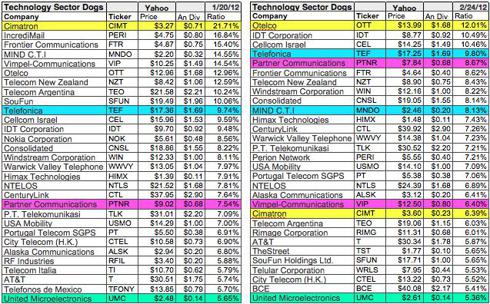 Click to enlarge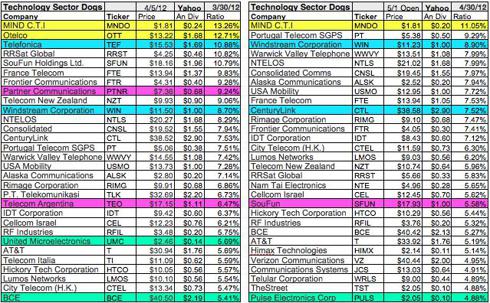 Click to enlarge
Bullish upward price moves among the top ten technology dogs since March 30 included just six of seventeen eligible equities listed in March or April: Portugal Telecom dialed up a 6.32% price jump; NTELOS relayed a 3.7% rise; CenturyLink connected with a .156% price bump; RRSat Global Communications Network (RRST) rocketed up 33.17% to exit the top ten; Partner Communications Company (NASDAQ:PTNR) popped in price .815%, while its projected annual dividend was trimmed 67.66% to exit the top dogs; Telecom New Zealand (NZT) price climbed 8.16%, while its dividend guesstimate dropped 50.4% to exit the ten.
Neutral moves with stagnant stock prices were recorded by two of the seventeen: top dog MIND C.T.I, and France Telecom.
The remaining nine declined, dropped, sagged, and swooned in price: Otelco 55.6%; Telefonica (NYSE:TEF) 11.72%; SouFun Holdings Ltd. (NYSE:SFUN) 1.27%; Frontier Communications Corporation (NYSE:FTR) 6.03%; Windstream Corporation 2.35%; Warwick Valley Telephone Company 7.15%; Consolidated Communications .359%; Alaska Communications Systems Group 10%; USA Mobility 5.68%.
All in all, the technology dog losers outnumbered gainers nine to five with two neutral since March.
Dividend vs. Price Results Compared to Dow Dogs
Below is a graph of the relative strengths of the top ten technology sector dividend stocks by yield as of market close 5/1/2012 compared to those of the Dow. Using four months of historic projected annual dividend history from $1000 invested in the ten highest yielding stocks each month and the total single share prices of those ten stocks, created the data points for each month shown in green for price and blue for dividends.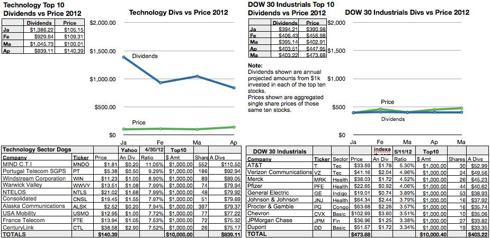 Click to enlarge
Conclusion: Technology Sector Dogs Change Leaders For A Bull Run In April
By changing 70% of the top ten dogs, the April technology group showed a 40.38% increase in aggregate single share prices since March 30. Dividends from $1k invested in each of the top ten dropped 19.76% for that period. Seven new dogs in the pack got the technos nipping at bull hocks.
Meanwhile, the Dow index moved back to near convergence, as dividends from $1k invested in the top ten came to within $8 of their aggregate total single share prices in March. Since then, however, the Dow aggregate single share price for the top ten has rallied up 17.56% into May.
As of April 30, the nearly all new technology sector top ten dogs showed $436, or 108.1%, more dividends from $1k invested in each of the top ten stocks by yield (with equally bigger risk) at a $333, or 70.36% lower aggregate share price than those of the Dow.
A monthly summary will soon compare results in yield and price for all eight sectors reported in this series: basic materials, consumer goods, financial, healthcare, industrial goods, services, technology, and utilities. Stay tuned!
Disclaimer: This article is for informational and educational purposes only and shall not be construed to constitute investment advice. Nothing contained herein shall constitute a solicitation, recommendation or endorsement to buy or sell any security. Prices and returns on equities in this article are listed without consideration of fees, commissions, taxes, penalties, or interest payable due to purchasing, holding, or selling same.
Disclosure: I am long (NYSE:VZ), (NYSE:T), (NYSE:CVX), (NYSE:JNJ).