On January 23, THQ Inc. (THQI) announced updated financial guidance for its 3Q`08 and 4Q`08 reporting periods. Despite what appeared to be a robust demand environment for videogame software and hardware this past holiday season, THQ failed to capitalize on industry opportunities as evidenced by its earnings revisions. The company raised its 3Q`08 net sales guidance to $509.0 million ($488.2 million consensus) from $490.0 million, citing better than expected sales of core franchises Smackdown vs. Raw 2008 and MX vs. ATV: Untamed.
However, due to the underperformance of certain previously released games, in this case Stuntman: Ignition, Ratatouille, and Conan as well as the cancellation of select titles in development, 3Q`08 and 4Q`08 earnings per share guidance were drastically reduced. Non-GAAP earnings per share for 3Q`08 is targeted at $0.23 ($0.66 consensus) while a $0.06 per share loss is forecasted for 4Q`08 ($0.24 consensus). We have accordingly revised our financial estimates for the quarters in question.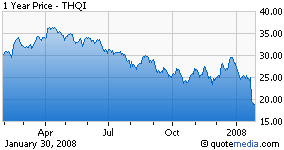 We downgraded our rating on THQ shares on November 29 for our institutional client base, following the announcement that CFO Edward Zinser was abruptly departing in addition to lingering concerns as to the company's FY`09 title slate. Although we continue to model for strong sales from the videogame sector in 2008 as the installed bases of next generation consoles expands, THQ shares are not one of the more compelling investment opportunities currently.
The company is essentially failing to diversify its product base in the form of owned intellectual properties, placing heavy dependence on the aging WWE wrestling franchise and risky Disney/Pixar based offerings. With minimal conviction in the Company's FY`09 planned releases, headlined by Saints Row 2 and Red Faction 3 (which will be competitors to the more highly anticipated Grand Theft Auto IV) and fundamental cracks in THQ's business, we recommend investors reduce exposure to the stock presently.
Disclosure: None
Written by Brian Sozzi, a Research Analyst for Wall Street Strategies specializing in the apparel/hardline goods sectors of the retail industry.