2012 has not been a good year for the BlackRock high yielding equity closed end funds (CEFs). A couple of distribution cuts earlier this year from two of its largest and most popular global stock option-income funds, the BlackRock Global Opportunities Trust (NYSE:BOE) and the BlackRock International Growth and Income Trust (NYSE:BGY) seems to have put a pall over all its option-income funds. These two cuts follow up from a year ago when BlackRock cut distributions on three other equity option-income funds so the trend perhaps has caused a lot of concern among CEF investors and has contributed to the BlackRock fund's widening discounts.
The irony is that all of these funds were in dire need of distribution cuts because while some fund families, such as Nuveen and Eaton Vance, had already cut the distributions of many of their option-income funds three to four times over the past couple years to better balance their distributions with their incomes, BlackRock had not taken any such steps. As a result, many of the BlackRock funds continued to offer overly generous quarterly distributions at the expense of their Net Asset Values resulting in ballooning Net Asset Value (NAV) yields. According to my analysis, when NAV yields reach 12% or more, a fund is in the danger zone of a distribution cut and many of the BlackRock funds were reaching 12% to 16% NAV yields before they finally made their cuts. Funds can continue to pay their inflated distributions under optimized market conditions for awhile, but over time, I have found that NAV yields over 12% will take a toll on a fund's NAV no matter what their income strategy.
As is often the case, other BlackRock funds have suffered just by virtue of association even if their NAV yields were more conservative and not in danger of a distribution cut at all. One such fund, the BlackRock Utility and Infrastructure fund (NYSE:BUI), has continued to sell-off even as utility CEFs are making a bit of a rebound in a more unsettled market. Utility CEFs had a tremendous 2011, leading all equity CEFs in terms of NAV and market price performance and many of the funds trade at premium levels because of their relative safety. So it's unusual to see a utility CEF trading at its widest discount but that is exactly what has happened to BUI.
Here is BUI's vital statistics:
Inception Date: 11/23/2011
Inception Market Price: $20.00
Inception NAV: $19.06
Current Market Price: $17.76
Current NAV: $19.14
Discount/Premium: -7.21%
Market Price Yield: 8.16%
NAV Yield: 7.58%
Income Strategy: Option-Income
BUI is one of the newest CEFs, having gone public late last year in November so the fund has no track record and there is still not a lot of information in regards to its earnings, expenses, etc. but a few things we do know. BUI sells individual stock options (not index options) on about 30% of the notional value of its global utility and infrastructure stock portfolio. This is a fairly low option coverage but with an equally low 7.58% NAV yield and a mostly yield oriented portfolio, the fund is in no danger of a distribution cut. The fund pays a quarterly distribution of $0.3625/share for an 8.12% current market price yield with the next distribution due in mid August. U.S. based stocks represent about 63% of the fund's portfolio with Brazil having the next largest country exposure.
The fund's top five sectors and top five holdings as of 3/30/2012 are as follows: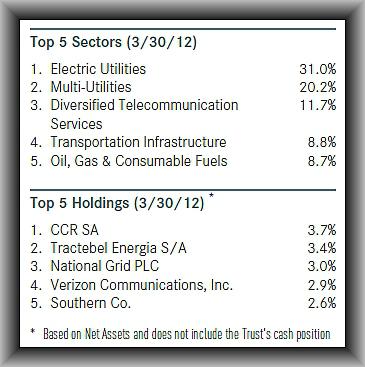 There's more information from the fund's N-Q filing with the SEC as of January 31st, 2012 including more detailed holdings and options positions and you can see it here, but until a Quarterly or Annual Report is released, it's going to be difficult to pin down the fund's annualized income from its portfolio dividends and options writing.
But we really don't have to know that right now to know that the fund is undervalued compared to some other utility CEFs that trade at higher valuations and NAV yields.
(Click to enlarge)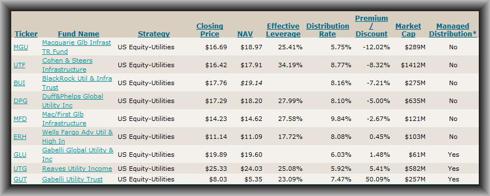 The table above lists the nine utility stock based CEFs as listed by cefconnect.com and sorted by their Premium/Discounts. Most high yielding utility CEFs use leverage to boost the income from their portfolios and only BUI and the Gabelli Global Utility & Income fund (GUI) do not use leverage. In fact, only BUI uses an options strategy to generate enhanced income from its portfolio making it even more defensive than the utility funds using leverage. Leverage will always increase the risk and volatility of a fund, even a utility based fund.
The pure play U.S. based utility funds get the highest valuations with the Gabelli Utility fund (NYSE:GUT) at an incredible 50% premium, far higher than any of the other funds. What most investors don't realize with GUT however is that its 7.47% market yield is masking a 12% NAV yield because of the premium pricing. This is putting GUT right at the 12% NAV yield danger zone. Other U.S. based utility funds at premium market price valuations include the Reaves Utility Income fund (NYSEMKT:UTG) at a 5.4% premium and though not shown, the Duff & Phelps Select Income fund (NYSE:DNP) is also utility based and currently trades at a 33.5% premium.
The utility funds with the lowest valuations have the highest overseas exposure in their portfolios with the Macquarie Global Infrastructure Total Return fund (NYSE:MGU) at a -12% discount and 72% of its utility and infrastructure stock portfolio overseas, much of that in Europe, Australia and China. It should be noted that MGU has raised its distribution twice over the past six months, making its yield at least a bit more competitive with the others. The Cohen & Steers Infrastructure fund (NYSE:UTF) is next at a -8.3% discount and has 60% of its portfolio in non-U.S. infrastructure and utility stocks. UTF uses the highest percentage of leverage and with a portfolio more weighted toward infrastructure sectors than utilities, is probably the most volatile of the funds.
Of the global utility funds, BUI actually has one of the higher percentage of U.S. based utility and infrastructure stocks in its portfolio at 63%. Combined with a more defensive option strategy and you would think BUI would make an attractive investment in an unsettled global market environment but again, I believe BUI's guilt by association with the other BlackRock option-income funds is weighing on its market price. After starting at a $20 inception market price, BUI has dropped to a low of around $17.50 before settling at a current market price of $17.76. Here is BUI's Premium/Discount chart from its inception just this past November.
(Click to enlarge)

Despite its widening discount, BUI is one of the few utility and infrastructure funds showing positive NAV total return performance year-to-date, up 2%. After lagging for most of 2012, the utility funds seem to be getting a boost once again because of their relative safety. It remains to be seen if we'll have the same kind of year like in 2011 where utility funds far outperformed all other equity CEF classes, but even if 2012 results in a down year for utility stocks, utility funds (with the exception of GUT) are in little danger of cutting distributions due to their relatively low NAV yields and high portfolio dividend income. As a result, there is no reason why BUI should be suffering along with the rest of the BlackRock option-income funds and I believe the current market price makes for an attractive entry point.