Groupon (NASDAQ:GRPN) is finally coming up on its IPO lockup expiration on Friday, June 1. After a restatement of prior earnings in April, the lockup, previously scheduled for May 4, was delayed 30 days and is now upon us.
After the Facebook (NASDAQ:FB) IPO, Groupon was probably one of the most anticipated IPOs in 2011. While it did not shoot up 200% after going public like LinkedIn (NYSE:LNKD), the stock did trade significantly higher than its list price at IPO of $20, peaking at $31. Anyone lucky enough to get allocated shares would have been able to flip them for a quick 50%-plus profit. Not bad for a day's work.
The problem, of course, comes from the performance after the IPO. Since trading started on Nov 3, 2011, the stock has fallen significantly from $20 to $12.05 on Friday's close, a loss of 39.75%.
While many question the viability of the company and the benefits that its products brings to consumers and retailers, GRPN, as a stock, was due for a bounce on the last earnings report.
(Click to enlarge)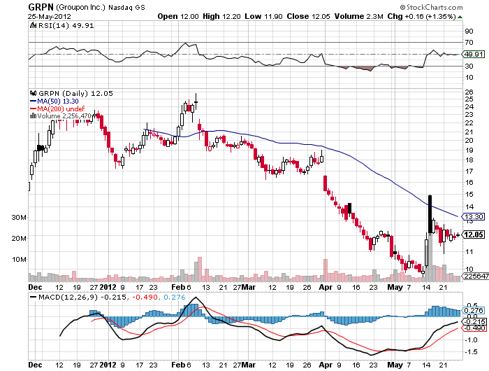 Click to enlarge
Looking at the April - May RSI and price action there was a bullish divergence with the stock making lower lows with higher corresponding RSIs. While the GRPN report was nothing to write home about, yes Salesforce.com (NYSE:CRM) GAAP accounting losses still count, it was not abysmal and that was enough to get a significant short squeeze started.
Popping from $10 to $15 and settling in around $12, the stock is now back near equilibrium and ready to make a move. With the lockup expiration coming up, many are expecting GRPN to sell off significantly. Let's see what the numbers have to say about it.
Expiration Expectations
Whatever you feel about the long term prospects, Groupon is still growing fast and is on the verge of profitability. While the company reported a GAAP loss of -0.02 for 1Q2012, it was a significant improvement from the -0.24 that it reported for 1Q2011.
With revenue growing at 89% YoY and earnings showing significant improvement, the metrics we are seeing now at $12.05 are not screaming overvalued like they were above the IPO price.
Price to sales stands at 4.10 and the estimated five-year PEG ratio is 2.16. While these are rich valuations, they are a far cry from what we saw at the IPO. We see higher price/sales valuations on the Facebook shares, even if FB comes under further pressure.
Currently the float stands at 226M shares of 645M total outstanding shares. Of these 226M shares, 20.7M shares are being held short as of May 15 for a 10% short interest. This level of short interest is not high enough to justify much of a short squeeze and is likely indicative of the 1Q earnings short squeeze.
With metrics that are not extreme in comparison to the other speculative growth plays out there, an improving earnings picture and a low short interest we have a few possibilities of what may happen once lockup expiration occurs. Some of the recent IPO lockup expirations might give us a hint of what to expect in the next few weeks.
LinkedIn vs. Pandora (NYSE:P)
Two of the other hot 2011 IPOs were LNKD and P and each had a different reaction once their IPO lockups expired.
(Click to enlarge)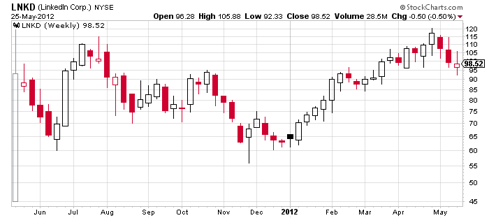 Click to enlarge
LNKD is a great example of what most expect on a IPO lockup expiration, weakness in front of the date and further weakness afterwards. One week ahead of the date, the stock lost 10.6% and three weeks later had collapsed another 18.5% lower. When one thinks of the impact lockup expiration can have on a stock, LNKD is a classic example of why people attempt to short ahead of the event.
(Click to enlarge)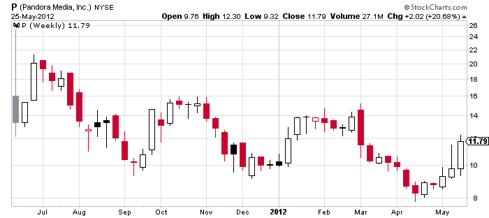 Click to enlarge
P had the same setup as LNKD with a 15% sell off the week before lockup expiration but a very different follow through. After initial weakness on the day of, the stock recovered all of its losses and by the end of the week closed 13% higher.
The Trade That Pays
Each of these scenarios had weakness the week before expiration so I can see a case being made for a short position in GRPN for the near term. I do not plan on trading the lockup expiration, but here is the trade that I would recommend.
Start a small short position at open on Tuesday. If the stock is lower by 3 p/m. on Wednesday I would add to the short position and look to start taking any available profits near close on Thursday.
The day of expiration I would observe and look to see if a stick save manifests. LNKD had a gradual stick save early in the day while P came late in the day and shot up like a rocket. I would use the nature of any stick saves to determine whether to cover the whole position or let it ride.
After researching for the article, the Pandora scenario is that I see most likely for GRPN. I started out extremely negative on the stock but after the recent collapse and learning my lesson on P last year, the setup for a collapse does not appear to be in the cards.
Disclosure: I have no positions in any stocks mentioned, and no plans to initiate any positions within the next 72 hours.