Be prepared for another volatile summer. From now until July, there are a number of pivotal events - from votes to meetings - that could help dictate Greece and the eurozone's future, and will most certainly drive market sentiment. But because the outcome of many of these events is so hard to predict, I expect markets will remain especially volatile in the days leading up to these key dates.
A new paper from the BlackRock Investment Institute, "Europe on a Tightrope," outlines these critical eurozone events. Among the eight pivotal moments highlighted, key events include a May 31 Irish referendum on the Stability Treaty, June 17 Greek elections, a European summit on June 28 to 29 and the July 5 rate meeting of the European Central Bank (ECB).
Here's the full list: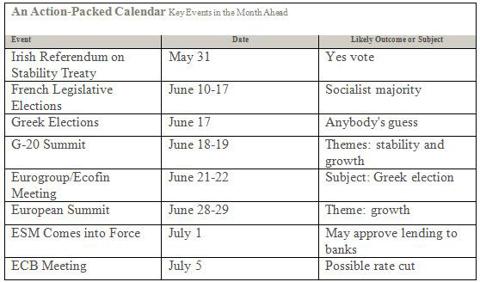 To be sure, volatility and equity market pressure may abate somewhat if we see certain event outcomes that lessen the odds of a "Grexit" and or a worsening crisis. These outcomes include a yes vote in Ireland, an ECB willing to support the Greek banks and a second Greek vote that produces a more definitive mandate aligned with the existing International Monetary Fund program.
But given the "if" in the previous statement and that what ultimately will happen during many of the key events is really "anybody's guess," markets are likely in for some rough ups and downs in the weeks ahead - at least until we have a more credible scenario for preventing a disorderly Greek default or more certainty around Greece's future.
And the fall might not bring much relief. More market volatility is likely as the U.S. election and possible impending fiscal cliff take center stage.
How can equity investors try to defend themselves against rocky markets? I advocate:
1) Opting for a larger allocation to high dividend equity funds such as the iShares High Dividend Equity Fund (NYSEARCA:HDV) and the iShares Emerging Markets Dividend Index Fund (NYSEARCA:DVYE).
2) Focusing on large- and mega-cap stocks, accessible through the iShares Dow Jones International Select Dividend Index Fund (NYSEARCA:IDV) and the iShares S&P Global 100 Index Fund (NYSEARCA:IOO).
3) Having a modestly higher allocation to defensive sectors such as global telecommunications, accessible through the iShares S&P Global Telecommunications Sector Index Fund (NYSEARCA:IXP).
Disclosure: The author is long IXP, IDV, IOO and HDV.