Repercussions Reverberate From Facebook's IPO
As the IPO of Facebook, Inc. (FB) fizzled, one of the first memes that propagated on social media was that Facebook and its bankers had done nothing wrong in pricing the IPO, and investors should have heeded that timeworn Latin phrase, Caveat Emptor (buyer beware). Henry Blodget made that case in a Business Insider post on May 19th ("Sorry, But This Whining And Umbrage About Facebook's IPO Is Ridiculous"). On Twitter, City of London veteran and tech entrepreneur David Semeria (@hymanroth) agreed with Blodget, while I noted that if retail investors aren't able to profit from tech IPOs, that would threaten Silicon Valley's financing model of public equity exits:
@hymanroth @JLM73TX Yes, but: if insiders leave nothing on the table for retail, SV model will ultimately be unsustainable.

- David Pinsen (@dpinsen) May 20, 2012
In a Forbes column the next day ("7 Reasons Why Facebook IPO Was A Bust"), Rich Karlgaard made a similar point:
3. Facebook left nothing for the common investor. The insider pig pile of PE firms and celebrity Silicon Valley angels took it all. This is a rather new, post-Sarbanes-Oxley fact and it should make Americans very, very angry. When Microsoft when public in 1986, its market value was $780 million. Microsoft's market value would rise more than 700 times in the next 13 years. Bill Gates made millionaires of thousands of ordinary public investors. [...] Zuckerberg and his Facebook friends took it all.
Hedging Facebook
Options didn't start trading on Facebook until May 29th, so investors who purchased Facebook at the IPO on May 18th were unable to hedge it directly at that time. For those investors still long Facebook, the table below shows the current cost of hedging it against a greater-than-20% decline over the next several months, using optimal puts. The cost is extremely high.
Comparisons
For comparison purposes, I've added another social media stock, LinkedIn (LNKD), the Global X Social Media Index ETF (SOCL), and the PowerShares QQQ Trust ETF (QQQ), to the table below. First, a reminder about what optimal puts are, and a note about the 20% decline threshold; then, a screen capture showing the optimal put to hedge one of the comparison ETFs, QQQ.
About Optimal Puts
Optimal puts are the ones that will give you the level of protection you want at the lowest possible cost. Portfolio Armor uses an algorithm developed by a finance Ph.D to sort through and analyze all of the available puts for your stocks and ETFs, scanning for the optimal ones.
Decline Thresholds
In this context, "threshold" is the maximum decline you are willing to risk. You can enter any percentage you like for a decline threshold when scanning for optimal puts (the higher the percentage though, the greater the chance you will find optimal puts for your position). I have used 20% thresholds for each of the names in the table below.
The optimal put to hedge QQQ
Below is a screen capture of the optimal put option contract to buy to hedge 100 shares of QQQ against a greater-than-20% drop between now and December 21st, 2012. A note about this optimal put and its cost: To be conservative, the app calculated the cost based on the ask price of the optimal put. In practice an investor can often purchase puts for a lower price, i.e., some price between the bid and the ask (the same is true of the other names in the table below).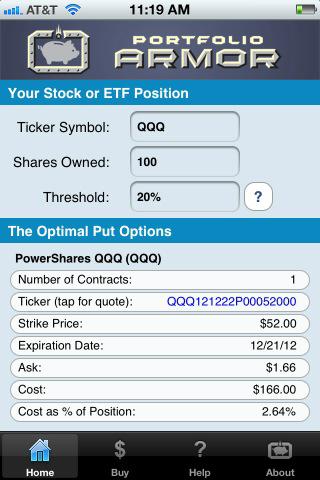 Hedging costs as of Tuesday Morning
The table below shows the costs of hedging these names against greater-than-20% declines over the next several months. Costs are presented as percentages of position value.
Given the high cost of hedging Facebook and LinkedIn, if you own them as part of a diversified portfolio, and are content to let that diversification ameliorate your stock-specific risk -- but are still concerned about market risk -- you might consider buying optimal puts on an index-tracking ETF (such as QQQ) instead, as a way to hedge your market risk. Or you might consider just selling them.
| | | |
| --- | --- | --- |
| Symbol | Name | Hedging Cost |
|   | Social Media Stocks |   |
| LNKD | LinkedIn | 16.2%* |
| FB | Facebook, Inc. | 19.9%* |
|   | Comparison ETFs |   |
| SOCL | Global X Social Media Index | 13.9%* |
| QQQ | PowerShares QQQ Trust | 2.64%* |
*Based on optimal puts expiring in December
Disclosure: I have no positions in any stocks mentioned, and no plans to initiate any positions within the next 72 hours.
Additional disclosure: I am long optimal puts on QQQ, as a hedge against market risk.