I have long been skeptical about Frontier Communications Corporation (NYSE:FTR). My initial assessment of FTR was completed after a dividend screen of telecommunications stocks. FTR is not the only company serving customers, residential and business, primarily through landline services. Windstream Corporation (NASDAQ:WIN) and CenturyLink Inc. (NYSE:CTL) have similar business models and operations. WIN also focuses primarily on rural markets, but has operations in 48 states and Washington DC. WIN also runs a 115,000 local and long haul fiber optic network as well as 22 data centers offering cloud computing and other services. CTL provides local and long-distance, network access, private line, public access, broadband, data, managed hosting, colocation, wireless, and video services to a mix of business and residential customers. The following table shows some basic information on the three companies:
| | | | | | | |
| --- | --- | --- | --- | --- | --- | --- |
| Ticker | Market Capitalization ($B) | Enterprise Value ($B) | Leverage (EV/MC) | Dividend Yield | Forward PE Ratio | Price/Book |
| WIN | 5.6 | 14.5 | 2.6 | 10.5% | 16.4 | 3.9 |
| CTL | 24.2 | 45.5 | 1.9 | 7.4% | 16.0 | 1.2 |
| FTR | 3.5 | 11.4 | 3.3 | 11.4% | 15.9 | 0.8 |
Source: Yahoo!Finance, SEC Filings, Dividend.com
The purpose of this article is two-fold. The first is to compare the three companies. The second is to provide a closer look at WIN. The above table shows that all three provide a robust dividend yield. However, the dividend yield is based upon a dividend that has not increased in quite a while. CTL has paid the same dividend since the start of 2010. WIN has paid the same dividend since the end of 2006. FTR has cut its dividend twice in the past three years from an annual rate of $1.00 per share to just $0.40 per share. On a forward PE basis, all three companies have a comparable valuation. Their EV to EBITDA ratios vary from a low of 4.7 for FTR to a high of 7.4 for WIN. CTL has a ratio of 6.0x. Also of note is that WIN completed its acquisition of PAETEC in November of 2011. The transaction was valued at $2.4 billion and is described as:
The PAETEC transaction enhances our capabilities in strategic growth areas, including internet protocol ("IP") services, cloud computing and managed services. It significantly advances our strategy to drive top-line revenue growth by expanding our focus on business and fiber transport services. - WIN SEC Filings 2012 Q1 10-Q
WIN has been much more aggressive in moving away from being a rural landline services provider to a national provider of communications services. This contrasts with FTR which has continued on the former path.
Windstream historical yield has varied
The following graph show WIN historical dividend yield. It has been steadily increasing since late 2010 and is approaching its five year high.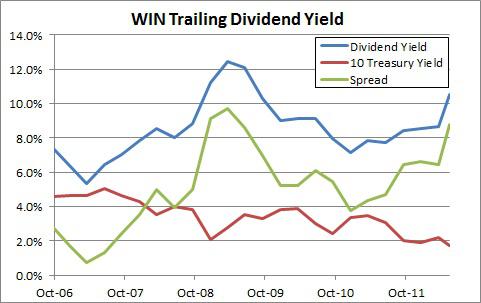 Source: Yahoo!Finance, Author calculations
The second observation is that the spread to the 10 year treasury bond has been increasing since late in 2010 and is also approaching recent highs. This suggests that people are viewing the stock as increasingly risky. WIN has a the second highest leverage in the group at 2.6x. WIN provides good coverage for the existing dividend. IN 2011, operating cash flow was $1,228 million with $702 million of capital expenditures, leaving $526 million to cover the $510 million required for dividends. However, WIN stock price has been in a slow decline since December of 2010. This is most easily seen on the following chart: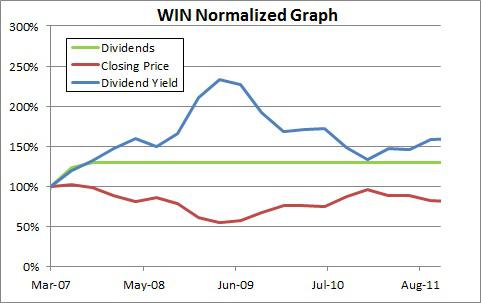 Source: Yahoo!Finance, Author calculations
This chart also very clearly shows that the dividend has been constant,hence the yield is a reflection of the stock price or alternatively, the market prices the stock to achieve the appropriate yield given the risk. Does WIN really behave more like a high yield bond given the consistency of its dividend?
Underlying Performance offers Mixed Signals
From reviewing the 2011 10-K, it is clear that WIN has embarked on a growth strategy driven by smaller acquisitions, again contrasting to FTR's single large acquisition of Verizon Communications inc. (NYSE:VZ)'s access line assets. In addition to PAETEC, WIN acquired Iowa Telecommunications Services, Inc, which had 247,000 access lines, 96,000 high-speed Internet customers and 25,000 video customers. A key observation is that internet customers are 39% of access lines. This contrasts to FTR who today has a ratio of 34% and in late 2010 had a ratio of 30%. WIN has made several other acquisitions in the past three years.
This growth strategy has propelled WIN revenue from $3.0 billion in 2009 to $4.3 billion in 2011. This growth is almost completely driven by the business segment. However, the downside is that operating income has shrunk from $1,061 million in 2009 to $968 million in 2011. Acquisitions accounted for about $1.4 billion of the $1.3 billion of increase. This means that other businesses shrank by about $100 million.
Understanding WIN Acquisitions is Key
WIN has pursued a strategy to diversify away from landline services into higher value broadband and business services. It is using acquisitions to acquire these skills and customers. Hence, a key consideration is whether or not it is getting good value for its acquisitions. Furthermore, WIN has to successfully integrate these acquisitions and ideally find cost synergies.
WIN appears to be a better investment opportunity than FTR, but may also face challenges ahead should it have trouble integrating PAETEC. Furthermore, being better that FTR is not saying much. WIN's recent quarterly operating margin dipped to just 16%, down from 35% in 2009. Both WIN and FTR appear to be very different due to leverage and size from CTL, which has a better track record of dividend growth than either.
Two critical areas for additional WIN research are acquisition evaluation and dividend sustainability (cash flow and net income). CTL appears to be a more stable option - lower dividend yield and more stable stock price, partially due to lower overall leverage.
Disclosure: I have no positions in any stocks mentioned, and no plans to initiate any positions within the next 72 hours.
Additional disclosure: Disclaimer: This article is for informational and educational purposes only and shall not be construed to constitute investment advice. Nothing contained herein shall constitute a solicitation, recommendation or endorsement to buy or sell any security.