Business development companies (BDCs) are financial companies that invest in other businesses, both public and private. BDCs usually distribute high dividends to their shareholders. The following list shows the 10 largest BDCs and their annual dividend yields:
| | | |
| --- | --- | --- |
| Ares Capital Corp | ARCC | 9.83% |
| Prospect Capital Corp | PSEC | 11.3% |
| American Capital Ltd | ACAS | N/A |
| Apollo Investment Corp | AINV | 10.82% |
| Fifth Street Finance Corp | FSC | 12.39% |
| Solar Capital Ltd | SLRC | 11.12% |
| BlackRock Kelso Capital Corp | BKCC | 11.33% |
| PennantPark Investment Corp | PNNT | 11.5% |
| Main Street Capital Corp | MAIN | 7.43% |
| Triangle Capital Corp | TCAP | 9.58% |
Among them, American Capital Ltd. deliberately stopped dividend paying in mid-2011. We don't know when the dividend paying policy will be reinstated. Other than ACAS, all other nine companies pay very fat dividends. These have generated interests for income investors.
However, stocks of BDCs are highly volatile and very sensitive to general stock market swings. Using a momentum method to stop out of those stocks that are failing to avoid big losses is thus worth looking into.
The following portfolio is created using MyPlanIQ's momentum strategy that works as follows: It scores the above stocks every month, and whenever a stock's momentum score is ranked below cash, its portion is replaced with cash for the next month.
A look at the performance:
Performance (as of May 23, 2012) Annualized Return
* AR: Annualized Return
** YTD: Year to Date (not annualized)
Click to enlarge image.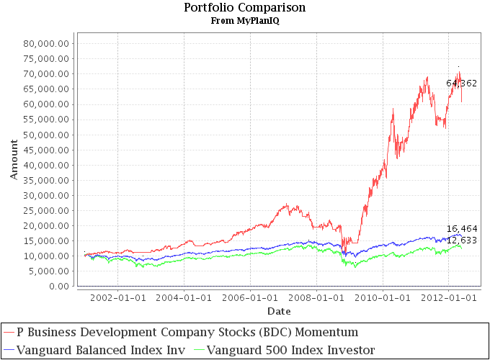 (Please refer to the portfolio for detailed year-over-year performance.)
The above performance has been more than satisfactory: It outperformed S&P 500 total return (SPY or VFINX) by 7% annually in the last 11 years. Currently, the portfolio holds all but two stocks: SLRC and AINV. The two stocks have been weak recently.
The portfolio can be used as a reference for BDC stock investors for risk-control purposes.
Disclosure: I have no positions in any stocks mentioned, and no plans to initiate any positions within the next 72 hours.