Echo Therapeutics (NASDAQ:ECTE) is a transdermal medical device company with deep expertise in advanced skin permeation technology. Echo is developing its Prelude SkinPrep System as a platform technology to allow for significantly enhanced skin permeation that will enable both needle-free drug delivery and analyte extraction. Utilizing the patented, core skin permeation technology found in Prelude, Echo is developing its needle-free Symphony tCGM System as a non-invasive, wireless, transdermal continuous glucose monitoring (tCGM) system for use in hospital critical care units and for people with diabetes.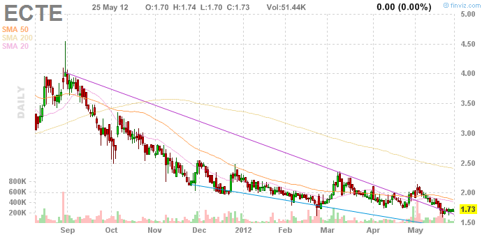 Click to enlarge
I see at least 4 reasons to buy the stock currently
1. The company is going to present new data June 8th.
Echo's most recently completed clinical trial was selected for presentation at the 72nd Scientific Sessions of the American Diabetes Association (ADA) which will be held June 8-12, 2012 in Philadelphia, PA. The study will be presented in an oral presentation that is currently scheduled on Friday, June 8 at 5:45 PM ET.
The presentation entitled "Transdermal Continuous Glucose Monitoring Following Skin Permeation," by Wayne Menzie, Echo's Director of Technology and Clinical Development, will provide an expanded analysis of data collected from subjects with either Type 1 or Type 2 diabetes during Echo's recent clinical trial of its Symphony tCGM System.
"We are excited to share these results on the opening day of ADA, the largest gathering of healthcare professionals in the fight against diabetes. We value this opportunity for engagement with experts in the field of diabetes research, care and services," stated Patrick Mooney, M.D., Echo's Chairman and CEO. "We believe the results of the diabetes clinical study combined with supporting data in our current critical care studies will further highlight the positive impact Symphony may have for diabetes and critical care patients."
2. Symphony is needle-free.
There are currently no other CGM products on the market that are needle-free. It reduces the risk of infection and cross contamination in the hospital setting. In the home-use market, it reduces any pain associated with current CGM technologies.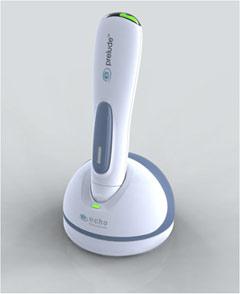 3. Large market potential.
Diabetes is a chronic and life-threatening disease caused by the body's inability to produce or properly use insulin, a key hormone the body uses to manage glucose, which fuels the cells in the body. According to the American Diabetes Association, about 26 million people in the United States, or approximately eight percent (8%) of the population, have diabetes, including over 7 million people who remain unaware that they have the disease. In addition, before people develop type 2 diabetes, they usually have "pre-diabetes," or blood glucose levels that are higher than normal but not yet high enough to be diagnosed as diabetes. According to the ADA, there are 79 million people in the United States who have pre-diabetes.
According to the ADA, the cost of diabetes care in the United States in 2007 was more than $174 billion, including $116 billion in excess medical expenditures attributed to diabetes and $58 billion in reduced national productivity. The ADA estimates that people with diabetes, on average, have medical expenditures that are approximately 2.3 times higher than the expenditures would be in the absence of diabetes and that approximately $1 in $10 healthcare dollars is attributed to diabetes. A significant portion of overall diabetes care costs, approximately $10 billion according to industry sources, is attributable to costs associated with monitoring blood glucose levels.
4. Analyst price target $5.
Lifetech Capital updated their research report on May 21st:
Our target price is based on 35x projected 2014 EPS and discounted 35% for risk resulting in a market capitalization of approximately $200 million. This is a significant discount to DexCom (NASDAQ:DXCM) (see Competition), the only pure-play comparable, which has FDA approval for their invasive, implantable biosensors with a market capitalization of approximately $700 million.
Conclusion
I believe the stock could see a run probably into range of $2-$2.50 leading into the ADA presentation on June 8th. I am not expecting the product to be approved before 2014. I might take a small speculative position in the stock this week.
Disclosure: I have no positions in any stocks mentioned, but may initiate a long position in ECTE over the next 72 hours.